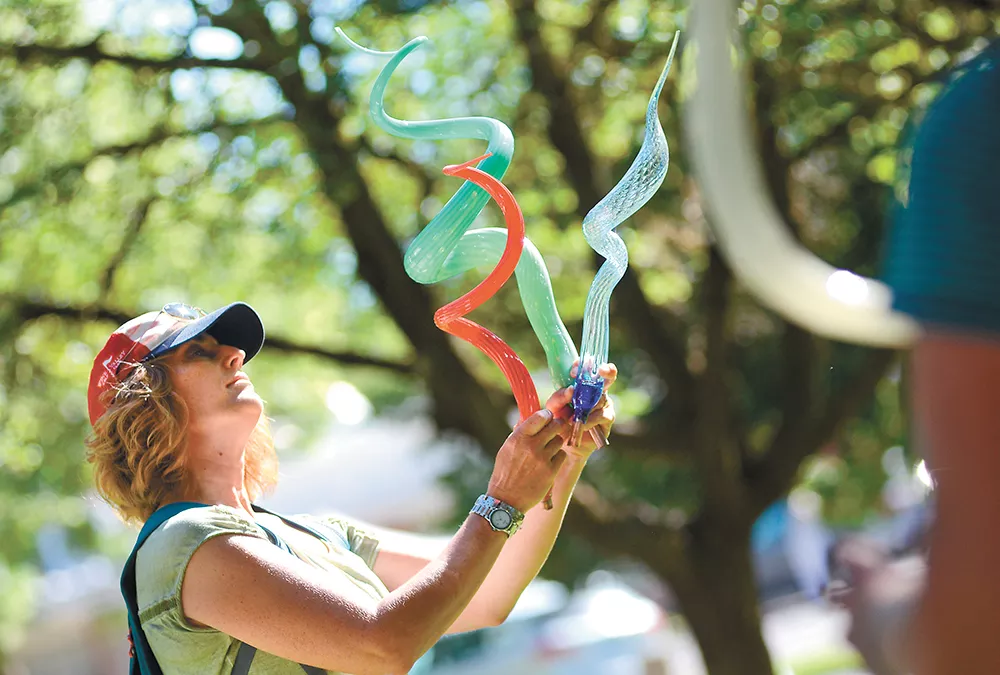 ArtFest is getting a midlife makeover. After 32 years as Spokane's start to the summer arts season, organizers at the Northwest Museum of Arts and Culture took a hard look at ways to update the popular festival, which takes place June 2-4 in Coeur d'Alene Park in the Browne's Addition neighborhood.
"We're just really trying to take a different look at things and say, 'Hey, what small things can we do to make it a little fresher?'" says Betsy Godlewski, development director at the MAC. Godlewski is the point person for the festival, which she calls an all-hands-on-deck event that provides necessary fundraising for the museum. It takes around 200 volunteers to run the weekend celebration.
When longtime ArtFest organizer Jerry Smith retired last year, the MAC brought on Unifest CO., the 2016 startup created by the multitalented team of Matt Bogue and his wife, Stephanie, and Godlewski couldn't be more thrilled with the results.
"Matt has been fantastic to work with because he's come in with fresh eyes," says Godlewski, who is excited about the new lineup of food and beer vendors, as well as the rebranding. She's especially appreciative of the updated webpage, which features a more accessible gallery of artist work.
"We really want to focus on the artwork and the artists," says Godlewski, which she says Unifest understood innately.
"It will still be all about showcasing the artists and vendors," says Matt Bogue, who remembers hanging out with friends in Browne's Addition and attending both ArtFest and neighboring Elkfest (with which Unifest collaborated last year to add a market booth, photo booth and popular "draw off" competition).
"All of the historical elements will still be there," adds Bogue. "Some of them will just be more polished, or offer more variety this year. We have taken care to make all of the new elements be about art and culture, so we feel the new additions only add to the theme and feel of the festival. "
For example, they've added a photo booth and tied the branding elements visible on the poster and website into new signage throughout the park, where approximately 150 artist booths offer everything from ceramics to painting to jewelry and fiber art. In addition to artist booths, Bogue revamped the food, beverage and entertainment offerings.
New this year is local craft beer on tap from River City Brewing, which will serve River City Red, Riverkeeper IPA, Girlfriend Golden Ale and Huckleberry Ale.
Eleven food vendors will keep attendees nourished, ranging from Mac Daddy's mac n' cheese to Azar's Mediterranean meals to ice cream from Mary Lou's.
The new music lineup is sure to be a draw and features an eclectic mix of folk, R&B, garage, funk, rock, island style, and electric pop. In addition to weekend DJs spinning sounds in between sets, look for bands like Funky Unkle, the Delvon Lamarr Organ Trio, Bristol and Folkinception.
A musician himself — Bogue will be playing nearby at Volume, the Inlander's music festival, during the weekend — Bogue was keen to introduce ArtFest audiences to new music, including two opportunities to hear from someone influential in his own career, his father Bryan (a Spokane Symphony percussionist who plays on Saturday with several other musicians and on Sunday with the Caribbean-inspired Moko Jumbie).
It isn't just the music or art that's important to Bogue, or even the business niche he's created with Unifest CO. "In our personal lives, festival-going is one of our favorite things to do," says Bogue, who met Stephanie at the Sasquatch! Music Festival and secretly holds a desire to work his magic on that festival, too.
"The best part of the job for us is seeing everything come together on festival day. Seeing people come together as a community to support art and music, and to connect with one another, is a powerful and positive feeling that we love creating a space for," he says. "Collaboration with all the talented people in our community is really rewarding for us, and that each event is different every time keeps us on our toes, and keeps the job exciting." ♦
ArtFest • Fri, June 2-Sun, June 4 • Free • Coeur d'Alene Park • 2195 S. Chestnut • artfestspokane.com or northwestmuseum.org/support/artfest.cfm