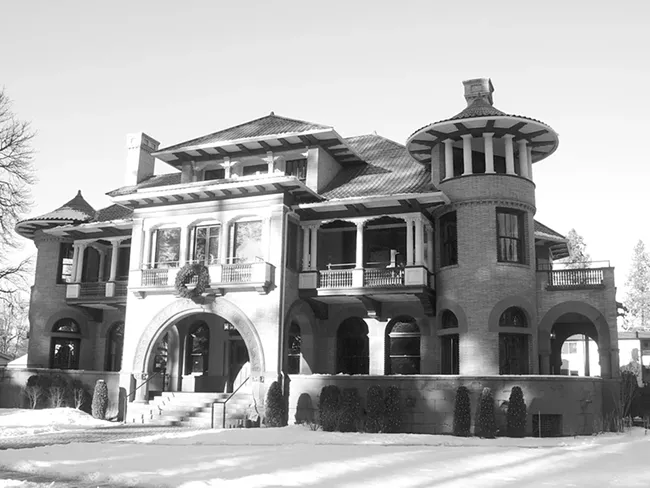 In the 1980s and 1990s, Patsy Clark's Mansion was the place to be. Even President George H.W. Bush thought so, when he ordered a steak and wine at Patsy Clark's Restaurant with former House Speaker Tom Foley in 1989.
In 1995, it was no surprise that it won Best Fine Dining in the Inlander's annual Best Of issue. "That old Browne's Addition favorite Patsy Clark's won this category for the second year straight," the Inlander wrote at the time. "They aren't resting on their laurels, though, they've just changed their menu for the first time since they opened."
The mansion is the former home of mining baron Patrick Francis Clark in the 1800s. It operated as a hotel and restaurant until the 1970s, when a partnership of three men, including Tony Anderson — the developer of the Spokane Flour Mill — purchased the building and opened it as a fancy, romantic restaurant in 1982. They wanted to make it a restaurant that even Clark would be proud of.
In its heyday, it was the most popular upscale restaurant in the city while retaining the character the building had in its earliest days. But in 2002, it closed down, facing declining business. The space was sold to a law firm, Eymann, Allison, Fennessy, Hunter and Jones. They bought it because it was rumored that it might get stripped down otherwise.
"We wanted to save the building," says Richard "Dick" Eymann, an attorney with the law firm.
They made restorations worth more than $1 million, Eymann says, turning it into what it is now. Upstairs, there are law offices. And downstairs, it's returned to the way it was as a home. It's still a popular destination for Spokanites, and it hosts catering events. Some visitors even remember when it was a restaurant.
"People come in all the time and say, 'I had dinner here once,'" Eymann says.