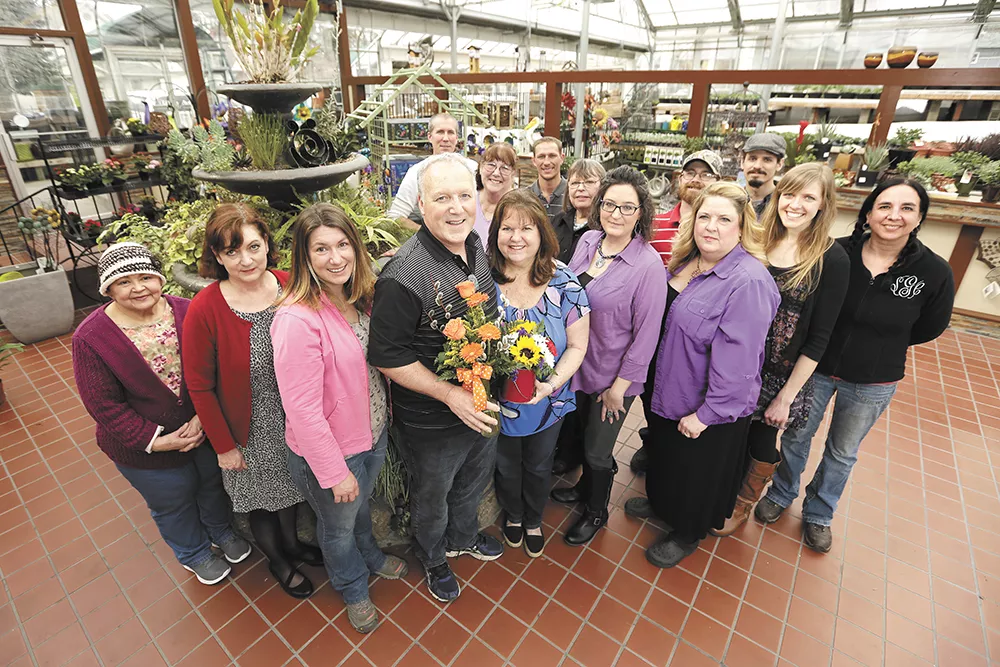 Though the threat of a nighttime frost yet lingers for many more weeks, tiny life forms spring forth from the soil in the safety of the greenhouses' tropical warmth. While most of us won't start clearing out the wintertime debris in our yards for some time still, staff at Liberty Park Florist & Greenhouse in the South Perry District are in full warm-season prep mode.
For Liberty Park owners Jim and Kellee Alice, springtime truly begins in January.
"Christmas comes and people have a couple, two, three months of doldrums, but in here it's spring all the time. We're growing geraniums, getting stuff in, starting planters," says Jim, whose grandfather, an Italian immigrant, started the business back in 1928.
"By mid-April, we're here seven days a week, through about mid-June," adds Jim's wife, Kellee.
Evidence of the Alice family's green-thumb heritage spreads throughout the main greenhouse, completely remodeled four years ago, which will open as the business's retail garden center in several weeks. Pallets of those geraniums sprouted months ago now sport deep emerald leaves. A few pink and red blossoms already peek out from some plants, reaching up toward the springtime sun.
Back inside, a trio of women in dark-green aprons are snipping stems and carefully placing fresh-cut lilies, roses, carnations and greenery into vases. The sweet aroma of nectar hangs heavy in the air. After decades in the business, the Alices ironically don't even notice the heavenly scent anymore.
As with anything, trends in gardening and floral arrangements come and go. With careful attention to detail over the past 88 years, the Alice family has learned to adapt and evolve the business with those trends, and learned how to leave a lasting impression on their customers.
"We have people come in who say, 'My grandmother used to bring me in when I was a little kid,' and now they're the homeowners who want to buy stuff and grow stuff," says Kellee. "Or, we did their parents' wedding flowers and they want us to do theirs."
In the garden center, anything customers can take home and nurture in their own gardens was grown by Liberty Park's staff since it arrived as a tiny seedling. Newer services — offering to pick up empty flower planters in the fall, returning them to customers in the spring filled with luscious, fresh blooms — cater to busy people who might not otherwise think to make the trip to Liberty Park to pick out plants in the spring.
For the floral side, Jim often makes multiple trips a day to handpick blooms from one of the region's three wholesale flower warehouses. It's his way of adding another layer of quality assurance to anything that goes out Liberty Park's doors.
"Nothing goes out with our name on it that I wouldn't want to give to my best friend or my mother," Kellee says. "We're a part of the business. It's a business you can't run from a distance; you have to be here, because the plants don't know if it's a Sunday or a holiday. If they need water, guess what: You have to come in and do that."
2nd PLACE: Appleway Florist; 3rd PLACE: Beau K Florist; NORTH IDAHO'S BEST: Duncan's Florist