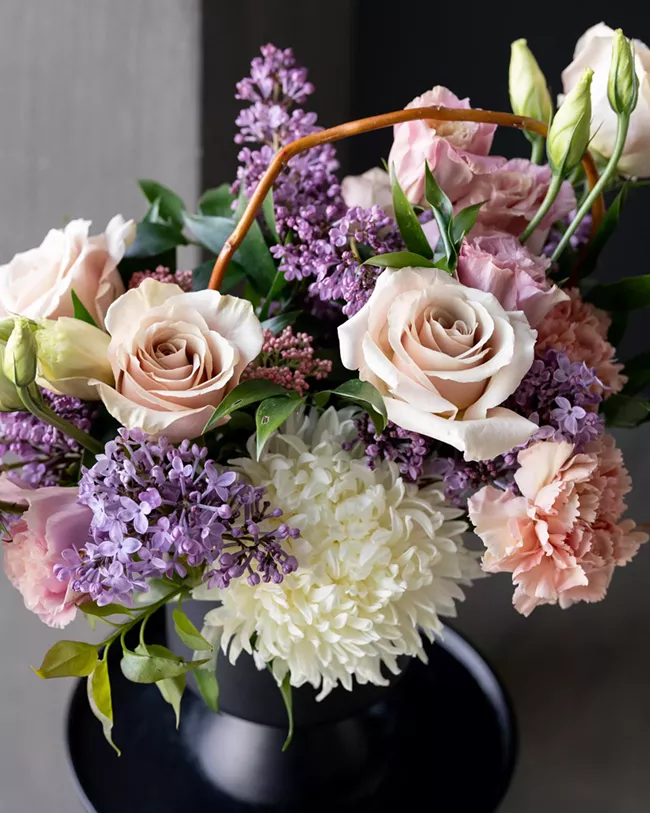 Sisters Lina Ulyanchuk and Viktoriya Kukharsky have an untraditional approach to the floral industry. Their business, Anthesis Co., specializes in expressive botanical arrangements more akin to art installations than bouquets.
"The short story: We just saw an opportunity within the floral industry to step in more as an artist, and not as a business owner," says Kukharsky.
Soon after graduating from Eastern Washington University with degrees in visual communications and design, the pair launched their business in 2018. Together, business-minded Ulyanchuk and artistic Kukharsky sought to fill a niche in Spokane, where they could create locally sourced, personalized flower arrangements.
"I don't see it as a product, I see it as an expression," says Kukharsky. "I pour my heart and soul into my arrangements, and I think people resonate with that pretty well."
The name, Anthesis, refers to the period of time when a flower is in bloom.
While the business's conception was in 2018, Ulyanchuk explains that the company really began blooming during 2020 with the upsurge of virtual shopping and the need for contactless deliveries. As an online storefront, Anthesis experienced an influx of business, leading the sisters to expand to the studio they occupy today. Since then, people have been drawn to Anthesis for its personalized floral portraits and arrangements that feel highly individualized and artful.
"Humans love beautiful things," says Kukharsky. "And if you have something beautiful that connects with you a little bit, you instantly draw to it I think."
The sisters explain that they are grateful for the community's recognition with a Best Of award but are also not surprised because the support from the Spokane community has surrounded them since day one.
"It's nothing shy of a miracle with how much people have been getting behind everything that we do," Kukharsky says.
2nd PLACE: Appleway Florist & Greenhouse
3rd PLACE: Rose & Blossom
NORTH IDAHO'S BEST: Duncan's Florist Shop, Hayden