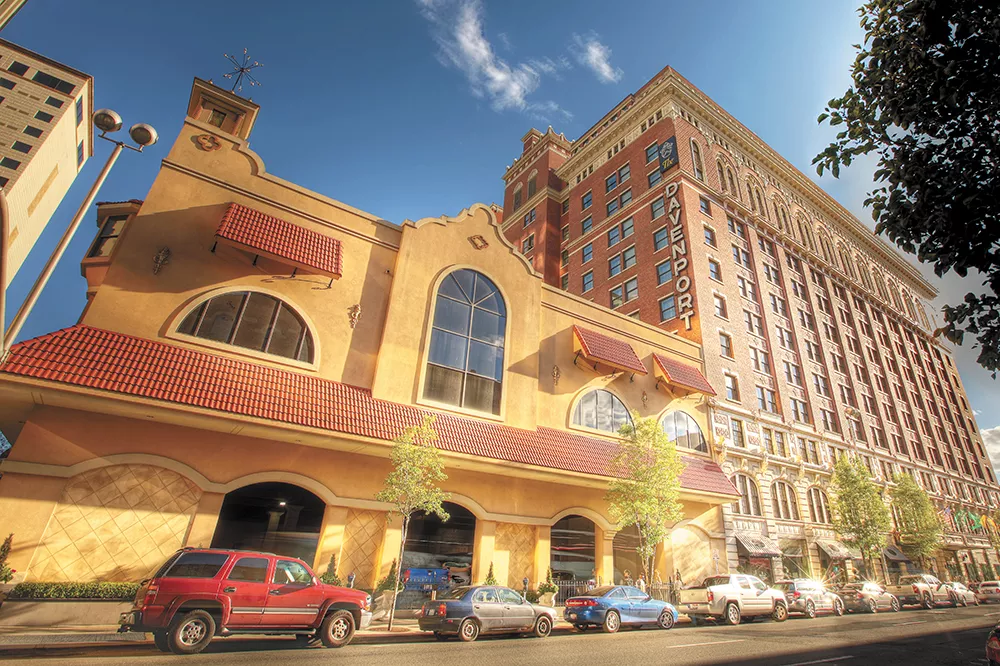 Best Hotel
THE DAVENPORT
Although the Davenport Hotel has been synonymous with luxury throughout its long and distinguished history, that luxury has always been welcoming rather than exclusive. The poet Vachel Lindsay felt so at home that he booked a room for five years.
There was a regretful period of dormancy in the 1980s and '90s. But since reopening in 2002 after a painstaking renovation effort overseen by owners Walt and Karen Worthy, the hotel has quickly reclaimed its unique place in the hearts of Spokanites. Just as in its heyday, the Davenport's baroque ballrooms and Spanish Renaissance lobby are favorites of downtown socialites. Its elegant comfort continues to make it a top choice for tourists as well as locals looking to treat themselves to a weekend getaway.
Sitting in one of the Safari Room's leopard-print booths in the more modern Davenport Hotel Tower across the street, Matt Jensen says that unique combination of warmth and sophistication is why the Davenport has affectionately been called "Spokane's living room" for the past century. "It's a common place for people to meet and celebrate everything from weddings to conventions to special occasions."
But he also notes that, unlike most living rooms, it holds the promise of "escape" from the everyday — a "time-travel machine" that instantly transports its guests to an idealized past era when urbanity was the norm.
"When you walk into the Davenport, it really is a transformative place for people," he says. "It's like a weight is lifted."
Jensen has been the hotel's director of sales and marketing ever since Davenport 2.0 sprang into existence. In that time he's seen the hotel reemerge where another parking lot might have been ("saved by asbestos," he jokes), its success manifest in the growth that followed. The iconic Mission-style Davenport is now the centerpiece of what's jointly dubbed "The Collection": the chic Tower, the boutique Hotel Lusso, and the yet-to-be-named hotel currently being constructed across from the Spokane Convention Center.
Yet, far from inviting complacency, the expansion and the accolades have had the opposite effect. "It keeps us humble and on our toes," says Jensen. That's partly why the entire hotel will undergo phased facelifts this year, with its Peacock Room Lounge getting a "fresh twist" that could take on a Great Gatsby vibe. Maybe that reveals another secret behind the hotel's success: knowing when to update to remain timeless.
2nd PLACE: Northern Quest Resort & Casino; 3rd PLACE: The Coeur d'Alene Resort