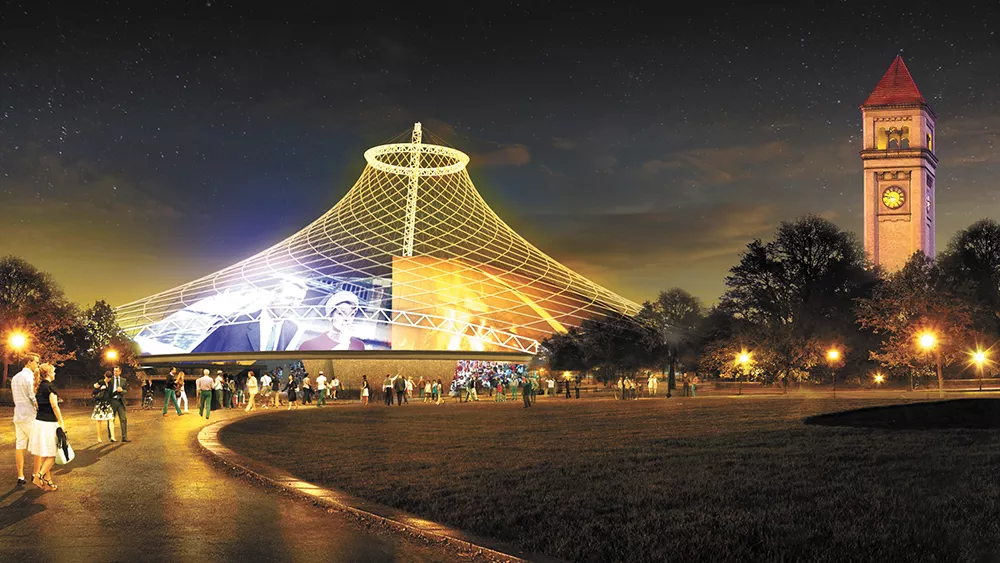 Best Idea for Riverfront Park's Next 40 Years
A NEW AMPHITHEATER
May 4th marks the 40th anniversary of the World's Fair coming to Spokane. Also this spring, the City of Spokane and the Park Board are firming up plans to update the park for the next 40 years. I've been involved in the process as the volunteer chairman of the citizens' advisory committee, and since I have a little pull here at the Inlander, I snuck this question onto the ballot.
The top vote-getter is one that our committee likes, too — a new amphitheater/event space in the park. Some voters located it under the Pavilion; others just wanted one anywhere. Some wanted it for concerts; others wanted it for plays or outdoor movies. All seem to like the idea of a gathering place for the community — for Hoopfest, for powwows, for high school graduations or mayoral inaugurations. Stay tuned as our committee's recommendations are turned over to City Hall.
But there were tons of great answers after that, too — every one a reminder that Riverfront Park holds a special place in our civic heart. Many of you talked about the need for a park with the Park — a dog park, a waterpark, a kayaking park. There were lots of ideas for new attractions, too — some already in the conversation, others improbable, like "Riding over the Falls in a whiskey barrel." Lots of people liked the idea of a zip line over the river, while even more wanted to see a weekly farmers market take up residence. Voters were inspired by what they've seen in other cities, too, advising we need a huge Ferris wheel like they have in London, an aquarium like Baltimore's, a riverwalk like in San Antonio or a food-truck court like you see all over Portland.
Spokane itself might offer the most inspiration, as a ton of voters advised we should just stage "another Expo." Few can argue with "more garbage goats" — you know, like a herd of them. And one voter looked even farther back, saying we should finally take the advice the Olmsted Brothers gave Spokane in 1913 to name our park near the Falls "The Great Gorge Park."
Of course, it's not the Best Of without the totally random: "A parking structure shaped like a muffin — the Parking Muffin. You're welcome, Spokane." One voter thought we should just "lease it all to Walt Worthy" (he does have the golden touch), while another saw our future in "more Lynyrd Skynyrd concerts." So obvious!