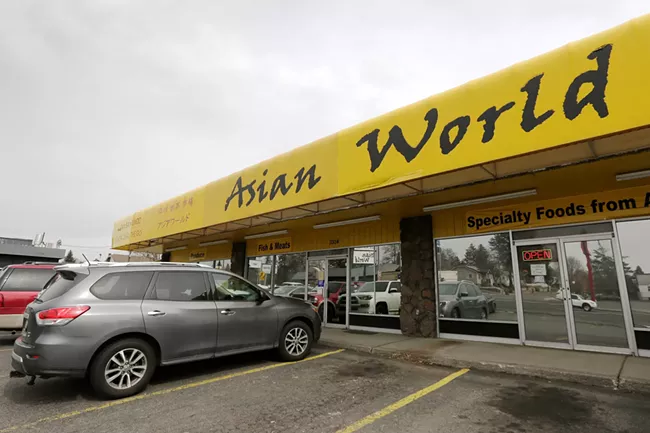 When customers make the drive to Spokane from Montana or Idaho just to shop at your store, you know you've filled a niche.
"We have products customers can't find in other stores," says Jin Uhm, manager of Asian World Food Market on North Division Street.
Going on 12 years in business, the market carries food items imported from Korea, Japan, China, Indonesia, India and the Marshall Islands, as well as from Hawaii.
To keep the store stocked, Uhm says he has only one distributor who delivers. For the bulk of Asian World's merchandise, he sends a truck driver to Seattle who makes no less than 20 stops to fulfill all orders.
"Customers thank us for carrying foods that remind them of back home," he says. "Also, Americans seem to like to cook Asian food more now. They bring us recipes, and we help them find what they need. They get excited at the many choices."
Indeed, just walking into the roughly 5,000-square-foot market, your eyes widen and senses peak, like you're 8 years old again, walking into your favorite candy store. All brightly lit and super colorful, row upon row of noshing and culinary adventure — especially for the newcomer — can make one feel downright giddy.
Then there are the names to take in. Items such as bagoong alamang (shrimp paste), japchae (sweet potato noodles) and moong dal (green gram beans) line the shelves, along with sweet fixings such as halo-halo (sweetened beans and fruit), macapuno string (soft coconut meat) and grass jelly (a dessert eaten alone or in bubble tea).
Reach-in coolers and freezers are filled with an abundant selection of thirst-quenchers and sweet-tooth quellers such as sikhye (a Korean sweet rice drink) and makgeolli (fermented rice wine), plus bubble tea and UCC Coffee (the Japanese coffee-in-a-can favorite). There's also fish and seafood, as well as fresh produce like bok choy and galangal root.
With a wide, easy grin, Uhm says, "We also make freshly prepared kimbap [sushi], kimchi and japchae, which our customers really like."
2nd PLACE: Best Asian Market
3rd PLACE: De Leon Foods