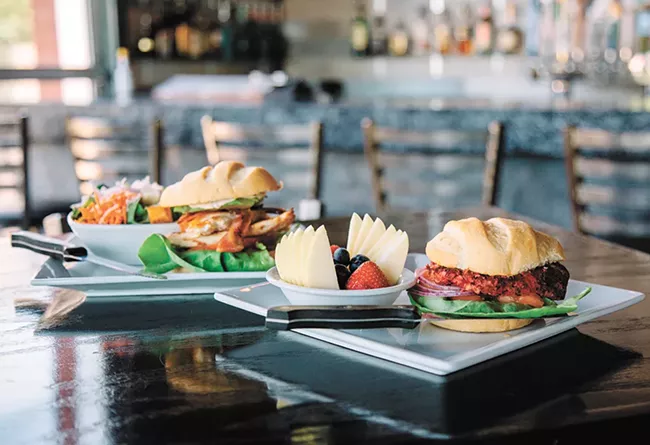 It didn't take Cascadia Public House long to establish itself as a favorite new spot for both North Spokane's Five Mile neighborhood residents and folks living a little further afield.
Less than a year after debuting to the local dining scene on May 4, 2017, Cascadia has nabbed the coveted designation as the best new eatery to arrive in our evergreen region during the past year.
"It's exceeded expectations of what we could have initially anticipated," says restaurant co-owner Jordan Smith. "The response from the community — we have so many reviews every week, at least seven to 10 reviews a week where people just want to tell us how great their experience was. That makes us feel so good to deliver the vision and mission of how we want people to feel when they come in to the restaurant."
Smith and Cascadia's four other partners, Justin Oliveri, Johnny Oliveri, Louis Oliveri and Rob Hatch, credit some of that success and these positive connections with diners to the fact that, on any given day, at least one of the five owners is usually working on site. And despite there being so many figurative cooks in the kitchen, Smith says everyone gets along well, and each has taken on specific duties in operating the restaurant.
Cascadia's popularity not only stems from its welcoming, neighborhood feel, but its diverse menu offering scratch-cooked food for all diets, from omnivores to vegans. Each dish is made using ingredients carefully sourced from within the Cascadia bioregion of the Pacific Northwest, which includes Washington, Oregon and parts of Idaho, Montana and Northern California.
In its first year of business so far, Cascadia has expanded its menu offerings that cater to vegans, who've found a new go-to in the restaurant, thanks to an otherwise lacking presence of vegan food in this pocket of Spokane. Smith says the split between vegan and non-vegan menu items is about 35-65 percent.
"We try and have something for all types, you can have someone gluten-free, dairy-free and two vegans and two meat-and-potatoes type people, and everyone can get something they really enjoy," he explains.
Cascadia serves lunch and dinner daily, along with Sunday brunch from 9 am-noon. The restaurant offers family-friendly seating and a kids' menu, as well as craft cocktails and 16 beer taps, the majority of which feature rotating craft beers from Pacific Northwest breweries.
"We're so thankful for everyone supporting us this first year," Smith says. "We've grown so much and learned a lot about the business, and it's been so much fun."
2nd PLACE: Incrediburger & Eggs; 3rd PLACE: Palouse Bar and Grill; NORTH IDAHO'S BEST: MoMo, Coeur d'Alene