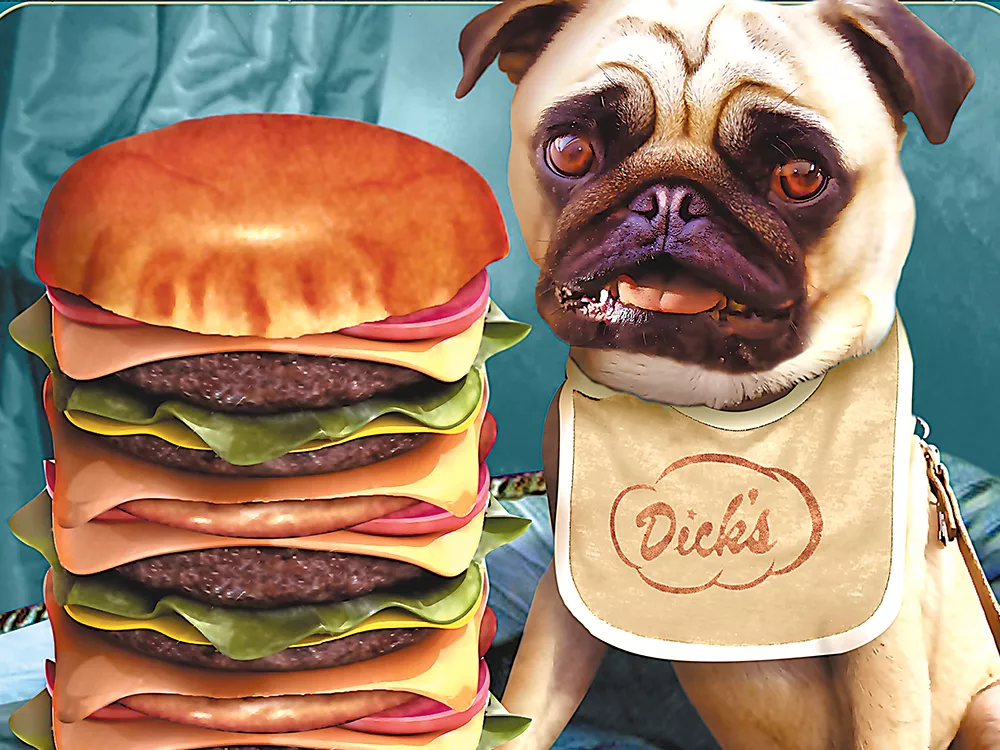 BEST PIZZA
 PIZZA RITA 
In addition to being known for its legendary 5-pound pizza-eating challenge that's undoubtedly caused more than a few contenders much more than a stomachache, Pizza Rita is a great local joint for non-extreme eaters, too. "I like the fact that they are locally owned," says Best Of voter Carla Stevenson. "[They're] very friendly, and they do fun marketing promotions which makes their customers and even Facebook fans feel like part of their family." (CS) 
2nd PLACE: The Flying Goat; 3rd PLACE (tie): Bennidito's, South Perry Pizza; NORTH IDAHO'S BEST: Fire Artisan Pizza, CdA
---
BEST MEXICAN
 AZTECA 

With more than two dozen locations across Washington (and several more in Oregon and Florida), Azteca is many locals' go-to place when they're craving south-of-the-border cooking. This family-owned eatery has huge variety on its menu, ranging from burritos and enchiladas to fajitas and sopas. The warmly decorated, authentic hacienda atmosphere easily makes diners feel like they're not even in the U.S. anymore. Azteca has "very friendly staff, and consistently excellent food with fantastic presentation," says West Central resident Cheryl Steele. (CS)
2nd PLACE: Rancho Chico; 3rd PLACE: Casa De Oro
---
BEST SUSHI
 SUSHI.COM 
If you absolutely love sushi — or are a bit on the fence about ingesting raw, water-dwelling creatures — Sushi.com's diverse menu has something for both the pickiest and most daring eaters, from vegetarian-friendly fare to traditional Japanese dishes. Of course, its sushi (both raw and cooked) is the menu's main attraction. Inlander reader Kirsten Nolan had just finished lunch from Sushi.com when she told us its "quality is superb, the portions are generous, the prices are modest and the staff are charming. I feel like I'm getting the real deal and not paying for a sushi façade." (CS)
2nd PLACE: Ginger Asian Bistro; 3rd PLACE: Sushi Maru; NORTH IDAHO'S BEST: Syringa, CdA
---
Best HOT WINGS
 FLAMIN' JOE'S 
With 26 house sauces, including flavors like orange ginger and mango habanero, there's not really any way you could get tired of eating hot wings at Flamin' Joes. Wing lovers and hot sauce lovers alike can basically set their mouths on fire at this place with the Code Red sauce, nicknamed the "widow maker." Inlander reader Russell Spellman says "Flamin' Joe's has some great tasting hot wings at the best price!" (CS)
2nd PLACE: Hooters; 3rd PLACE: The Flying Goat; NORTH IDAHO'S BEST: Wing Stop, CdA
---
BEST KID-FRIENDLY RESTAURANT | BEST BURGERS

 RED ROBIN 

Crayons, coloring pages and a good kids menu are all welcome sights for parents, and Red Robin has all of this and more, readers tell us. Longtime, now-retired north Spokane resident Pam Meyer says she's enjoyed taking her children and grandkids to Red Robin, where staff "treat them as customers, and the kids are full when they leave and they have fun while they're there." When it comes to burgers, Red Robin has won this category 12 times now. Spokanite William Ailes: "I have never had a mediocre or bad meal there. Many other places either have bad French fries or bad hamburgers — not Red Robin." (CS) 
Best Kid-Friendly Restaurant: 2nd PLACE: Chuck E. Cheese's; 3rd PLACE: Tomato Street
Best Burgers: 2nd PLACE: Five Guys; 3rd PLACE: D. Lish's; NORTH IDAHO'S BEST: Hudson's, CdA
---
BEST ASIAN FOOD
 GORDY'S SICHUAN CAFE
Known for its freshly prepared dishes featuring complex, clean flavors, Gordy's has the reputation of being one of Spokane's best-kept food secrets. But since it's won this category more than once, maybe it's not so much of a secret anymore. Either way, it's a place to definitely put on your local-restaurants-to-try list. Gonzaga Prep Spanish teacher Joelle Traynor says eating at Gordy's is akin to dining at a close friend's home. "I often go out for dinner on Thursday nights with a group of really fun women," she says. "Gordy's is one of our favorite takeout places. We all order different dishes from the menu, and I love every single one!" (CS) 
2nd PLACE: Mustard Seed (HOF); 3rd PLACE: P.F. Chang's; NORTH IDAHO'S BEST: Bonsai Bistro, CdA
---
BEST BREAKFAST
 FRANK'S DINER 

Inlander readers agree: The wait is well worth it for breakfast at Frank's. "The service is always good, even though it's always crazy busy," says South Hill resident Terra Haig. The hustle and bustle of this classic local diner is what gives it its charm, says Ana Horton of Greenacres. "It's crowded, it's loud; it's bacon and hashbrowns; it's delicious and it's all fresh cooked and right in your face — I love it!" she says. The old train car converted into a cozy restaurant can't be beat, says Kelli Hawkins. "Only the luckiest customers get the seat next to Frank the Conductor." (CS)
2nd PLACE: Old European; 3rd PLACE: Chaps; NORTH IDAHO'S BEST: Michael D's, CdA
---
BEST WINE LIST | BEST APPETIZERS 
 TWIGS 
Inlander reader Dave Jessel has been a regular Twigs customer since its north side location opened several years ago and appreciates the competent bar staff, well-educated in the restaurant's varied wine offerings. Jessel says the staff can explain Twigs' wine list in such detail that it's "almost as if they were tasting with words." When it comes to appetizers, Twigs offers variety of delicious ways to start a meal, from Butternut Squash Flatbread to Ahi Sashimi. Says north side resident Stephanie Bowman: "It's usually our first pick if we are going out for a date night or dinner with friends." (CS/LW)
Best Wine List: 2nd PLACE: Scratch; 3rd PLACE: Luna
Best Appetizers: 2nd PLACE: Zola; 3rd PLACE: Clinkerdagger (HOF); NORTH IDAHO'S BEST: Bardenay, CdA
---
Best LOCAL WINERY
 ARBOR CREST WINE CELLARS 

In addition to having one of the most breathtaking vistas and grounds in the region, Arbor Crest's winemakers do a more than decent job at crushing grapes and turning them into something tasty to imbibe. Liberty Lake resident Carla Stevenson voted for the winery as No. 1 in the area for more than a few reasons. "Their staff is very friendly and they have creative, fun events that benefit the community, and their wines are wonderful," she says. "We are all fortunate to have them here!" (CS) 
2nd PLACE: Barrister Winery; 3rd PLACE: Latah Creek Wine Cellars; NORTH IDAHO'S BEST: Coeur d'Alene Cellars
---
BEST BEST GLUTEN-FREE MENU OPTIONS
 BOOTS BAKERY & LOUNGE 
A customer sits behind his laptop at one of the long wooden tables in back of the bakery/bar as owner Alison Collins walks by. He stops her to say "Alison," his fork pointing to the brownie on his plate, "That's really good. That's really good."
Hearing compliments that her baked goods pack a flavor punch, especially when someone says they can't tell it's vegan or gluten-free, is Collins' favorite.
Boots Bakery is entirely vegan and about 95 percent of the food is gluten-free, but when Collins opened Boots mid-June she didn't set out to make it that way. It just sort of happened.
As a vegan, Collins began crafting her own recipes because she thought vegans lacked baked goods options. It all tasted like granola to her — dry and terrible, she says. So she set to baking, but it took several months before she got her recipes dialed in.
"I made a lot of hockey pucks in my time before I got it right," she says.
She admits it's hard to find places that have the gluten-free/vegan "double whammy," and it doesn't always seem enticing.
"It sounds limiting and one-track," she says. "But it doesn't have to be that way. So that's what we try to do."
Boots has both the sweet and the savory. Cupcakes, brownies, cookies, roasted vegetables, curried lentils, and macaroni and cheese are some of what fill the front case.
The gluten-free macaroni and cheese, made with brown rice pasta, uses a "cheesy sauce" of silken tofu, garlic and onion and is tossed with greens and mushrooms.
The array of cupcakes — almost all gluten-free — tempts anyone who even dares look at them. The spicy Mexican chocolate cupcake is a prime example of Collins' tendency to make booze-infused baked goods, with another being her signature boozy brownie.
But be warned: Boots doesn't have a menu, or even a rotating menu. They just make whatever they want each day, Collins says. One reason is that their produce comes fresh from farmers; another is that it would drive her crazy not to.
"It would be maddening to me to make the same things every day," Collins says.
But she's not worried about her free-spiritedness being a deterrent. "People come here every day because it's never the same," she says.
— JO MILLER
2nd PLACE: Wild Sage; 3rd PLACE: The Melting Pot
---
BEST SANDWICHES
 DOMINI'S 

When you're craving a darn good deli-style sandwich — we're talking one loaded with meat, veggies and whatever else you like — there's one place in town that Inland Northwesterners agree tops the bill. "Domini's has the best sandwiches in Spokane," says longtime resident Pam Meyer. "The bread is fresh, the meat is piled so high, and they make it just they way I want it. The first bite is always a challenge." Sally Poutiatine agrees, calling the shop a "Spokane institution" for having "the most awesome sandwiches in the universe. Service is always with a smile, and you're treated like family." (CS) 
2nd PLACE: Jimmy John's; 3rd PLACE: The High Nooner
---
BEST ITALIAN
 TOMATO STREET 
Pasta, pizza, parmigiana and Pallame are just a few mainstays on Tomato Street's menu that should get your mouth watering. "Tomato Street is a perfect storm of ambiance, good food and fantastic service," says north-side resident Jason Rubadue. Others agree, including Karen Robinson of the Shadle neighborhood, who says Tomato Street is an ideal place to meet friends and family for a fun and lively meal, as well as a nice dinner date. "The Tomato Street staff, in their eclectic hats, treat us like family and the garlic bread keeps us coming back over and over again," she says. (CS) 
2nd PLACE: Luigi's (HOF); 3rd PLACE: Italian Kitchen
---
Best BURRITOS
 NEATO BURRITO 
Not to stereotype places or anything, but Spokane's hip folk know that Neato Burrito, tucked off First Avenue across from The Davenport, is where it's at, and by that we mean more than just seriously amazing burritos. "The food is fresh, hot, local, healthy, cheap and yummy," says Kate Robbins, who works as a GED instructor. "So are the staff and ambiance," Robbins adds. She also loves Neato for the variety of cool culture-y things happening there, from local art on the walls to poetry slams, pub science nights and regular live music. "It's all fun, delicious and nutritious." (CS) 
2nd PLACE: Atilano's; 3rd PLACE: Slick Rock
---
BEST CHEAP EATS
 DICK'S HAMBURGERS 

Unlike some of its fast-food chain counterparts, Dick's doesn't skimp on the quality of its food, even though you can eat there for mere pocket change. Sticking to its old-school roots, cash is all you can use to fill yourself up, so make sure you come prepared, or you'll leave disappointed in yourself as the delicious aroma of frying oil wafts through the air. "When you stroll up to the window at Dick's, you know you're getting a hamburger, made the American way in glorious cheese-bun-sauce-beef-pickle goodness," says Spokane Valley resident Rick Lloyd. (CS) 
2nd PLACE: Atilano's; 3rd PLACE: Zip's
---
BEST THAI
 THAI BAMBOO 
Whether you're the kind of person who always goes for the safe — yet still tasty — order of Phad Thai noodles, or consider yourself a more adventurous diner whose goal is to try everything on Thai Bamboo's diverse and extremely varied menu, you're bound to be satisfied and full when you leave. Joshua Richter, who lives in the Mead area, says he frequents Thai Bamboo for its great food, service, prices and portions. "The atmosphere of the restaurant is very inviting, and the staff are very courteous," Richter says. (CS) 
2nd PLACE: Linnie's Thai Cuisine; 3rd PLACE: Bangkok Thai
---
BEST TAKEOUT
 RED DRAGON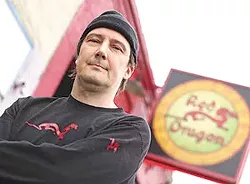 Twelve years ago, Will Burris married into a Chinese dynasty. The roots of its power were in food rather than political rule: an extended family that had owned and operated dozens of Asian restaurants throughout Washington state since the 1930s. The Chinese Gardens? Peking North? Chan's Dragon Inn? All of them (still) run by Burris' in-laws.
Like any family business, it was only natural that Burris, a longtime cook, became part of it.
"One day my mother-in-law said to me, 'Tomorrow. Nine o'clock. You're going to go with me and learn the menu.' So I cooked with her for a couple years, and that's how I got absorbed into the family," says Burris, peering over tinted John Lennon-esque spectacles. "Then we decided to expand."
The first Red Dragon Delivery to split from the downtown "mothership" was situated in a "dingy little strip mall" on Francis. Quick service and great food were its strengths, which soon led to a devoted customer base.
Around 2009, Burris and his wife Namva spotted a longtime bar for sale in Hillyard. It needed some serious TLC, but at least they would own the premises outright instead of renting. "It was a pretty big project. Bigger than I thought it was going to be. We were a little bit worried" about losing clientele during the change of location, he says, "but we opened the doors, and in half an hour we were full."
The new Red Dragon is much more than delivery with an eat-in area. It's a full-service restaurant with history stretching in every direction. The building itself has ghosts and Prohibition-era secrets. And the restaurant continues Red Dragon's reliable delivery service as well as the culinary legacy of the Chan family.
"This is Chinese-American food," says Burris. "It's almond chicken, sweet-and-sour pork. You can go nouveau, Food Network-type stuff, but I'm trying to stay true to the classic family Chinese restaurant." He says he's "channeling a '50s Chinese restaurant vibe," which is evident in the retro-modern décor that his wife has installed throughout. "It was totally deliberate. She's got a good eye."
Even though he's helping the Chan dynasty thrive in the 21st century, Burris knows that patrons might perceive him as laowai, or Western, and question Red Dragon's cultural credentials.
He smiles. "I just tell them I'm adopted."
— E.J. IANNELLI
2nd PLACE: Noodle Express; 3rd PLACE: Gordy's Sichuan
---
BEST LOCAL BREWERY
 NO-LI BREWING 
The brewery previously known as Northern Lights has been gathering some big awards this past year, and distribution is expanding to Seattle, Colorado, the D.C. area and, most recently, Sweden. But the brewery isn't forgetting its roots — all ingredients are still locally sourced, and the bottles are mini billboards of Spokane pride — and so far it doesn't seem like the hometown crowd minds sharing, especially since we can drink straight from the source at the brewhouse. "I chose No-Li not only for their beer, but for their menu as well," says voter Ginger Greaves. She recommends the savory portobello burger, especially for vegetarians: "It's fantastic paired with their Stellar Stout." (LW)
2nd PLACE: Iron Goat Brewing; 3rd PLACE: Twelve String Brewing; NORTH IDAHO'S BEST: Laughing Dog, Sandpoint
---
BEST BAKERY
 THE ROCKET 

There are plenty of reasons The Rocket Bakery is so beloved — for LuAnne Swainson of Spokane Valley, it's the "delicious aromas, scrumptious flavors, comfortable ambiance and the many convenient locations to meet up with friends." Amy Brown says she stops by various Rocket locations on Saturday morning walks with her dad and sister. "Even though I always order a cheese bagel, which is delicious, I always dig into my sister's cinnamon roll," she says. The welcoming staff got the vote from Karla Kimberling of Spokane Valley: "I've gone in there after a hectic afternoon," she says, "and left there with a smile and feeling much better because their staff is so friendly." (LW)
2nd PLACE: Rockwood Bakery; 3rd PLACE: Petit Chat Bakery; NORTH IDAHO'S BEST: Bakery By The Lake, CdA
---
BEST CUPCAKES
 SWEET FROSTINGS 
Trying to choose just one type of cupcake from the colorful display at Sweet Frostings can be overwhelming. But Amy Frost from the South Hill says she voted for their cupcakes for one simple reason: the frosting. "I don't know what they put in it, but there is something special," she says. "Call it love, call it special downtown sugar, maybe a little cream cheese? It will leave you guessing and wanting more! I have been to weddings that sealed the deal with Sweet Frostings cupcakes, and there is no sweeter love than those." (LW)
2nd PLACE: Celebrations Sweet Boutique; 3rd PLACE: Frosted Cupcakes, CdA
---
BEST DONUTS
 DONUT PARADE 
The small shop near Gonzaga is a hallmark of Spokane, says Alyssa Agee of the Garland District. "It makes my entire office wildly happy every time I bring in a dozen donuts from the Donut Parade," she says. Peter Troyer agrees, and he should know: "I have been in law enforcement since 1974, and therefore consider myself adequately qualified to judge the delicate nuances between good donuts and great donuts," he says. "Airiness, texture, taste and aftertaste are all factors. The Parade knocks it out of the park in all categories, but it's the cozy ambiance that sets it apart from all competitors." (LW)
2nd PLACE: Krispy Kreme; 3rd PLACE: Mike's Donuts; NORTH IDAHO'S BEST: Donut House, Hayden
---
BEST FROZEN YOGURT
 FROYO EARTH 
Red velvet, mountain blackberry, cheesecake, pumpkin, Nutella, toasted marshmallow, Georgia peach, salted caramel, pistachio — is your mouth watering yet? Because that's not even close to all the rotating flavors found at Froyo Earth's four Spokane-area stores. Factor in the abundance of toppings and it's clear why they have plenty of fans, including Meredith Coleman of Kendall Yards: "I like Froyo Earth because of their convenient downtown location, variety of flavors and awesome toppings," she says. "Plus, they always have low-fat cake batter on hand!" (LW)
2nd PLACE: Blu Berry; 3rd PLACE: Didier's; NORTH IDAHO'S BEST: Jamms, CdA
---
BEST STEAKS
 CHURCHILL'S STEAKHOUSE 
When it comes to what sets Churchill's Steakhouse apart, physician Kelly Jones of Five Mile says it comes down to one word: perfection: "It's not just about the most amazing steak in Spokane but the whole dining experience. Great location, wonderful ambiance, professional waitstaff and superb food equals perfection every time. The best steak in Spokane by far." (LW)
2nd PLACE: Spencer's; 3rd PLACE: Wolf Lodge Inn, CdA
---
BEST LOCAL DRIVE-THRU ESPRESSO
 DUTCH BROS. 
A stop by one of the Dutch Bros. coffee shops is just part of the morning routine for plenty of folks, but it's not one they take for granted. The baristas do a great job every time, says Sierra Ramos of West Central: "Their prices are great, the Americanos are superb, and best of all the baristas are wonderful. They listen with a smile on their faces when you blab about the half-marathon you just ran while you're dripping in sweat and dying for a quick pick-me-up." (LW)
2nd PLACE: Wake Up Call; 3rd PLACE: Jacob's Java
---
BEST OUTDOOR DINING
 THE ELK PUBLIC HOUSE 

It started feeling genuinely like spring in Spokane when The Elk Public House in Browne's Addition started setting up the gates that transform winter sidewalk into summertime patio. It's a great place to hang out after work, says voter Jeff Bruebaker. "They have great food and they are always great hosts," he says. Heidi Piccirello of Millwood says she's been a patron of The Elk (and its brethren, Moontime and Two Seven) for more than 15 years. "The owners are down-to-earth and it resonates through their staff," she says. "The Elk has a great atmosphere and even better food." (LW)
2nd PLACE: Mizuna (HOF); 3rd PLACE: Clinkerdagger (HOF); NORTH IDAHO'S BEST: Bardenay, CdA
---
Best LOCAL COFFEE SHOP | BEST LOCAL COFFEE ROASTER
 THOMAS HAMMER 
Thomas Hammer voters aren't just loyal to the brand, but to their particular shop. Jeffery Jackson of Post Falls says it's a convenient stop when he's driving to Coeur d'Alene: "They are very friendly and make a great mint mocha latte for me," he says. Nicole Wittwer frequents the downtown shop in the Chase Building, where she works. "I like supporting our local coffee roasting companies," she says. Conrad Kovash of Spokane says Thomas Hammer is the No. 1 roaster in his book for three reasons: "Commitment to his product, commitment to his customers and commitment to his staff," he says. "Does not get much better than that." (LW)
Best Local Coffee/Espresso Shop 2nd PLACE: Atticus; 3rd PLACE: The Rocket (HOF); NORTH IDAHO'S BEST: Kootenai Coffee, CdA
Best Coffee Roaster 2nd PLACE: Cravens Coffee; 3rd PLACE: Cafe Doma
---
NORTH IDAHO'S BEST FINE DINING
 FLEUR DE SEL 
If fine dining equals expensive, then Fleur de Sel owners Patricia and Laurent Zirotti marvel at winning the "fine dining" category for North Idaho.
"My family was very blue-collar," explains Laurent, "but my mother always made it better than it was. Not fancy food, but she made it so well."
Sure, there are linen napkins, sleek table settings, an admirable wine list, and reservations are generally required, but the Zirottis see their food as pretty rustic.
"Classic food with a twist," says chef Laurent.
That doesn't mean things don't sound expensive (or exotic). Snails in puff pastry, chicken and truffles, creme brulee, pommes frites. Ok, so it's a little atypical of semi-rural North Idaho (although we'd argue that "rocky mountain oysters" are way more, uh, exotic than snails), but most entrées fit in the $10-$20 range.
Because they don't advertise and only maintain a minimal web presence, the win confirms that word of mouth is very important, and not just regarding food.
"Food is childhood, is people," says Laurent. "It's their memories." That means excellent service and creating a welcoming environment are essential.
"The restaurant is our second home, so when customers arrive, we greet them like they were coming to our house," says Patricia, whose effervescent smile is typically accompanied by a quick cheek-to-cheek kiss in the French tradition. "And our employees know to do that as well, because they are part of that family."
They take good care of their servers, many of whom have been with the restaurant since it opened in 2008 — they provide health insurance, for example, even though they're family-run — and feel that this translates to the overall positive experience for their customers.
Estimating that roughly 70 percent of their clientele come from the Spokane area — with easy access from the freeway — the Zirottis are also very appreciative of both their local and their Washington client base.
To do well in the hospitality business, she says, "love what you do, and never, ever take things for granted."
— CARRIE SCOZZARO 
---
BEST GUILTY PLEASURE
 DICK'S HAMBURGERS 
What would Spokane be without Dick's Hamburgers? Our city would be lost, with only chain hamburger places remaining for fast-food junkies, off-the-wagon vegetarians and the bar crowds. But, thankfully, Dick's low prices, as well as their comforting food, have kept people coming back to this drive-in since 1965.
When you drive up, it feels like the movie Grease, if not for the juxtaposition of extra-wide trucks and upscale sports cars. Dick's is something most of Spokane can agree upon — and afford, too
"It's not just a restaurant, it's an institution," Dick's manager Jackie Nelson says. "We get people coming through from all over the country. They each want something different — some want our shakes, fries, or our famous hamburger, the Whammy (double meat, double cheese). But everyone wants our tartar sauce."
The menu is varied, but the items are simple. You won't find anything too complicated on the hamburger — no bacon or ham, just condiments, pickles and cheese if you ask for it.
For now, Dick's will keep dishing out Spokane's guilty pleasure by the bagful, sticking with their old-school, cash-only approach.
"We are going to have to take more than cash eventually. Otherwise, we're pretty stuck with what we got," says Nelson.
Spokane shouldn't feel too guilty for its pleasures, though. All of the most popular pleasures in this year's polls (including Dick's Hamburgers, Sweet Frostings Blissful Bakeshop, Pig Out in the Park and marijuana) are now legal activities, and most are local, so give yourself a pat on the back.
There are a few more questionable yet undeniable suggestions from readers. We all found out recently that Spokane does love its Asian massage parlors and strip clubs, especially the showgirls at Stateline. And apparently the Inland Northwest also shares a love for things like "Sliding down the big red wagon as an adult" and "Coming back to Spokane after living in Seattle."
— KATE DINNISON
2nd PLACE: Sweet Frostings Blissful Bakeshop; 3rd PLACE: Pig Out in the Park
---
BEST SEAFOOD
 ANTHONY'S AT SPOKANE FALLS 
Fresh seafood is the top priority for Anthony's — the restaurant company works directly with fishermen and shellfish suppliers to make sure every last salmon, swordfish and oyster meets a high standard. But diners don't need to know the details to appreciate the fine-dining atmosphere, daily specials, happy hour offerings and — perhaps most impressive — the postcard view of the falls. (LW)
2nd PLACE: Milford's; 3rd PLACE: Red Lobster; NORTH IDAHO'S BEST: Fisherman's Market, CdA
---
BEST FINE DINING
 CLINKERDAGGER 
With excellent food, service and view of the river, Clinkerdagger sets the standard for reliable fine dining in Spokane. "When I was younger, it was my parents' anniversary dinner destination for many years," says Marjorie Smith of Elk, Wash., "but now that they are older and don't go out as much, my fiancé and I go there for our celebrations." Val Workman of north Spokane says it's a perfect choice for business, family and friends because it never disappoints. "A stroll through Riverfront Park — weather permitting — helps justify the required crème brûlée," she says. (LW)
2nd PLACE: Wild Sage; 3rd PLACE: Masselow's; NORTH IDAHO'S BEST: Fleur de Sel, Post Falls (See above)
---
BEST NEW RESTAURANT
 CASPER FRY 
It was an impressive field of nominees this year, but there's something special about Casper Fry. The aesthetic is totally different from any other place in Spokane, says Veronica Van Patten. "Their Southern-style food is local and doesn't try to be something that it isn't," she says. "I feel that the service is congruent with that as well." Cassie Lillard says Casper Fry reminds her of family dinners: "From the warm rustic interiors and furnishings of the restaurant, to the well-thought-out take on classic Southern cuisine and cocktails, you can't help but want to come back for more," she says. Jesse Aldulaimi agrees: "Casper Fry is, undoubtedly, the most composed restaurant in Spokane." (LW)
2nd PLACE: Central Food; 3rd PLACE: Clover; NORTH IDAHO'S BEST: Fu-Ki, Post Falls
---
WHERE ARE THEY NOW?
 BEST NEW RESTAURANT
Late this spring, Downriver Grill is set to celebrate 10 years of serving creative Northwest cuisine in the heart of the Audubon Park neighborhood. The restaurant, started by two brothers with the help of other family members, quickly became a Spokane favorite, which is why our readers named it the Best New Restaurant in the 2003 edition of Best of the Inland Northwest.
Today, the restaurant is still going strong, says Aaron Sweatt, who owns Downriver Grill with his brother, Jonathan, and their most recent partner, Juli Norris. Relying heavily on locally sourced fare — whether that be their cooking ingredients or the wine list — Downriver has thrived in a part of town not known as a dining destination, keeping a steady course, for the most part, over the past decade.
"We've done some tweaks along the road. But all along, it's been a great, consistent product," says Aaron. "For me, the success is due to our service and the friendships that we make with our customers. They continually support us."
When the Sweatt brothers first launched Downriver Grill, they had their worries. The location had been home to a number of other restaurants before they took over and they knew that the food service industry was an inherently risky one.
"Food and wine and drink was a passion of my brother and I, and we knew there was risk involved," says Aaron.
Thankfully, Downriver's approach was perfect for the current dining trends.
"The casual fine dining restaurant was coming into style at that time," he says.
Other restaurants that took home the Best New Restaurant designation haven't shared Downriver's success. The 2005 award went to Moxie in downtown Spokane, but that eatery closed last year when the chef and owner fell ill. Others didn't last nearly as long. In 2011, Savory Restaurant and Lounge, a spacious and casual South Hill dining spot and bar, earned the honor, but it abruptly closed last month. Savory owner Michael Schneider told The Inlander that his restaurant simply didn't have enough patronage to justify remaining open.
Bayou Brewing (1998), Sawtooth Grill (2001), Sam's on Regal (2002) and Blue Fish (2006) also won this award but no longer are business.
This award has hardly been a harbinger of closure. Other past winners, like Catacombs Pub (2003), Scratch (2008) and South Perry Pizza (2010), remain not just in business, but consistently packed with diners.
Sweatt never cheers when another restaurant closes, seeing it as a reminder that this isn't an easy business.
"It's a very tough industry that pulls you in a lot of different directions," he says. "But getting a great kitchen crew, and staying consistent on a daily basis, and finding employees that are passionate about people and the industry and what they do goes a long way."
— MIKE BOOKEY