BEST NEW FITNESS TREND
ZUMBA
A step up from the synthesizer-and-legwarmers aerobics classes of yore, Zumba draws from Latin beats, salsa music and meringue tunes. The point of Zumba was to be more of a dance party. It isn't exactly new — it started in 2001 —  but has continued to make an impact. "I picked Zumba because it's so much fun, but it's also a way to bond and spend quality time with my friends," Spokane resident Amanda Zodrow says. "Not to mention getting in shape." (DW)
2nd PLACE: Crossfit; 3rd PLACE: Barre
---
BEST PLAYGROUND
 MANITO PARK 

Manito Park winning in this category may be a bit unfair — the park's so sprawling that it features two entirely separate playgrounds, one with swings, slides and a jungle gym, and another with two climbing structures and a sand pit. But considering the role Manito plays on the South Hill, we'll allow it. "Both the upper and lower playgrounds are on my running route so I get a chance to see them in action all year long," writes former Museum of Arts and Culture board of trustees member Chris Schnug. "They're also hands down favorites of our grandkids. Why? They're both tucked into grassy areas close to hills perfect for rolling down, the duck pond with all of its turtles and fish, and footpaths begging to be explored!" (DW)
2nd PLACE: Riverfront Park; 3rd PLACE: Discovery Playground at Mirabeau; NORTH IDAHO'S BEST: Fort Sherman Playground, CdA
---
BEST HEALTH CLUB
YMCA SPOKANE
When we talk about the YMCA — whether the sprawling north side facility or the packed downtown YMCA — we're not just talking about a weight room and a few treadmills. Whole lives happen here, from preschool day care to adolescent martial arts classes to elderly swimming groups. "We love that the YMCA is so family focused," says ESL instructor Erin Welch. "I joined when I was pregnant, and the pools and fitness classes undoubtedly contributed to my healthy pregnancy, birth and child. Now our little family loves swimming and playing together at the YMCA." (DW)
2nd PLACE: Oz Fitness (HOF); 3rd PLACE: Snap Fitness
---
BEST PLACE TO SKI | BEST PLACE TO SNOWBOARD
 MT. SPOKANE 
Never underestimate the power of proximity. Mt. Spokane is the people's snow hill, close enough for the average resident to drive to on a whim and affordable enough to not break the bank. "Besides having great snow for me and a fun terrain park for my little brother, it only takes us half an hour to get there," Gonzaga Prep student Julia Brown writes. "We can night ski and still have time to finish our homework. Mt. Spokane is by far my favorite local ski hill." It's no surprise that Mt. Spokane took home the best snowboarding locale prize as well. (DW)
Best Place To Ski: 2nd PLACE: Schweitzer (HOF); 3rd PLACE: 49° North
Best Place To Snowboard: 2nd PLACE: Schweitzer (HOF); 3rd PLACE: 49° North
---
BEST SNOWBOARD SHOP
 ALPINE HAUS 
Locally owned since 1976, Spokane's Alpine Haus concentrates not just on selling gear, but tuning, customizing and specializing it. That means everything from skateboards, snowboards, and water skis. "I live a long way away up north, but when I do go there I am welcomed, warmly," writes former House candidate Bart Haggin. "For minor 'tweaks' they just send you out the door. It is a laid-back, friendly outfit with staff that does the same things that they sell to the people!" (DW)
2nd PLACE: Wintersport; 3rd PLACE: Mountain Gear; NORTH IDAHO'S BEST: Ski Shack, Hayden
---
BEST SECLUDED REGIONAL RESORT
 HILL'S RESORT, PRIEST LAKE 
When it comes to seclusion, Priest Lake still dominates the polls. And Hill's Resort, with its comfortable-but-rustic cabins and lakeside dining, can makes the ideal getaway for the dreary winter and harried summer months. Hill's promises to put all of life's hubbub on pause — if only for a weekend. "Hill's is easily accessible, family-friendly and not pretentious," says Spokane stay-at-home mom Heidi Meany. "The perfect truly authentic Northwest destination getaway!" (DW)
2nd PLACE: Elkin's Resort, Priest Lake; 3rd PLACE: Quinn's Hot Springs Resort, Montana
---
BEST OUTDOOR REC SUPPLIES
 REI 

In a place as outdoor-minded as the Inland Northwest, the competition to be the best Outdoor Rec Supplier can be fierce. There's a reason REI continues to hold the crown, says Best Of voter Erik Johnson. "REI's sales staff have often tried or own most of the equipment they sell, and the return policy means that if something doesn't work out, I can always return it. My wife bought the wrong-sized bike, and we returned it — a year later," Johnson writes. "I don't mind making expensive purchases at REI because the sales team's competence and the return policy's safety net means I have nothing to worry about." (DW)
2nd PLACE: Mountain Gear; 3rd PLACE: Cabela's
---
BEST BIKE CLUB
 FBC 
The B stands for Bike. The C stands for Club. We'll leave you to speculate about what the F stands for. We turned to local art teacher Bernadette Vielbig to analyze what makes the FBC bike club so great. "The FBC is the best bike club because on a full moon night you could be on your porch drinking a glass of wine and suddenly hundreds of cyclists in prom attire ride by ringing their bike bells for you," Vielbig says. (DW)
2nd PLACE: Spokane Bicycle Club; 3rd PLACE: Baddlands Bicycle Club
---
BEST BIKE SHOP
 WHEELSPORT 
When you buy a bike at Wheelsport, it's not like buying it at a department store. Wheelsport, a Spokane shop since 1972, comes with a lifetime guarantee: Bring in the bike you purchased from the store and get infinite free brake or gear adjustments. On top of that, your first tune-up from a purchased bike is free. "You know, there are shops that focus on one niche or another. Wheelsport tries to cover all the bases," says Wheelsport South Hill manager Mic Woodruff. "We're doing the best we can day in and day out to provide the best customer service with what we've got." (DW)
2nd PLACE: 2 Wheel Transit; 3rd PLACE: Bike Hub; NORTH IDAHO'S BEST: Vertical Earth, CdA
---
BEST SKATEBOARD SHOP
 LET IT RIDE 
Like most skate shops, when you walk into Let It Ride, you'll see decks on the wall and some cool gear. But what makes this shop unique is the upbeat greeting you'll get, the kind that can only come from people who are stoked to be doing what they're doing. That's exactly the case with Paul and Kristie Jones, co-owners of the combination snowboard, wakeboard and skateboard shop.
Paul Jones worked in skate shops throughout his teens and up until he was 21, when he decided he wanted his own store. In September 2010, 20 years later, his dream came true. It's the classic story of an underdog starting a business from the ground up. They now have a total of three employees (including the owners) and an intern who happens to have been their first customer.
"Small but mighty" is how Jones describes the skate shop. To manage with such a small team, products in the store also appear on their detailed website. The seamless integration of the store's catalog with online sales allows them to stay on top of their merchandise while selling to a broader populace: "We're small but give off an impression of a much bigger operation."
While talking with Jones, it's easy to see that he's excited about the sport — it oozes out of him. The same goes for the other employees, and having a store full of people who actually participate in the sport helps in building an experience for the customer. When people buy something "we want them to get the right piece of equipment," Jones says. "This keeps people in the sport. When you walk out of here, we want you to have the right stuff."
Another interesting thing about Let It Ride is their apparel design contest. Every year they host a contest open to local artists interested in designing a logo for the next season's clothing. Customers vote via Facebook, creating a loop of feedback from customers back to the store. Jones expresses that "we love art. We love to build and promote." So the contest works in two ways, keeping them in touch with their customers while providing a unique way to advertise.
— ERIC GAVELIN
2nd PLACE: Pistole; 3rd PLACE: Mountain Goat Outfitters; NORTH IDAHO'S BEST: Pyramid, CdA
---
BEST DESCRIPTION OF SPOKANE FOR PEOPLE WHO LIVE FAR AWAY AND HAVE NEVER BEEN HERE
 NEAR NATURE, NEAR PERFECT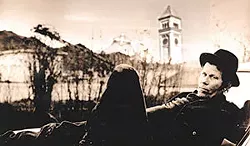 Quick, let's do a word-association exercise — Best Of style. So if we say "Spokane," you would say… "Amazing." Or, to grab from the nearly 1,000 different answers offered on this question, "Chill," "Odd," "Mellow," "Podunk" and "OMG."
But most readers went beyond the one-word answers; some offered slogans that just might work, while others took the opportunity to let off a little anti-Spokane steam — as in, "Don't bother," "Spokan't," "Time warp." But we liked it when you at least gave some thought to your kiss-off, as in "Spokane: Not as stabby as you might have heard," "Leave It To Beaver neighborhoods with crack houses just down the street," or "Come for the beauty, but beware the reality." One not-too-helpful reader just put down "Socks and sandals guy."
Many of you damned us with faint praise — but at least you were funny about it. "Best place you've never heard of," "Chicks dig hicks," "Gritty with amenities," "It's where every Tom Waits song could take place," and "The kind of place where people clean their guns at Taco Bell while across town people get all crazy if there's gluten in their tacos." (I'm pretty sure that last one is, in fact, a Tom Waits song.)
A select few were good enough to perhaps one day land on the front of a Boo Radley's T-shirt: "Yes, we put tartar sauce on our fries," "Twin Peaks Meets The Wonder Years," "Spokane: You Can Wear Pajamas Anywhere," and "Mullets, Marmots 'n' Meth" are all strong candidates.
I had a few personal favorites that balanced the self-deprecation with that inbred knowledge that, yeah, it is kind of different here. "It grows on you" kind of sums that feeling up, but so does "You might hate it when you're here, but you'll miss it like crazy when you're gone."
But of course the winner this year is a slogan that's been with us for years now — Near Nature, Near Perfect. Obviously it's sticking — but that doesn't mean our smart-aleck readers didn't have some fun with it, as in "Near nature near poverty," "Near nature, kinda sketchy," "Near nature, near potholes," and finally, and maybe just quite right, "Spokane: West of nature, East of perfect."
— TED S. McGREGOR JR.