BEST pet groomer
JULIA'S JUNGLE
When miniature poodles Max and Zoey — one with a charcoal-colored coat and the other a lighter gray, both wearing colorful doggie-sized bandannas around their necks — noticed their human mom waiting at the front desk, the tension on their leashes immediately went tight and their little tails wagged in a blur.
"Oh, you guys look so cute!" their owner exclaimed in the high-pitched voice people use when speaking to infants and animals, as the two freshly groomed pups stood up on their hind legs to lick her hands.
This is a scene the staff at Julia's Jungle, the popular Spokane Valley pet grooming salon, say they're accustomed to seeing several times each day, as pet owners from across the Inland Northwest come to pick up their dogs and cats after a good scrub-down, blow-dry and sometimes a shave.
Grooming dirty, matted and sometimes smelly dogs isn't an easy job by any means, and it's certainly not without some yucky parts (i.e., expressing anal glands). In the end, though, the sincere appreciation expressed by customers of Julia's Jungle when they pick up a squeaky-clean pet is plenty reward for the not-so-cute parts of working with animals every day, groomers Meagan Glubrecht and Alicia Hauff say.
"You have to have a lot of patience," Hauff says of the job, as she takes advantage of the only time she's been able to sit down all day. The salon staff usually groom more than 10 dogs a day, even squeezing in time to spruce up additional disheveled animals from SCRAPS, the county animal shelter.
Hauff and Glubrecht are so good at what they do, some owners see their dogs come out of the salon to be picked up and don't even recognize them.
"They say, 'Oh, that's a cute dog!' and we say, 'Ohhh, that's your dog!' " Glubrecht says, laughing. "It is rewarding to see when the dogs do come in a complete and total disaster and we can send them out nice and cute and pretty with their little bows and bandannas, and to see their owners' faces brighten up, too," she adds.
Adds Hauff: "Some of the dogs we groom, it's a complete transformation. You see the dog go in, and other than knowing it's the same breed, you wouldn't know it's the same dog."
Julia's Jungle offers more than just pet baths and haircuts; it also has do-it-yourself dog wash stations, pet supplies, a cat and dog adoption center and pet boarding services. The business is also connected to Mountain Empire Veterinary Services, enabling clients to get all the needed services for their pets in one stop.
— CHEY SCOTT
2nd PLACE: The Yuppy Puppy; 3rd PLACE: Pampurred Pet Boutique, Post Falls
---
BEST GREEN BUSINESS
SUN PEOPLE DRY GOODS
It's not just a store selling green and sustainable products, but they're striving to be a resource center of sorts for the region, offering workshops and demonstrations. Says Inlander reader Casey Lawrence: "I love the great selection of green everyday items and original novelty gifts. I always feel good about my purchases and love knowing that I'm supporting our local economy while purchasing goods made from sustainable resources." (JF)
2nd PLACE: Main Market Co-op; 3rd PLACE: Waste Management of Spokane County
---
BEST CREDIT UNION
STCU
Started in 1934, Spokane Teachers Credit Union, better known now by its initials, has become the Inland Northwest's largest credit union, with 16 locations and more than 100,000 members. Inlander reader Joe Ferrante says, "I voted for STCU … because they are friendly and have cookies, coffee, candy, etc. Also they have the best interest rates." (JF)
2nd PLACE: Numerica; 3rd PLACE: Global Credit Union
---
Best ORGANIC/NATURAL FOODS
HUCKLEBERRY'S
Huckleberry's was there before it was vogue, pushing organics on Spokanites, and Inlander readers have responded in kind, voting them into the Best Of Hall of Fame. North Spokane's Robert Fairfax says: "They have an overall great variety. Cheese, produce, dairy and even wine! I love their deli selections and the fact they are locally owned." (JF)
2nd PLACE: Trader Joe's; 3rd PLACE: Main Market Co-op; NORTH IDAHO'S BEST: Pilgrim's Market, CdA
---
BEST JEWELRY
JEWELRY DESIGN CENTER
A good jeweler is worth their weight in … well, gold, we suppose, and Inlander readers love Jewelry Design Center for its selection, custom designs and their service. Says Spokane's Richard Wickberg: "As a jewelry ignoramus, the sales reps have taken the time to instruct me of all my purchases and also value my wife's engagement ring. … We get quality products, excellent customer service as well as great jewelry repair from one retailer." (JF)
2nd PLACE: Pounders; 3rd PLACE: Finders Keepers; NORTH IDAHO'S BEST: Cheryl Burchell Goldsmiths, CdA
---
BEST Furniture store
WALKER'S
General Manager Gary Absalonson says Walker's Furniture focuses on helping customers find the furniture to fit their needs, not high-pressure sales. With several locations in the Spokane and Coeur d'Alene areas, Absalonson says his staff is pleased to receive so much local support. "It's great, fantastic," he says. "We're very proud to get it. … We're very thankful for our voters." (JJ)
2nd PLACE: The Tin Roof; 3rd PLACE: Dania
---
NORTH IDAHO'S BEST JEWELRY
CHERYL BURCHELL GOLDSMITHS
Deeply entwined in Coeur d'Alene history is the phrase "heart like an awl." The French named the local tribe the Coeur d'Alene — "coeur," meaning heart, and "alene," meaning awl — because of the tribe's shrewd skills as traders.
This slice of history was often forgotten or lost, but Cheryl Burchell, a goldsmith and jewelry maker for more than 30 years, decided to forge "The Heart like an Awl" pendant, a piece of jewelry the city could call its own.
"There was just this incredible niche that hadn't been filled. If you go to Seattle … you get the Space Needle. If you travel to San Francisco, you get the bridge or a trolley," Burchell says. "Every community needs a keepsake or, as we like to call it, a premiere charm."
Shaped like an awl encompassed by a golden heart, the pendant is symmetric, simple and stunning. The jeweler, nestled in a shopping center off Northwest Boulevard, aims to carry all types of jewelry and gems, not just Coeur d'Alene keepsakes. Since 1999, Cheryl Burchell Goldsmiths has housed everything from amber to diamonds and engagement sets.
"We have everything," she laughs. "That's the problem!"
Currently, Burchell offers a diverse selection of jewelry, such as pieces from the German Breuning silver line, basic pearl necklaces, titanium rings and unique gems. But while Burchell sells already-made adornments, her passion lies in the design and creation of custom jewelry.
"I take their gold, their gems, and turn it into something that is specifically made for the customer," Burchell says. She works on between two and three custom pieces a week, combining precious metals and gems into original creations. Her work even features gems that aren't typically shown in cases, specialty stones that customers can pick out.
But why does she love it?
"Well, I guess I've always been attracted to small, shiny things."
— SARAH MUNDS
---
BEST HAIR SALON
OASIS HAIR
With four locations through Spokane and the Valley, Oasis Hair is no stranger to The Inlander's Best Hair Salon designation, earning a third place award last year. But in 2013, the walk-in friendly chain has taken top honors, thanks to their wide range of services — they'll do everything from wax your eyebrows to trim your beard — and specials like the super-popular Wednesday Men's Day, featuring $9.95 cuts for dudes. (MB)
2nd PLACE: Jaazz Salon (HOF); 3rd PLACE 14th and Grand Salon; NORTH IDAHO'S BEST: Bombshell Salon, CdA
---
BEST FLORIST
JUST ROSES PLUS
When Terri O'Connor opened Just Roses 21 years ago, "we really were just roses." But as trends changed, she added "Plus" to her flower shop's name — a way to signal that she was using carnations and petunias and lilies, in addition to roses, in her designs. O'Connor says people keep coming back to her shops because she is always researching what's new with flowers — even down to how roses are genetically altered, these days, to last even longer than when she opened her business. (LS)
2nd PLACE: Liberty Park Florist; 3rd PLACE: Appleway Florist; NORTH IDAHO'S BEST: Hansen's Florist & Gifts, CdA and Hayden
---
BEST NEW CAR DEALERSHIP
APPLEWAY
For AppleWay, selling a car is all about service. Sam Smith, general manager of AppleWay Chevrolet in Spokane Valley, says they deal in quality cars and offer follow-up services to back up their vehicles. All cars go through a 125-point inspection before being sold. Many vehicles come with free roadside assistance. He believes that dedication to integrity and quality has helped them win local support. (JJ)
2nd PLACE: Larry H. Miller Group; 3rd PLACE: Wendle Motors (HOF); NORTH IDAHO'S BEST: Dave Smith Motors
---
BEST SPA
LA RIVE
Located on Northern Quest's spacious grounds and offering pretty much anything you'd need to look and feel good, La Rive offers a long list of different massage styles, nail services, hair cuts, a hot shave, waxing, facials, advanced skin care and more. So basically, you can walk in to La Rive, then head to your date at one of the resort's restaurants as a whole new person. This is probably why two of our readers said that it's the only spa they'll ever even think of visiting.  (MB)
2nd PLACE: Davenport Spa and Salon; 3rd PLACE: Spa Paradiso (HOF); NORTH IDAHO'S BEST: Highlands Day Spa, Post Falls
---
BEST MEN'S CLOTHES
NORDSTROM
When it comes to clothing, men aren't afforded the sort of shopping choices available to women. Thankfully, downtown Spokane has been home to a Nordstrom store since the 1970s and that store has a men's department that has been outfitting the region's men ever since. While the ladies do love them some Nordy's, the Seattle-based chain doesn't ignore the dudes, replete with a full suit department staffed by guys who will help even the most style-challenged of us get looking classy. (MB)
2nd PLACE: Macy's; 3rd PLACE: Anderson & Emami
---
Best MALL
NORTHTOWN
People take pride in their mall of choice here in the Inland Northwest. Some don't wander too far from downtown's River Park Square while others are partial to the Valley Mall's campus-like enormousness. But this year, our readers pledged their loyalty to the tried-and-true NorthTown Mall, which is home to a collection of popular chain department stores, as well as local businesses that you can't find anywhere else in town. There's also a slate of restaurants and, of course, the Regal Northtown Mall 12 cinemas. (MB)
2nd PLACE: Spokane Valley Mall; 3rd PLACE: River Park Square; NORTH IDAHO'S BEST: Silver Lake Mall, Hayden
---
BEST WOMEN'S BOUTIQUE
SWANK BOUTIQUE
"Swank is the No. 1, best place for my wardrobe," says Jamie Hall of Spokane, just one of the many, many readers who voted this North Side women's clothing store the best boutique for the second year in a row. Located near, but not in the NorthTown Mall, Swank offers a variety of women's clothing, focusing on cutting-edge styles, shoes and accessories at affordable prices. (MB)
2nd PLACE: Lolo Boutique; 3rd PLACE: Coco Boutique; NORTH IDAHO'S BEST: Tiffany Blue; CdA
---
BEST NEW BUSINESS OPENED IN 2012/2013
METHOD JUICE CAFE
There's always naysayers, and when Nick Murto and Tyler Lafferty opened Method Juice Cafe last summer, they heard from lots of people that their idea might not work. "So many people warned us that it wasn't going to fly in Spokane," Murto says. "They were worried that not enough people care about what they are putting in their bodies." After less than a year of business, Method has proved them wrong. The organic juice bar and downtown stop for quick, healthy vegan food is almost always bustling. "It's been such a positive experience. We've proved the naysayers wrong, there are plenty of people interested in this kind of a lifestyle here," he says. (LS)
2nd PLACE: Total Wine and More; 3rd PLACE: H&M
---
BEST HOTEL
THE DAVENPORT
When developer Walt Worthy announced plans for a new 15-story headquarters hotel next to the Spokane Convention center, Spokane got excited for a reason. Worthy carries with him the success of the Davenport Hotel, one of Spokane's great comeback stories. Vacant and crumbling for years, the Davenport was resurrected a decade ago, and it quickly became synonymous with swank and luxury. "I think anybody in the downtown community could count [the Davenport] as a key factor in the downtown Renaissance," Marla Nunberg, vice president of the Downtown Spokane Partnership, told us last summer. (DW)
2nd PLACE: Northern Quest Resort & Casino (HOF); 3rd PLACE: The Montvale Hotel; NORTH IDAHO'S BEST: The Coeur d'Alene Resort
---
BEST BANK
WASHINGTON TRUST BANK
We didn't have to seek out Inlander reader testimony on why Washington Trust Bank is the best bank in the area. The bank already posted a video on their website showcasing the praise of Italia Trattoria's Bethe Bowman and Anna Vogel. Washington Trust Bank helped finance the launch of their Browne's Addition restaurant in the middle of the recession. "Our relationship with Washington Trust Bank is great," Bowman says. "I've already recommended people that have had some difficulties to go talk with the bank, because they just take care of you so well. … They're top notch." (DW)
2nd PLACE: Banner Bank; 3rd PLACE: Sterling Bank
---
BEST LOCAL FASHION TREND
SCARVES
Spokane fashion trends range from hick to hipster — from the beard to the "brotank" and back to pajamas and plaid. Though the universal trends (scarves, boots, leggings) topped the charts this year, a few suggestions are uniquely Spokane.
Let's start with those that can be categorized as "casual hick": "Sweatpants to church" as well as "Pajamas anytime anywhere" were offered. Pair one of those trends with "Mullets at the Northside Walmart" or "Tweety Bird tank tops and spandex" and you'll strike redneck gold.
Now don't leave out the hipsters. They got nods to their holy trinity: glasses, jeans and flannel. Someone noticed the accidental hipsters too — "Old men who don't realize they're dressed like hipsters."
Spokanites are also known for being idealistic when it comes to dressing. Some bids point out the just darn impractical — "Not wearing a shirt when it gets above 40 degrees" and "Shorts in winter." Devout sandal-wearers defy the chilling temperatures here, and it doesn't go unnoticed. According to readers, "Socks and sandals" is our second biggest fashion trend.
The ubiquitous "Bling Butt" or "Sparkle Jeans" is a trend that originated at malls and has spread, like wildfire, to the suburbs. Usually found on those flocking to Nickelback concerts, they transcend generations of girls, and now those girls are dressing their husbands and boyfriends in them, too. It's a trend the whole family can love!
— KATE DINNISON
2nd PLACE: (Tie) Socks and sandals; Boots; 3rd PLACE: Wearing shorts year-round
---
BEST BOOKSTORE
AUNTIE'S BOOKSTORE
Auntie's has called itself "Spokane's Literary Landmark" and while that might sound boastful, they're actually spot on. "It's really the only bookstore that matters in Spokane," writes Inlander reader Richard Bailey, who was one of the many who voted Auntie's into yet another first place win in this category. While selling books is obviously the store's first concern, they're also known for bringing regional and national authors into the store for readings and book signings. So yeah, you could call it a landmark. (MB)
2nd PLACE: Barnes and Noble; 3rd PLACE: 2nd Look Books
---
BEST GIFTS
BOO RADLEY'S
Most businesses need to take themselves seriously to find success. Boo Radley's, on the other hand, has done just about the opposite, with their store full of silly, strange but ultimately engaging items. Looking for a weird shower curtain for that one friend of yours? How about a T-shirt that welcomes people to "Spokanistan" for that friend who moved away? Or maybe just a novelty greeting card for your goof-ball aunt? Quit asking so many questions and just go to Boo Radley's and see why our readers have voted them to the top. (MB)
2nd PLACE: Atticus; 3rd PLACE: Halpin's; NORTH IDAHO'S BEST: Papillon Paper Emporium, CdA
---
Best PLACE TO BUY A KID'S BIRTHDAY GIFT
WHIZ KIDS
Kids like toys. Duh, right? You knew that. But you don't want to give a kid yet another piece of molded plastic that's going to break on him or her right off the bat. That's why Spokanites have voted this Skywalk-level downtown toy store No. 1 in this year's reader's poll — because, as the store's motto goes, it provides "smart toys for smart kids." The store's management says that they carry more than 6,000 different items in stock, so there's something for all the smart kids in your life. (MB) 
2nd PLACE: Boo Radley's; 3rd PLACE: Figpickels Toy Emporium
---
BEST VINTAGE BOUTIQUE
FINDERS KEEPERS
Don't let the term "vintage" in this category title fool you — there's nothing dusty or drab about Finders Keepers. Its jewelry location on Second Avenue (there's also a designer dress shop on Main Avenue) is full of refined accessories that range in time period from the present all the way back to before most of you reading this were born. Owned by Deena Caruso and her family, this shop has become a Spokane fashion staple in its decade and a half in business. (MB)
2nd PLACE: Carousel; 3rd PLACE: Fringe & Fray; NORTH IDAHO'S BEST: My Favorite Things, Post Falls
---
BEST NEIGHBORHOOD SHOPPING DISTRICT
THE GARLAND
The thriving Garland District might actually rival downtown Spokane in terms of attitude. The throwback feel of the Garland has made it a popular shopping and entertainment area with a growing number of businesses. Still wondering what the Garland is all about? We'll let the Garland Business District, the nonprofit that rallies for this mid-town neighborhood's success take it from here: "Local art, vintage clothes, thrift store, fun clothes, pet grooming... Browse bookshelves or try out a guitar. Recharge at the coffee shop. Catch a movie or a comedy improv show. Get your nails done. Take a sewing lesson." And they could keep going. (MB)
2nd PLACE: South Perry District; 3rd PLACE: The Sodo District; NORTH IDAHO'S BEST: Sherman Avenue, CdA
---
BEST BARBER SHOP
WELDON BARBER
The philosophy behind this chain of men-only barbershops, with three locations in Spokane and four in Seattle, is a mix of old school and new school. At least that's what Katie Marshall, manager of the location on 29th Street, credits for their dedicated regulars and their latest Best Of win. "Once people come in, they're kind of hooked," she says. The shop offers old-fashioned straight-razor shaves and fresh, up-to-date haircuts, with plenty of pampering along the way. (HG)
2nd PLACE: The Man Shop; 3rd PLACE: Dan's Barbershop; NORTH IDAHO'S BEST: Clean Cut, CdA
---
BEST BAIL BONDS
 BULLDOG BAIL BONDS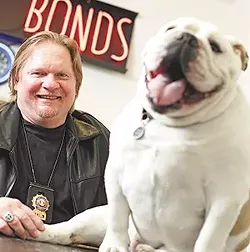 In 2007 Adam Bogle went into the bail bonds business because he wanted to help people. Sure, he also wanted to make money, but the ex-teacher says his primary motivation was service.
"You know ... my mission statement in this business is to treat people with dignity and respect regardless of their circumstances," Bogle says. "I'm not sure [as a society] … that we always do that. And everybody deserves an opportunity."
This focus, he says, is why he thinks Inlander readers recognized his efforts.
Bogle has long, dirty-blond hair and acts the part of a private eye, gun on his desk and everything. Leaning back in his chair, he explains nonchalantly how he made the transition from teaching special education and at-risk kids to bailing folks out of jail, and forcibly returning them if necessary.
"I'm a good self-learner," he says, before explaining that some of his most stressful moments occur when he has to go to people's homes and arrest them.
The whole industry of bail bondsmen is often misunderstood, he says. His job, as an entrepreneur, is to make sure that people serve their court dates, while simultaneously giving them the chance to get out of jail, at least temporarily. He says it's a lot like the insurance business and saves taxpayers money.
"My job is to hold you accountable to the courts," he says. "I bailed you out, so now I'm on the hook for the full amount of the money to make sure you show up to court."
Still, he's always thinking about the justice part of it all. He says that bail bondsmen have a bad rap, and occasionally it's deserved. However, in many cases he's just giving someone who made a mistake a second chance.
"This morning I bailed out a working man. A guy who made a mistake and he had to be back to work. We bailed him out and he's back on the job site, and that's huge to me," Bogle says. "People make mistakes, and if you can get a guy back to work in this economy, that's a good place for them to be. Not in jail, but working."
— ELI FRANCOVICH
2nd PLACE: Ace's Bail Bonds; 3rd PLACE: Marci's Bail Bonds; NORTH IDAHO'S BEST: Quick Release Bail Bonds, CdA
---
Best NEW BUSINESS
WHERE ARE THEY NOW?
This year's readers poll marks the 20th time we've asked community members to tell us what they think are some of the greatest things about living in this little corner of the world. One big question we've asked over those two decades is what readers think is the best new business that opened its doors in the previous year. Because it's such a wide-open category, winners from year to year have broadly varied from local restaurants to chain retailers and hotels.
Sadly, a handful of past winners in this category have since shuttered, although more than half are still in business and thriving, including 1997 Best New Business winner Huckleberry's Natural Market.
While the organic food craze we're hearing so much about now took some time to catch on widely, when Huckleberry's opened, the all-natural market was unexpectedly well received, says store manager Monica Hampton.
The more recent natural food trends have certainly given Huckleberry's a boost, Hampton says, but she adds that one big component of its continued success lies in how it connects with customers.
"Many [customers] have been shopping here since it opened, and we also have a good relationship with the local community," she says. "We support local charities and have long-term relationships with local vendors and producers."
Fast-forward 10 years after Inlander readers voted Huckleberry's the area's Best New Business to 2007, when west downtown's eclectic fine-dining restaurant Wild Sage was voted No. 1.
This month, Wild Sage celebrates its seventh anniversary, having fought through the economic recession that hit the year following its debut, along with the continued challenge of rising food and labor costs. Co-owner David Wells says despite all the pitfalls, Wild Sage has experienced slow but steady growth each year.
"I think probably what has helped us more than anything is that the three of us [owners] have been in the industry for 30-plus years, and we went into this for the long haul," Wells says. "We knew you had to buckle down and pay attention to things like food, liquor and labor costs."
Wells says he and his partners in the business also credit their success to having a sustainable business model, and realizing that in the restaurant industry there's not really such a thing as an overnight success.
— CHEY SCOTT