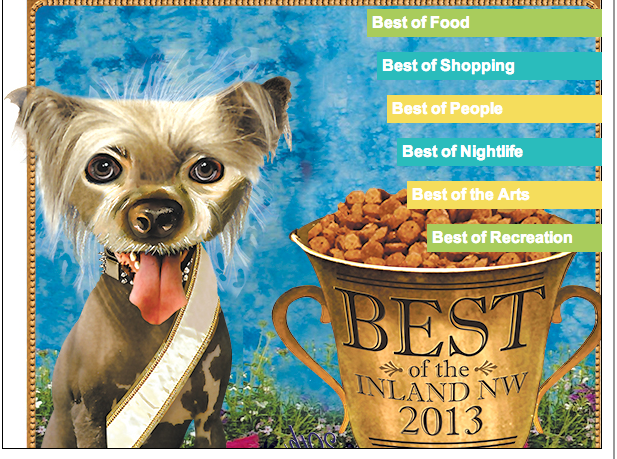 « Browse all categories and winners with the options on the left «
As we march along to our 20th birthday in October, there are a few milestones along the way. None is bigger than this, our 20th annual readers poll issue. It's been a lot of fun to read through the first 19 Best Ofs, and we've shared some of what we found here in stories we're calling, "Where Are They Now?" And don't miss our "Fully Covered" spread for a trip down memory lane.
Looking back, you could say some things stay the same, as Dick's, Auntie's and Arbor Crest all won in 1994 and are still winning your votes today. But times do change — nobody even knew what gluten-free was back then, and this year we had a hotly contested category all about gluten. And this year's Best Athlete, Kelly "The Clinic" Olynyk, was just two years old back in '94. (Speaking of KO, be sure to clip out his commemorative poster from the People section, too.)
Now that you've voted and read the results, make sure you get out there and thank all your favorite people and places for all they do to make the Inland Northwest a great place.
Section Editor Jacob H. Fries
Art Director Chris Bovey
Layout Assistant Alissia Blackwood
Dog Art Jeff Drew
Photographers Mike McCall, James Nisbet, Stephen Schlange, Young Kwak
Writers Mike Bookey, Jon Brown, Kate Dinnison, Eli Francovich, Eric Gavelin, Heidi Groover, E.J. Iannelli, Jacob Jones, Ted S. McGregor Jr., Jo Miller, Sarah Munds, Chey Scott, Carrie Scozzaro, Leah Sottile, Lisa Waananen, Daniel Walters