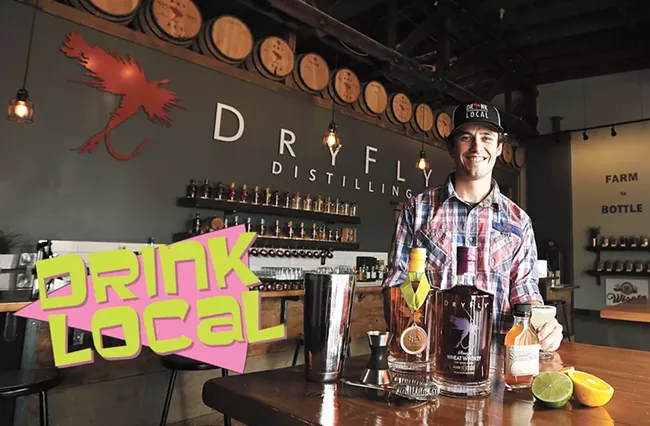 Best Old Fashioned
HOGWASH WHISKEY DEN
Over the past year and a half, Hogwash Whiskey Den has established itself as a joint worth obsessing over, and not only because of their late-night food and warm, underground locale. The Old Fashioned at Hogwash is something remarkable, a simple and traditional blend that cuts to the chase. Smokey, bitter and with a flawlessly sweet citrus finish. (JS)
2nd PLACE: Durkin's Liquor Bar; 3rd PLACE: Bon Bon
---
Best Happy Hour
TWIGS BISTRO & MARTINI BAR
The Spokane-based restaurant chain consistently brings in top numbers for this annual Best Of category, and for good reason. Happy hour conveniently runs daily from 3-6 pm and 9 pm to close at all four of Twigs' Spokane-area locations (downtown, Wandermere, South Hill and Spokane Valley), offering small plates for $6-$8, $2 off its signature martinis, $1 off draft beer and glasses of wine as well as a special for $5 glasses of the house wine. Cheers to that. (CS)
2nd PLACE: The Safari Room; 3rd PLACE: Zola; NORTH IDAHO'S BEST: Beverly's, Coeur d'Alene
---
Best Coffee Roaster
THOMAS HAMMER
When you're ready to step above the plastic jug of flat joe that makes you contemplate how soon you can make it to the work bathroom while you're in morning traffic, look no further than local roasters Thomas Hammer. Their Starry Night Sumatran and Signature Blend show their range of roasts with dark and smooth options. (TC)
2nd PLACE: Doma; 3rd PLACE: Roast House
---
Best Craft Cocktails
DURKIN'S LIQUOR BAR
When you descend to this speakeasy-styled lounge, the folks at Durkin's are able to transport you to a cocktail bar that has all of the pomp and circumstance of top-notch handcrafted drinks with little of the pretension. Start your weekend or night out with a couple rounds of their stacked whiskey collection or range of crafted drinks. Gin fans: You can't go wrong with their White Linen. (TC)
2nd PLACE: Hogwash Whiskey Den; 3rd PLACE: Twigs; NORTH IDAHO'S BEST: 315 Martinis & Tapas, Coeur d'Alene
---
Best Drive-Through Espresso
DUTCH BROS.
If you've driven down Division at any time from sun up to rush hour, you've seen the Logan area Dutch Bros.'s traffic backed up into the far left lane. And for good reason, the kind and sociable baristas jam pack enough shots into those behemoth cups to make the rest of your day and drive a breeze. Plus, their punch-card game is no joke. (TC)
2nd PLACE: Wake Up Call; 3rd PLACE: Jacobs Java
---
Best Local Cidery
ONE TREE HARD CIDER
Rotating nine seasonal and year-long ciders is a feat on its own, but to make each one uniquely delicious and robust like One Tree Cider's selection is proof to why they're the top dogs in the region. Their Pumpkin and Cranberry ciders held you over through autumn just in time for their Lemon Basil and Ginger Apricot to let you coast into patio season. (TC)
2nd PLACE: Liberty Ciderworks; 3rd PLACE: Twilight Cider Works; NORTH IDAHO'S BEST: Summit Cider, Coeur d'Alene
---
Best Local Distillery
DRY FLY DISTILLING
Now more than 10 years in the game, Dry Fly Distilling remains a staple of spirit enthusiasts in the Inland Northwest. Their wheat vodka is world renowned and their gin is turning heads for its progressive look at American distilling with its use of locally produced botanicals. A bottle of Dry Fly notes you're not only shopping local, but shopping with a discerning taste. (TC)
2nd PLACE: Up North Distillery, Post Falls; 3rd PLACE: Bardenay, Coeur d'Alene
---
Best Local Winery
ARBOR CREST WINE CELLARS
Prepare yourself for when you make the proper decision to visit the Arbor Crest Cliff House. The venue is about as scenic and breathtaking as its name would suggest and the cellar is a standout option for event planners. But even after you wrap your mind around the view, you'll have to maintain your composure during flights of their collection. Their Dionysus would even make the god of wine and madness himself test his moderation. (TC)
2nd PLACE: Barrister Winery; 3rd PLACE: Latah Creek Wine Cellars; NORTH IDAHO'S BEST: Coeur d'Alene Cellars
---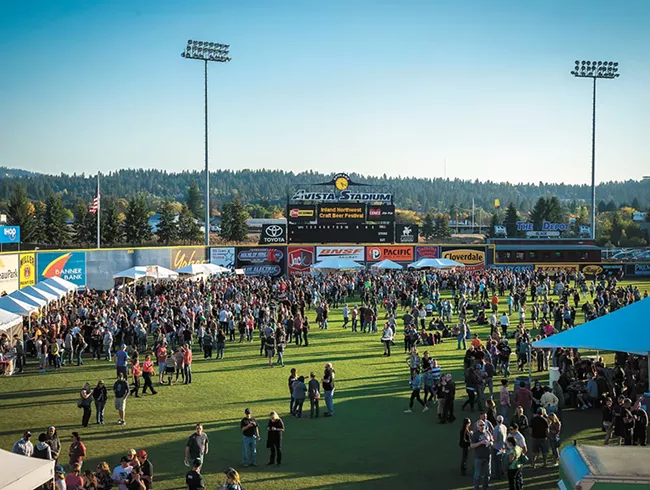 Best Beer Event/Festival
INLAND NW CRAFT BEER FESTIVAL
For the second year in a row, the Washington Beer Commission proved its annual Inland NW Craft Beer Festival is the best around. Pouring 175 different beers from more than 40 Washington breweries, last year's festival had another record attendance. It's the perfect opportunity to drink great beer in the outfield of Avista Stadium, so make sure to check out this year's event happening Sept. 21-22. (DH)
2nd PLACE: No-Li Frost Fest; 3rd PLACE: Schweitzer Fall Fest
---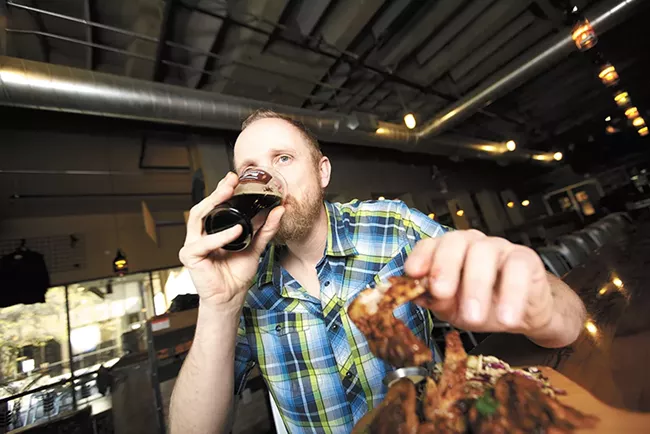 Best Beer Selection At A Pub
MANITO TAP HOUSE
If quality beer is as high of a priority for you as gourmet food, Manito Tap House is more than likely your go-to pub. Think you will be overwhelmed by the number of options from their 50 tap handles and extensive beer cellar? Ask one of the certified cicerones — think sommelier of beer — on staff for suggestions. (DH)
2nd PLACE: The Viking; 3rd PLACE: Capone's
---
Best Local Brew
NO-LI BORN & RAISED IPA
The best-selling IPA in the region, No-Li Born & Raised is a long-standing local favorite. At 7 percent ABV, it's a versatile beer found at supermarkets, fine-dining restaurants, dive bars and everywhere in between. No-Li drops in a variety of hops, giving it a perfect balance of citrus and piney flavors, making it exactly what you want from a Northwest-style IPA. It's available in 12-ounce cans and bottles, as well as 22-ounce bottles. No-Li dominated this category, placing second and third as well, but the list of readers' favorites runs long: 12 String's Mango Mambo Hefeweizen, Daft Badger's Blood Orange IPA, Iron Goat's Trashy Blonde, Laughing Dog's Dogfather Imperial Stout, Perry Street's New England IPA, Post Falls' Fat Lenny IPA, Orlison's Orangelicious Golden Ale, River City's Red and Whistle Punk's Coast to Coast IPA. (DH)
2nd PLACE: No-Li Big Juicy; 3rd PLACE: No-Li Wrecking Ball; NORTH IDAHO'S BEST: Laughing Dog's The Dogfather
---
Best Local Brewery
NO-LI BREWHOUSE
No-Li has managed to continually be the first choice of regional craft beer lovers. Sure, it can be attributed to the consistent quality of their staple beers. But it could also be the copious amounts of speciality beer releases — like the barrel-aged Winter Games series last month — or the multiple tasting events they host throughout the year. Whatever the reason, it's no wonder why it's been dubbed the Best Local Brewery by our readers every year since its rebranding in 2012. (DH)
2nd PLACE: Iron Goat Brewing; 3rd PLACE: Perry Street Brewing; NORTH IDAHO'S BEST: Post Falls Brewing
---
Best Single-Location Coffee Shop
ATTICUS
A great coffee shop is a blend of quirk, comfort and caffeine, and Atticus, the Boo Radley's-adjacent-cafe, has the perfect ratio of all three. Yeah, there's coffee. There's also a gift shop filled with books and oddities and a slew of Northwest branded loose-leaf tea selections. The only challenge is finding a seat on a weekend.
Now, say it with me, Al Pacino-style: "Atticus! Atticus! Atticus!" (DW)
2nd PLACE: Vessel Coffee;3rd PLACE: Spaceman Coffee; NORTH IDAHO'S BEST: The Vault, Coeur d'Alene