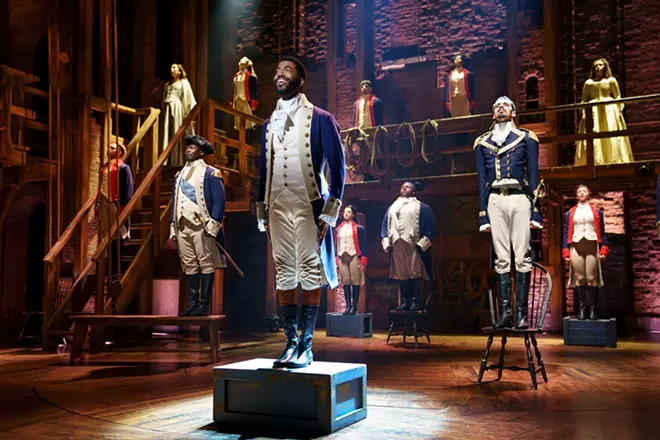 W
e've known that Hamilton
was going to be part of the 2020-21 STCU Best of Broadway season for a while, but now we finally know the exact dates, as well as the rest of the featured shows for the season.
Granted, the whole world has changed since WestCoast Entertainment announced
Hamilton
was coming to town back when they announced their 2019-20 season — a season that's been roiled, along with the rest of our lives, by the coronavirus pandemic. Obviously you'll want to stay tuned for any changes as the country continues to navigate its way through social distancing and self-quarantines. But for now, let's assume the best and get ready for a season full of familiar favorites, a show with some local roots and the phenomenon that is
Hamilton
.
You can get more information and buy season tickets right now at the
Broadway in Spokane website
.
Here's the lowdown on what's coming:
The Broadway Season Package
Anastasia, Dec. 22-27. A romantic adventure based on classic films.

Cats, Jan. 12-17, 2021. A Broadway classic, and now infamous feature film, reimagined.

Come From Away, Feb. 16-21, 2021. A musical based on a true story that's still running on Broadway, where it was co-produced by Coeur d'Alene's Laura Little.

Hamilton, April 13-May 9, 2021. History meets hip-hop. Maybe you've heard of it.

Fiddler on the Roof, May 18-23, 2021. Another Broadway classic gets a modern update.
Special Engagements
Roald Dahl's Charlie and the Chocolate Factory, Nov. 14-15. A visual feast.

Jersey Boys, Feb. 3-6, 2021. Originally intended to be part of the 2019-20 season, the story of the Four Seasons is packed with hits.

More special engagements will be announced at a later date.
National Geographic Live!
Force of Nature with photographer/filmmaker Keith Ladzinski, March 11, 2021.

Improbable Ascent with paraclimber Maureen Beck, May 13, 2021.

How To Clone a Mammoth with evolutionary biologist Beth Shapiro, June 9, 2021.