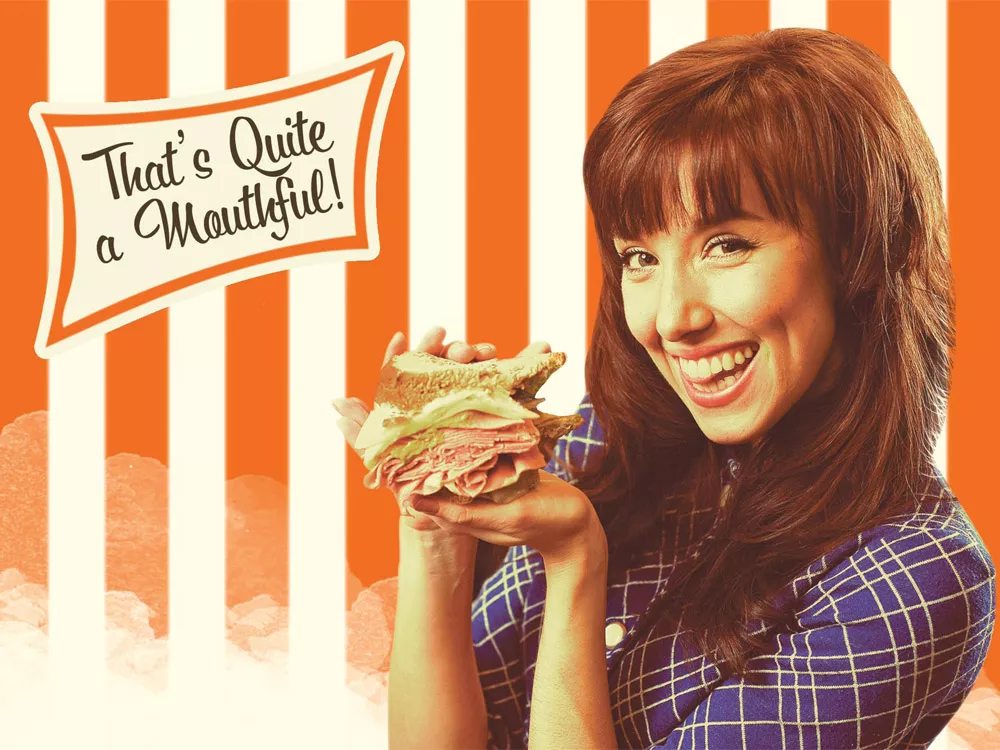 BEST BREWERY
Northern Lights Brewing Co.
In a town where breweries seem to come and go constantly, Northern Lights has been a symbol of malted, hop-rich stability since opening in 1993. Their ales are eminently quaffable, their brewpub location is industrial loft perfection and, honestly, there are few joys greater than having a pint and some fries on the back lawn in the late spring as the Spokane River flows by. (Luke Baumgarten)
2nd PLACE: Coeur d'Alene Brewing; 3rd PLACE: Twelve String Brewing
---
BEST HOT WINGS
Flamin' Joe's
You walk into this place, with its snowboards on the walls, its enameled tables inlaid with Mardi Gras beads, and you think all it's up for is a good time. Wrong. Flamin' Joe's is a thinking man's wing joint. The sheer number of flavors available — a range of traditional spice, a bevy of barbecues, some dry rubs, ginger-flavored, wasabi for God's sake — makes this poultry paradise. The fact that you can mix the flavors together in a number of massive wing platters just means you're going to eat yourself stupid finding your favorite combos. (Luke Baumgarten)
2nd PLACE: Winger Brothers; 3rd PLACE: Hooters
---
BEST BURRITOS
Ionic Burrito
Add a "C" after the "I" in Ionic Burrito and you'd be speaking the truth. This is not just the most iconic burrito place in Spokane, but it's one of the more iconic restaurants in Spokane. Especially now that David's Pizza is gone from the neighborhood, the middle ground Ionic strikes between true Tex-Mex burritos and their more broad, playful wraps, is the first taste of Spokane many Gonzaga kids get. (Luke Baumgarten)
2nd PLACE: Neato Burrito; 3rd PLACE: Qdoba; NORTH IDAHO'S BEST: Atilano's, CdA
Best Appetizers | Best Salads
Twigs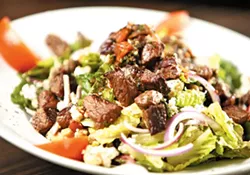 Half of the rectangular white plate was piled with hot French fries, seasoned with basil, sea salt and a hint of cayenne. The other half held mixed baby lettuce tossed with candied walnuts, gorgonzola, dried cranberry and a hint of tarragon in a red-wine vinaigrette. When I finished the salad, I used the remaining fries to mop up the rest of the dressing and stray bits of gorgonzola.
The Insalada Mista at Twigs isn't rocket science. It's a popular combination, made with fresh ingredients and consistently well-prepared. That's why people love it. Several of the salads, like the pear and beet salad, are popular with the vegetarian and gluten-free crowd also.
"We try to have salads that have a little bit of everything — sweet, salty and savory," says Twigs' Wandermere manager, Doug Truitt. "It's a real nice harmony."
Twigs' recent marketing campaign, "We're shaking things up," isn't just about the martinis. Ingredients like toasted cumin pecans on the Caesar and spicy cashews in the Oriental chicken salad give the salads that extra flair customers love, says Truitt.
As for the French fries? Twigs' signature fries are their most popular appetizer, and Truitt credits the same balance of flavor, with sweetness from the rice-wine vinegar, salt and heat from the pepper.
Another reason the appetizers are so popular is that they're fun. Where else do you get to play with your food? We like to dip fiery cubes of Moroccan beef into the gorgonzola fondue, and we've always loved the make-it-yourself fish tacos, with skewers of mahi mahi, cabbage slaw and spicy-sweet sauce.
The portions sizes are another bonus. For $10-$12, the appetizers are generous enough for a light meal. Happy hour is an even better value; the hummus trio or three Kahlua pork sliders run $6. Add a Twigs' ale or an Appletini and get out the door for $10-$11.
Twigs' appetizers lend themselves well to sharing. Grab some friends, order some fries, a salad and the crab and artichoke dip and leave without feeling stuffed. "It makes a nice date night, also, that's not going to kill your budget," says Truitt. (Kirsten Harrington)
BEST APPETIZERS: 2nd PLACE: P.F. Chang's; 3rd PLACE: Clinkerdagger (Hall of Fame); NORTH IDAHO'S BEST: White House Grill, Post Falls
BEST SALADS: 2nd PLACE: Mizuna (Hall of Fame); 3rd PLACE: Taste Cafe
---
BEST WINERY
Arbor Crest
As the Dos Equis man might say, "We don't always have a Best Winery category, but when we do, Arbor Crest wins it." Every. Damn. Time. Since the very creation of the category. That's called a dynasty, kids, like UCLA men's basketball during the Wooden era, or like the show Dynasty. And speaking of soap-opera-like drama, these makers of highly regarded syrahs and sauv blancs even survived a late 2009 fire to their iconic Cliff House with nary a tarnish to their rep. (Luke Baumgarten)
2nd PLACE: Barrister; 3rd PLACE: Latah Creek; NORTH IDAHO'S BEST: Pend d'Oreille Winery (Sandpoint)
---
BEST PIZZA
Bennidito's
There had been much talk around here, over the years, about whether anyone would ever knock off David's Pizza in this category. In 2009, Bennidito's finally did it with their crisp, bubbly crusts, well-curated pizza toppings and a solid, dependable beer list. They haven't looked back, taking top honors every year since. Flying Goat and South Perry had really good showings, but this is officially Bennidito's category to lose. (Luke Baumgarten)
2nd PLACE: Flying Goat; 3rd PLACE: South Perry Pizza; NORTH IDAHO'S BEST: Fire Artisan Pizza, CdA
---
BEST NEW RESTAURANT
Manito Tap House
You could have predicted this one based solely on how hard it is to get a seat anywhere in this place — booths, tables, a single stool tucked away at the end of the bar — but it's official: Manito Tap House is the area's best new restaurant. They went gastropub and hit their mark, providing high-end comfort food with good ingredients at reasonable prices. Get the yam chips for God's sake. (Luke Baumgarten)
2nd PLACE: The Saranac Public House; 3rd PLACE: Geno's; NORTH IDAHO'S BEST: Grille from Ipanema, CdA
---
BEST FINE DINING | BEST DESSERT
Clinkerdagger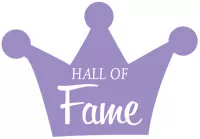 Sitting on the patio with a plate of crispy calamari and a glass of sauvignon blanc overlooking Spokane Falls makes Clinkerdagger a favorite in the summertime. An inside seat with a view of the skyline and a slice of juicy prime rib is another reason why Clinkerdagger earns the vote. Clinkerdagger holds onto the best dessert title with classic Burnt Cream, warm pear bread pudding and chocolate indulgence cake. (Kirsten Harrington)
FINE DINING: 2nd PLACE: Churchill's; 3rd PLACE: Masselow's; NORTH IDAHO'S BEST: Beverly's, CdA
DESSERT: 2nd PLACE: Madeleine's; 3rd PLACE: Just American Desserts; NORTH IDAHO'S BEST: Dockside, CdA
---
Best Food Cart
Mommy G's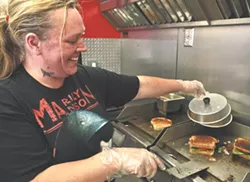 For Spokane, the last year became a food cart renaissance. Seemingly out of nowhere, garlicmobiles, hot dogs and a ton of Mexican food appeared, feeding everyone from the 9-to-5ers to the drunken masses downtown.
But one conquered them all: the grilled cheese sandwich.
"Originally I wanted to open my own restaurant, but that didn't work out. We talked about doing all different kinds of street food from around the world, but our ideas were very complicated. So we took them all and turned them into sandwiches," says owner Jessica Rapp.
And the idea seems to be working. Despite moving to the unlikely location of the Staples parking lot on North Division, Rapp still serves a frantic crowd, who claims to "dream about our dessert sandwich."
"People are awesome. It takes an adventurous person to eat at a food truck, and we get a lot of opinionated people, but I hear every day that they are in love with our sandwiches."
Greatest hits so far include the French onion melt, which she describes as "French onion soup deconstructed into a sandwich," along with the BLT melt and the Monster, two grilled cheese sandwiches stacked with bacon and ham.
In addition to the 10 sandwiches featured on the menu, Rapp also features eight others as specials, such as the garlic sandwich: two slices of bread encasing fontina cheese, roasted garlic compote and chives.
"I like to do sandwich specials and deals every day, which I post on Facebook."
For now, she plans to stay at the current location during lunchtime, working late nights in the Gonzaga district at Hamilton and Mission.
With spring and summer will come extended hours, but the menu won't change much outside of the classics. And that doesn't bother Rapp much.
"I love to cook, I love to feed people, I love to watch them enjoy the food I cook."
We suspect she'll be doing that for a long time yet. (Alicia Purvis-Lariviere)
2nd PLACE: Tacos El Sol (First & Washington); 3rd PLACE: Frank's Franks (East Sprague & University); NORTH IDAHO'S BEST: Big Yellow Mobile Kitchen (Harrison & Fourth, CdA)
---
BEST INTERIOR DESIGN | BEST THAI FOOD
Thai Bamboo
Thai food fans in Spokane and Coeur d'Alene now have more to love. This local chain opened its fourth outlet last spring — a glitzy Las Vegas-style flagship restaurant. The 200-seat dining room in north Spokane has a domed ceiling with thousands of fiber-optic stars and lasers to create the illusion of the night sky. We like the lunch combos with pad thai and red curry, and the hard-to-resist fried bananas with vanilla ice cream. (Kirsten Harrington)
BEST INTERIOR DESIGN: 2nd PLACE: Twigs; 3rd PLACE: Zola; NORTH IDAHO'S BEST: Fire Artisan Pizza, CdA
BEST THAI FOOD: 2nd PLACE: Linnie's; 3rd: Thai Kitchen
---
BEST CUTTING-EDGE RESTAURANT
Sante
Chocolate-braised pork belly and chervil potato windows are just two of the items on chef Jeremy Hansen's 15-course menu, which seduces diners for hours with art on a plate and wines to match. But even a humble burger at Sante is pushing the frontier. Hansen worked with Rocky Ridge Farms to develop 100-percent grass-fed angus/waygu beef just for Sante. This beautiful burger is topped with mustard, ketchup and pickles — housemade, of course. Stay tuned for Modern 40 this summer — an extravaganza of 10 flavors prepared four different ways. (Kirsten Harrington)
2nd PLACE: Scratch; 3rd PLACE: Wild Sage
---
BEST SEAFOOD
Anthony's
It's hard not to love fish so fresh it should still be swimming, stunning views and that addictive sourdough bread. Order up some clam chowder in a toasted sourdough bread bowl or a Cobb salad with fresh mango for a casual meal, or splurge and go for the dungeness crab fettucine. Wild salmon cakes and seafood mac 'n' cheese reel us in, too. With four-course meals and lobster specials for around 20 bucks, it's no wonder Anthony's is a favorite. (Kirsten Harrington)
2nd PLACE: Milford's; 3rd PLACE: Williams Seafood; NORTH IDAHO'S BEST: Fisherman's Market, CdA
---
Best Local Gut-Busting Man vs Food Challenge
Pizza Rita's Five-Pounder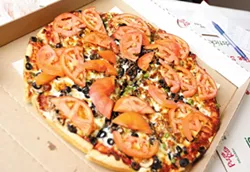 Adam Richman, eat your heart out. As host of the Travel Channel's Man V. Food Nation, Richman has been elbow-deep in pastrami sandwiches and vats of butter, but he's never mowed down on a five-pound Pizza Rita pie.
Five hefty pounds of flour, meat and cheese have brought grown men to their knees at Pizza Rita. The challenge: Eat five pounds of toppings atop a buttery, brown crust in less than 30 minutes, and you'll achieve instant glory and some swag.
"About one in eight people finish," says Pizza Rita owner Brian Dickmann. "We're really proud of our challenge and happy that people can complete it. Ultimately, we want people to have fun with it."
Besides Pizza Rita's five-pounder, readers recommended several other waist-popping dishes.
For one, the XXXL Triple King 24-ounce hamburger at Fat Burger at Northern Quest Casino. The 100-percent-beef, never-frozen patty is cooked to order and served on a toasted bun with pickles, lettuce and tomatoes. Add on cheese, bacon, chili or an egg if you wanna eat like a king, then adorn your royal fingers with homemade onion rings.
Also near the top of readers' list: Wolf Lodge Steakhouse's Sweetheart steak — a 34-ounce center-cut top sirloin. The two-inch-thick slab of meat is cooked to order over apple wood. Although it's big enough to be a roast, you can cut the thing with a butter knife. General manager and co-owner Natalia Peterson says the Sweetheart steak is their most popular dish. Although it's typically served as a dinner for two, a handful of hearty customers eat it by themselves.
"This is such a beautiful steak," Peterson says. "It's so overwhelming when you see it brought to the table, you should see the look on our guests' faces. Everything we serve here is big, and we are very proud of that." (Jordy Byrd)
2nd PLACE: Sweetheart Sirloin, Wolf Lodge Steakhouse; 3rd PLACE: Triple King Hamburger, Fat Burger
---
BEST BAKERY
Rocket Bakery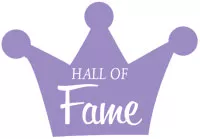 Whether you're looking for a jolt of java and a breakfast bagel to start your day, or a place to stop for an afternoon treat, there's a Rocket just around the corner. That's part of why we love this Spokane institution, with nine locations serving scratch-baked goodness. The Ranger cookies, frosted pumpkin bars and espresso hazelnut scones just help sweeten the deal. (Kirsten Harrington)
2nd PLACE: Rockwood Bakery; 3rd PLACE: Great Harvest
---
BEST HOT DOGS
Frank's Authentic New York Franks
First thing: His name really is Frank. Frank Alberti. Second thing: The dogs really are frank, as in straight-forward — telling it like it is because there's no reason to hide these 100-percent beef Sabrett franks in peppercorns, or cheese or, God-forbid, ketchup. For an East Coast transplant like me, biting into a Sabretts topped with onions with sauce is like returning home. For other locals, like the customer who dropped by for a dog with ketchup and mustard and sauerkraut and said, "It's the perfect snack to fill the hole in my stomach." (Annemarie Frohnhoefer)
2nd PLACE: Cheddar Chad's; 3rd PLACE: Big Red's; NORTH IDAHO'S BEST: Dangerous Dog, CdA
---
North Idaho's Best New Restaurant
Grille from Ipanema
Diners have taken their sweet time deciding they like the area's only Brazilian-style steakhouse — about an hour-and-a-half, actually. That's the average amount of time diners spend feasting at the Grille from Ipanema, according to owner Adriano de Souza.
"It's like a banquet," he says, "a whole dining experience."
It's an experience that involves food, of course, and a lot of it, but also a little cultural exchange. The smorgasbord of self-serve cold salads and hot dishes ranges from South American rice and beans to Italian gnocchi to Russian stroganoff to a tangy tropical slaw with raisins and mango.
Then there's the meat: beef, pork and poultry grilled over open flame while you wait and brought to your table on special skewers until you say "no more!"
Feeling hungry again? The servers will be back to ply you with some other tempting thing: another bite of garlic steak, perhaps, or a morsel of chicken-wrapped bacon. Maybe some grilled veggies or sweet pineapple.
All you have to do is flip over your coaster and it won't be long before a server appears at your table, assuming one hasn't already been there to freshen your water, clear plates or bring you another Brazilian Sun Rise (sparkling wine, passion fruit, mango and strawberry).
And that's another thing de Souza thinks sets his place apart: his staff of 40 or so energetic, happy employees, whom he credits with making Grille a fun place to eat.
"People don't know what to expect" from a Brazilian steakhouse, says de Souza, and they're equally surprised at how their meal is delivered — piping hot, on the end of a skewer.
With a new Monday-Thursday lunch special for $10, there's no better time to taste for yourself what voters are raving about. (Carrie Scozzaro)
---
BEST COFFEE ROASTER
Thomas Hammer Coffee Company
It's easy to mistake the polished interior of Thomas Hammer for that of a non-local coffee shop import, but Spokane's own coffee company roasts its product where they sell it: the Inland Northwest. Many roasters have popped up in the last decade, but the Hammer is still going strong after 19 years, with retail coffee, numerous shops and a collection of sweet merchandise for sale. (Alicia Purvis-Lariviere)
2nd PLACE: Craven's Coffee; 3rd PLACE: Cafe Doma
---
BEST COFFEE DRIVE-THRU
Dutch Bros.
If you like your coffee like you like your jet fuel, Dutch Bros. coffee delivers. Located throughout the Northwest, the chain of distinct blue drive-throughs serves consistent drinks, fast service and the best hours of any coffee stand around. Whether you want your coffee sweet and mellow (like the Cocomo or Caramelizer) or heart attack-inducing (like the six-shot ER-911), you're in luck here. (Alicia Purvis-Lariviere)
2nd PLACE: Wake Up Call; 3rd PLACE: Jacob's Java
---
Best Frozen Yogurt
Didier's
Didier's Yogurt & More is packed on a recent lunchtime visit. There's a young couple on a mid-day yogurt date, academic types, and a grandma and granddaughter enjoying cheeseburgers and chocolate milkshakes. Near the front, containers of shiny jelly beans, Marion berries and pink animal cookies line the topping bar. A freezer tempts customers with mud pies and other take-home treats.
"We've tried to make it like home," says Karen Etten, who has owned Didier's for the past 16 years with husband Frank. "Teenagers can come on dates, grandparents celebrate anniversaries and do it without breaking the bank."
So how has this Spokane yogurt institution thrived for 25 years in the face of the current self-serve yogurt craze?
"We're focused on service to the customer, and everything is handled in a food-safe manner," says Etten, noting that some of her customers have concerns about sanitation at self-serve establishments. Servers at Didier's are happy to offer samples, swirl four or five flavors into a cup, and artfully arrange large pieces of fudge-covered graham crackers or Oreos into the yogurt.
Portion control is another plus. Given free reign at a self-serve shop, some kids pile on so many topping that their yogurt ends up costing as much as a medium pizza. At Didier's, customers choose from four sizes and pay a set price for each topping.
"We get families with six or eight kids that come in," says Etten. "The whole family gets a treat and it's way more economical."
There's more to Didier's than icy treats. The lunch menu is a big part of what sustains them through the winter, with chili, soups, salads and sandwiches.
"I come here all the time," says customer Gene Wilden, who has been a Didier's regular for 16 years. "It's not just yogurt. It's the best cheeseburger around," she says. Wilden lives in Kettle Falls but only eats burgers from Didier's. "It's that good."
It hasn't always been smooth sailing. Didier's re-opened on Feb. 24 after being closed for three months to repair damage from a drunk driver who crashed through the store.
"It destroyed pretty much everything," says Etten, who worried that customers might forget them, or develop new loyalties elsewhere. But that didn't happen.
"We feel really blessed," she says. "People have been so generous." (Kirsten Harrington)
2nd PLACE: Blu Berry; 3rd PLACE: Froyo Earth; NORTH IDAHO'S BEST: Top This, CdA
---
BEST SUSHI
Sushi.com
Every evening, crowds pack into Sushi.com, eager for one of the countless house-made rolls. Many are named after the areas of the Inland Northwest, others are dubbed after their creator. Traditionalists can opt for the classic California roll or perhaps take a walk on the wild side and try something exotic, like sea urchin or geoduck. Their showy Sushi.com Boat is one hell of a spectacle and can feed a small army. (Alicia Purvis-Lariviere)
2nd PLACE: Suki Yaki; 3rd PLACE: The Wave; NORTH IDAHO'S BEST: Syringa, CdA
---
BEST ASIAN FOOD
Gordy's
Szechuan cuisine is the spicy crown jewel of Chinese food, and Gordy's nails it every time. The cozy interior of its South Hill location wafts garlicky aromas throughout the restaurant, and dishes are always fresh, defeating the greasy stir-fry stereotype this cuisine is often associated with. Variety of dishes arranged by spice level pleases the mild to flame-thrower-hot dish gourmands, and those with food allergies can rejoice, since (almost) every dish can be transformed into a vegan, vegetarian or gluten-free meal. (Alicia Purvis-Lariviere)
2nd PLACE: The Mustard Seed (Hall of Fame); 3rd PLACE: P.F. Chang's; NORTH IDAHO'S BEST: Bonsai Bistro, CdA
---
BEST MEXICAN FOOD
Azteca
What better way to end a day than a heaping pile of Mexican food washed down with a massive margarita? On Taco Tuesday, Azteca is a madhouse, and for good reason: $5 buys you all the tacos you can stuff your face with, and their macho margaritas are big, cheap and strong. Service is friendly and quick, which gives you little time to mow down that massive basket of chips and salsa. (Alicia Purvis-Lariviere)
2nd PLACE: Rancho Chico; 3rd PLACE: Rancho Viejo
---
BEST BREAKFAST
Old European
Division Street, the Valley, Post Falls, whatever the location, Inlander readers love Old European's hearty portions and varied menu. Sure, there's a lunch menu with Hawaiian burgers and wraps, but you'll likely show up for the aebleskivers with lingonberry syrup. Or maybe it's the Dutch babies and a breakfast goulash, or perhaps the bacon, avocado, spinach and Swiss omelets? It's this variety that led locals with tastes running toward both the sweet and the savory to vote Old European this year's best breakfast spot. (Annemarie Frohnhoefer)
2nd PLACE: Frank's Diner (Hall of Fame); 3rd PLACE: Chaps
---
BEST SANDWICHES
Domini's
The sandwiches are huge and untainted by anything remotely green or grown from soil. Ham, corned beef, salami, liverwurst, turkey are all sold by the sandwich, the basket and even by the pound. Hot mustard, sweet mustard, horseradish, popcorn, RC Cola. Does it get any better? Service is quick, but these behemoths are built to last. They are also the foundation of a food dynasty, winning their 18th best sandwich shop award. (Annemarie Frohnhoefer)
2nd PLACE: Jimmy John's; 3rd PLACE: High Nooner; NORTH IDAHO'S BEST: Caruso's, Hayden and Coeur d'Alene
---
Best Burger
Reader Throwdown
Debates about how best to stack ground beef, vegetables, other meats (bacon, hot dogs, the odd fried egg) onto a bun are like debates about college basketball tournaments and macroeconomics: Intelligent people can differ.
Answers range from simple and cheap to so ornate (expensive) and decadent that they strain the definition of "burger."
Any category in which a small Valley joint like the THRIFTY SCOTSMAN can receive votes alongside SANTE's (only occasionally available) foie gras burger deserves deeper analysis.
Speaking of thrifty, Jim Briedenbach of Craftsmen Construction calls eating at DICK'S one of "life's simpler pleasures." It's not just the "simple, no-complications, no-frills burger," but the fact that it's a hangout for everyone "from bums to tie-toting executives — they serve them all and everyone gets served the same way. Outstanding!"
Readers Mary Wildman and Brett Lyman were both enamored with SCRUDD'S charbroiling. The relatively new Coeur d'Alene joint also got high marks from Kerry Roberts, who loves how everything is made to order. "They have fresh buns every day," she says, and they hand-cut their own French fries as needed.
At WILD SAGE, Jeremiah Alexander says everything comes in divine ratios — "the bun, patty, sauces and fixings are well-balanced … allowing every flavor to shine." He also says it's cooked well every time, "unlike many other places, where it depends on who is cooking."
Hanna Cuviello says similar things about the quality of the cooking and "also, the onion marmalade they serve on the side is one of my favorite foods in the world." She notes that she's the wife of sous-chef Peter Cuviello, so she's biased. "I'm still right, though."
Lou Arevalo and Gayle Adams both touted the value and the quality of ingredients at CRAZY G's on North Division. Arevalo adds that owner Gary Swiss "makes it a point to come around and visit with his customers to make sure they're enjoying their meals."
In a local celebrity endorsement, Latah Bistro chef David Blaine credited RUSTY ROOF'S burger (which won The Inlander's throwdown last year) for being a "fast-food burger that actually beats out a lot of high-end restaurant burgers." He counted the ways: "It has a good bun, and the meat has a good beefy flavor."
Blaine also offers a little advice for those who want to tell a burger of substance from something that's all frills and no flavor.
"I always judge burgers without the sauce," he says. "Sauce is the crutch of a bad burger."
Well-said, chef. (Luke Baumgarten)
---
BEST BURGER
Red Robin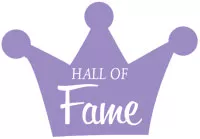 A vegan, a vegetarian and a carnivore go downtown, with their kids, their grandparents and a surly teenager. There really is only one place where the entire group can find happiness: Red Robin. For 11 years, this downtown go-to restaurant has been voted The Inlander's No.1 place for a burger. But in fairness, Red Robin offers so much more than a well-decorated hamburger. With original vegan burgers, garden burgers, malted shakes, endless fries, a singing staff and bright red decor, who wouldn't want to end a downtown day at Red Robin? (Annemarie Frohnhoefer)
2nd PLACE: 5 Guys; 3rd PLACE: Rex's; NORTH IDAHO'S BEST: Hudson's, CdA
---
BEST FRIES
Zip's
It's 2 am and you need a plump, crinkle-cut steak fry. Where do you go? To Zip's, the No. 1 fry joint in the Inland Northwest, as voted by our readers. Jessica Coleman, manager of the Cheney Zip's, knows that clean fryers and clean soybean oil are what makes Zip's fries our readers' top choice. The cooking isn't based on times. Rather, cooks eye the pale vegetables and serve them once they achieve a golden brown sizzle. Any given day the restaurant goes through approximately 3,000 single-serve cups of Zip's signature fry sauce — so maybe the fries can't take all the glory. (Annemarie Frohnhoefer)
2nd PLACE: 5 Guys; 3rd PLACE: Twigs
---
Best Italian
Tomato Street
Families, couples on first dates and regional pasta lovers have voted Tomato Street Spokane's best Italian restaurant. The rustic, family-friendly (coloring paper and chalkboards) establishment offers huge portions of pasta, pizza, sandwiches and the best-selling, Tomato Street original: Baked Lazoni. That's right, Spokane, lasagna encased in a pizza crust. (Annemarie Frohnhoefer)
2nd PLACE: Luigi's (Hall of Fame); 3rd PLACE: The Italian Kitchen
---
BEST COFFEE SHOP
Atticus
Atticus has a little something to convert any passerby into a fan. From maritime throw pillows to early editions of classic books, to a tea nook that is unrivaled in all the area, it goes far and beyond any rival coffee shop. Owners Andrew and Kris Dinnison are ever present and pleasant, and the baristas are amiable, talented, and unpretentious. (Alicia Purvis-Lariviere)
2nd PLACE: The Service Station; 3rd PLACE: Luxe: NORTH IDAHO'S BEST: Java on Sherman, CdA
---
BEST STEAKS
Wolf Lodge Steakhouse
Wolf Lodge has been a favorite in these parts since 1939, with its ranch-style location just east of Coeur d'Alene and a cozy, ski lodge-like restaurant in Spokane. Carnivores love the juicy, aged steaks, seasoned with a special rub and grilled to smoky perfection. There's a steak for every appetite, from the petite 12-ounce Little Dude to the gargantuan Rancher — a 24-ounce porterhouse and 16-ounce sirloin sharing the same plate. (Kirsten Harrington)
2nd PLACE: Churchill's; 3rd PLACE: Spencer's