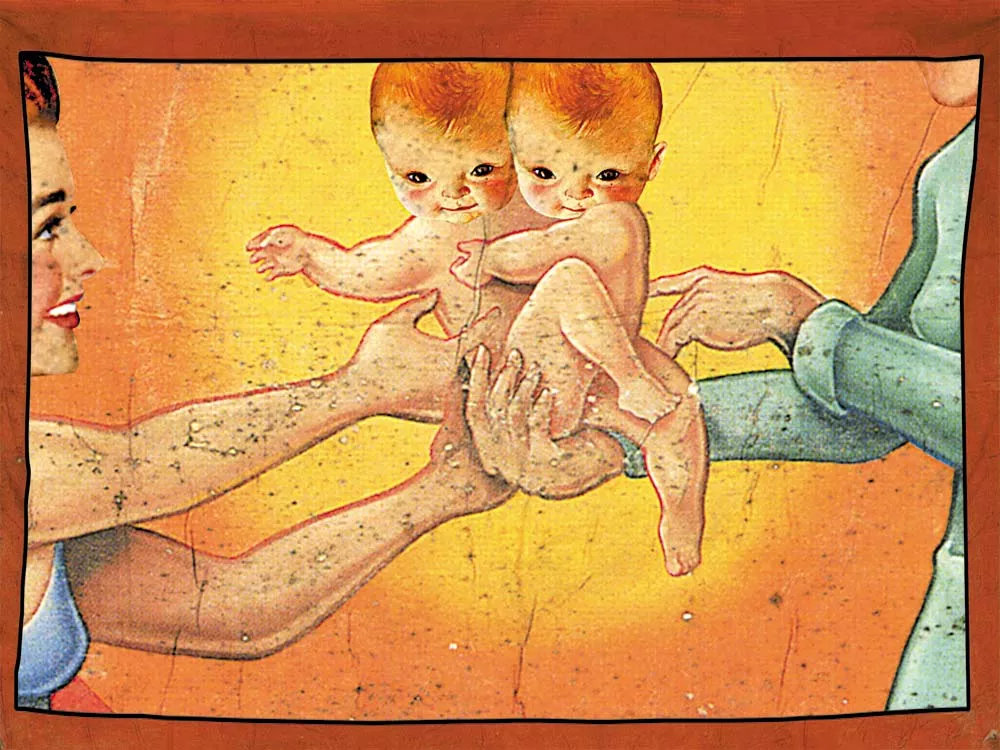 BEST KIDS EVENT
Hoopfest
Agreed. While First Night and Kid's Day are laudable children's events, Hoopfest is hard to beat. Last year, more than 11,200 kids (grades 3 through 12) took to the blacktop in downtown Spokane. Many of them practice for months before the event. And many of us spend months eagerly awaiting the chance to watch the bigheaded, bespectacled little ballers hacking, traveling and double-dribbling their way to street ball glory. (JS)
2nd PLACE: First Night Spokane; 3rd PLACE: Kids Day, Riverfront Park; NORTH IDAHO'S BEST: Art on the Edge Kids Carnival
---
BEST KIDS MENU
Red Robin
Kids love Red Robin for all of the usual reasons: juicy burgers, crunchy chicken fingers and creamy mac 'n' cheese. Parents like the baby carrots, apple slices and steamed broccoli on the kids menu, as well as the quick, friendly service. Red Robin keeps kids entertained with activity place mats and cups, and makes them feel special on their birthdays with ice cream sundaes and balloons. Bottomless steak fries, root beer floats and crayons keep 'em going. And adult beverages and food that grown-ups actually like seal the deal. (KH)
2nd PLACE: Tomato Street; 3rd PLACE: The Onion
---
BEST KIDS CAMP
Camp Reed
The YMCA's Camp Reed provides unadulterated fun for kids. The camp boasts more than 555 acres of land and wilderness to explore, all along the pristine banks of Fan Lake. Activities like swimming, hiking, mountain biking, canoeing, ropes courses, archery, visual arts and more keep their campers active and engaged each summer. But anyone who has ever gone to Camp Reed knows that it's not about the amount of stuff you do. It's the memories and experiences created that will last a lifetime. (JB)
2nd PLACE: Camp Lutherhaven; 3rd PLACE: Camp Sweyolakan
---
BEST DESTINATION FOR KIDS FUN
Mobius Kids
A little red-headed boy in a Batman shirt stares deep into the angry maw of the mighty Tyrannosaurus rex. The boy reaches his arm up inside the jaws and grabs tight onto a T-rex tooth.
The dinosaur — a sculpture made of newspaper and wire by a young Spokane artist — greets the kids before they enter the brightly colored world of Mobius Kids.
And despite adults' attempts to corral them, the little boys can't keep their hands off the sculpture. One crawls inside its big dinosaur belly. Another puts his lips on the teeth. "Blecch!" he shrieks "I kissed it!"
Here, sounds of kid chaos — the laughing, the shouts, the imagination-fueled space adventures — are identical to those on the playground or the McDonald's ball pit.
But note a difference: Without even knowing it, they're learning. They play "house" and "store" in a model Philippine village, absorbing information about the culture and language. They don kid-sized construction hats, build towers with PVC pipes and work miniature cranes. They steer tiny "cars" through a miniature town, learning traffic safety.
In his office — decorated with his 3-year-old daughter's scribbly artwork — Mobius Kids Director Marty Gonzales is beaming.
He's gleeful about the "light bulb moments" he sees flicker in both children and parents.
"It's a place where parents learn to play, and children play to learn," Gonzales says.
In 2004, the Children's Museum, Mobius Kids' forerunner, was deteriorating in both aesthetics and memberships. But when a merger created Mobius, the resulting better-funded River Park Square children's museum racked up more than double the visitors.
In fall of 2012, Gonzales promises, the anticipated Mobius Science Center — for all ages — will open across the street.
For now, those playing are mostly younger than 8. Things are tactile.
"The way I was raised, the dad would dig the mud pits and we'd play in the mud," Gonzales says. There's mud here, too: an object lesson on soil erosion.
Brayden Jelsing, a blond 5-year-old with thick glasses, is entranced by a water exhibit, creating his own dams, sending miniature boats down the resulting currents.
"He loves it," his father says about Mobius. "He won't stop talking about it." (DW)
2nd PLACE: Silverwood; 3rd PLACE: Triple Play, Hayden
---
BEST DAYCARE CENTER
Kindercare
For parents, it's nice to know your child is being educated as they are being looked after. This is the fundamental approach KinderCare takes to each child enrolled in its programs, where you can guarantee your kid will be enriched socially, emotionally, physically and intellectually through activities and guidance from supportive teachers. They offer programs for children of all ages — from infancy through school-age — each catered to the specific needs of those age groups. (TH)
2nd PLACE: YMCA; 3rd PLACE: Journey Discovery Center
---
BEST PLAYGROUND
Manito Park
A park can be a patch of grass people aren't allowed to put buildings on. But it can also be 90 acres of manicured lawns, playgrounds, pathways, gardens a greenhouse conservatory and a duck pond. If you prefer the latter, then Manito Park is it. Frequent events for people of all ages make this park more like an outdoor community center than anything else, and at the very least, it's a beautiful respite if you're looking to get out of the city for a while. (TH)
2nd PLACE: Riverfront Park; 3rd PLACE: Fort Sherman Playground, Coeur d'Alene
---
BEST PLACE FOR A BIRTHDAY PARTY
Chuck E. Cheese's
For people of a certain age, childhood would've sucked without Nolan Bushnell. He's responsible for the Atari game Pong, and what is possibly the first restaurant to mint its own currency, Chuck E. Cheese's. Nothing's better than getting your buddies together, putting on pointy party hats, filling your pocket with mouse-head tokens and blowing off some steam. And that's why ironists and 5-year-olds agree: Birthdays are best with an animatronic mouse. (AM)
2nd PLACE: Sky High Sports; 3rd PLACE: Triple Play, Hayden
---
NORTH IDAHO'S BEST KIDS EVENT
Art on the Edge Kids Carnival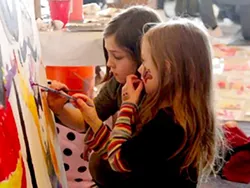 Face painting, musical performances, getting to make cool artwork with any of 15 local artists — what kid wouldn't like the Kids Carnival? It's just one of many art programs offered by Coeur d'Alene-based Art on the Edge.
Adults do the voting, however, which Program Director Jeni Wing thinks is their way of acknowledging the high-quality art experience kids are having. Not just playing with paint, but learning techniques, mixing colors, using textures. And throwing pottery on the wheel. And performing (there's a breakdancing class coming up!). And doing it in a safe, well-supervised, fun environment that's free for some and nearly free for others.
AOE, which was originally founded in 1996 by local graphic designer Ali Shute as part of St. Vincent de Paul, primarily serves at-risk kids with afterschool programs, classes, and summer activities.
Because some of the kids "are coming from situations where they've been traumatized, or they don't know where home is," says Wing, AOE emphasizes "that the kids get to make choices" through their artwork. Larger events, like the recent Carnival — attended by 750 area kids — help raise funds for AOE, which Wing runs on a shoestring budget and the good graces of volunteers.
The fundraisers — like Cooking for a Cause, with local chefs like Adam Hegsted (Coeur d'Alene Casino, Wandering Table, Le Piastre, Brix) — are also popular with adults. The Martini Mix-Off & Casino Royale night, which last year raised around $8,000, was another hit with grownups (including two Inlander staff judges). Art on the Edge is fun for all ages. (CS)
---
GOOD ANSWERS
Becky Huss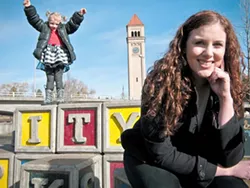 Reader Becky Huss, 26, nominated the Yo Gabba Gabba! show from November at the INB Performing Arts Center as her pick for Best Kids' Event. Huss came into her tickets after a friend of her sister won them on the radio but thought someone else would enjoy them more. Her sister gave Huss the tickets — one for her and another for Huss's 3-year-old niece, Amelia.
"I was probably more excited about it than my niece," says Huss.
Huss says the show was a great opportunity for families to get together, as it's fun for both kids and adults.
"It's pretty entertaining, there's a lot of life, a lot of colors," says Huss. "It's a family event — even the fathers were up and dancing with their kids. It's pretty neat to see."
The show itself was formed by Scott Schultz and Christian Jacobs, who, as new parents, found kids' television programming to be significantly lacking in the music department.
Since then, the show has invited tons of musical guests and celebrities — many of whom are actually famous in adult circles, like the Shins, MGMT, and Jack Black — to go through short sketches and musical numbers. It's colorful and light, like other kids' shows, but it's also not dumbed-down. It respects kids as people with taste.
The thoughtfulness of the show has earned it a lot of success, and as Huss reports, the live show is just as fantastic. Huss says she and her niece danced and yelled their own version of "Yo Gabba Gabba" in the lingo of a 3-year-old. While balloons fell from the ceiling, Amelia hoarded them. "She had, like, five balloons at one time," says Huss, laughing.
Even though it's been months, Amelia still talks about the show and asks Huss if she "remembers that one time" that they went to see Yo Gabba Gabba! together. It's the kind of memory she'll have forever, and it's a good one. (TH)