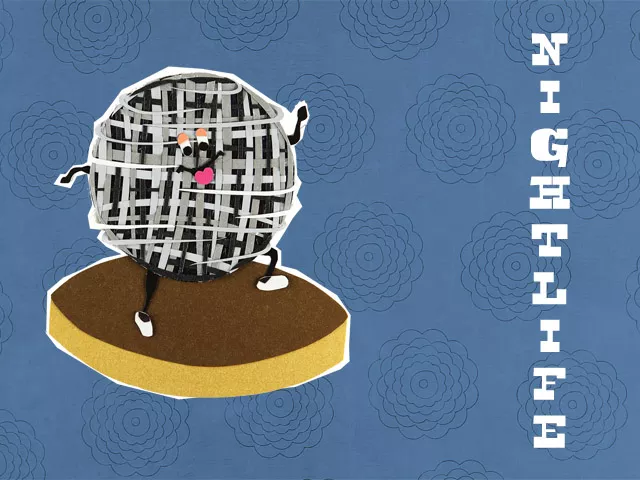 BEST CASINO
Northern Quest
This casino complex is to Airway Heights what Vegas is to the Nevada desert — a one-stop entertainment emporium with games, drink, dance, comedy, food … Just look at next week's schedule to mark the opening of a new resort. On Friday, you've got magicians Penn and Teller, who usually play the Rio in Vegas. On Saturday, there's saxophonist Kenny G. Add in several clubs and restaurants … and, oh yeah, you can gamble there too. (JF)
2nd PLACE: Coeur d'Alene Casino; 3rd PLACE: Hugo's (formerly Big Daddy's)
---
BEST DANCE CLUB
The Marquee
Spokanites don't often wait in line to get inside a place, but outside the MarQuee, you'll often see people lining the velvet rope — even in winter, scantily clad ladies huddled under parkas wait excitedly to get through the doors. Once inside, behind the bar, you're struck by a two-story-tall wall of liquor. This is where the city's sexy, young, rich, well-dressed and horny mingle. This is where, during Mardi Gras, women paint on their tops. Need we say more? (JF)
2nd PLACE: Dempsey's; 3rd PLACE: Irv's; NORTH IDAHO'S BEST: Icon
---
BEST BAR FOR DRESSING UP AND DRINKING FANCY
The Peacock Room
Need to impress someone? Got out-of-town visitors from the Big City who think Spokane is full of cowboys and hicks? Have an insatiable need to stalk and photograph local celebrities or visiting movie stars (like Cuba Gooding Jr.)? Well, head to the Peacock Lounge. Classy, but not pretentious. Come here for one of their signature martinis, order the cheese plate, say hi to Cuba and watch the world roll by. (JF)
2nd PLACE: Twigs; 3rd PLACE: Bistango; NORTH IDAHO'S BEST: The Shore Lounge at Coeur d'Alene Resort
---
BEST NEW NIGHTCLUB
Gibliano Brothers
Let's be honest: Our little town isn't universally known for its classiness. But Nick Brumback and his business partners sought to change that just over a year ago with their downtown dueling piano bar, Gibliano Brothers. It's an idea he said they poached after visiting a piano bar in Las Vegas.
"We kind of looked at each other and said, 'Well, we should bring this to Spokane,'" he says. "What intrigued us was it was different, it was fun, it was live entertainment and it was entertaining. We felt it was going to kind of fill a void in the downtown scene."
Last April, the four partners opened the doors to Gibliano Brothers, a warmly lit downtown spot where four regular expert piano players go head-to-head, playing requests and out-wowing the crowd with their encyclopedic knowledge of popular (and not-so-popular) songs. (They can play Lady Gaga and Journey, even.)
"It really just immediately caught on," Brumback says. "It has been honestly excellent since we opened.
"A big part of our clientele is 25- to 45-year-old professionals. Parents. And they like it because it's an elegant atmosphere, it's clean fun," he says. "They are basically saying, 'We love this place because we can go out and, essentially, party and have fun and we're not in the environment of a club where there can be people and behavior [we] don't want to be around.'"
He thinks that's why Gibliano Brothers took the crown for this year's best new nightspot in our readers poll. It's something new, something approachable, and always a good time.
Brumback says that Gibliano Brothers also tends to be a place where people kick off their night on the town — dinner and classy drinks before moving on to the MarQuee or Uno. It's also "bachelorette and birthday party Mecca."
"I guess the a-ha moment was weekend after weekend, our piano players were having fun and they were getting the crowd involved," he says. "It's cool that people have kind of latched onto the place. It's been fun to watch." (LS)
2nd PLACE: A Club; 3rd PLACE: Impulse at Northern Quest Casino; NORTH IDAHO'S BEST: Icon, Coeur d'Alene
---
BEST LIVE MUSIC VENUE
The Knitting Factory
It hasn't always been the same venue (pre-April '08 it was the Big Easy, you might recall), but the space has won your votes as the best place to see a show since way back before 2005. Since the change, some seriously awesome bands have stopped in Spokane. Think about the last year: Slayer, Sonic Youth, Gogol Bordello, Anvil, Sunny Day Real Estate — all at the Knit. So thanks, Knitting Factory. We love you. Keep bringing great shows to the 'Kan. (LS)
2nd PLACE: Empyrean; 3rd PLACE: Zola; NORTH IDAHO'S BEST: The Grail, Post Falls
---
BEST WINE BAR
Niko's
Laith Elaimy decided to bring Pauline Riley onboard in 1997 to replace his 100-bottle wine list and create something more. He knew he wanted to sell wine retail and expand what was offered to diners.
Riley was selling wine for a regional distributor, but when she heard Elaimy talk about his plans for a wine bar, she knew she wanted in. "Me! Me!" she remembers thinking, "I'm your girl!"
It was a business partnership based on instant rapport. "We just hit it off," Riley says. "I didn't even look at the menu." In the end, Elaimy asked Riley for a two-year commitment and knocked a hole in the wall to expand into a space that used to be a shoe shop.
Step into the wine bar now — 13 years later — and it is almost impossible to imagine it as anything else … especially a shoe shop. The space feels sophisticated without being stuffy. This fits their vision. "When you come into Niko's, we want you to experience wine at whatever level you feel comfortable, whether you are a neophyte or you know a lot about wine," Riley says.
There is a lot to experience. Riley replaced the old 100-bottle wine list with a cellar that now offers between 1,000 and 1,200 different bottles at any given time. This includes plenty of Washington wines, but also bottles from around the world.
As the first real wine bar in town, people passionate about wine became passionate about Niko's, and many would bring guests from out of town in just to introduce them to Riley. "People adopted us in those early years," she says, "and they would introduce me to friends as if I were their daughter."
Even as other wine programs around town have stepped up, Niko's remains a magnet for connoisseurs, as well as those wanting to learn more. Order at your table and you'll get every bottle in the cellar for retail plus $7, and Riley creates new "wine tours" every other week. Typically there is one white tour and three reds: each offering 2-ounce pours of three different wines for the price of a single 6-ounce glass. Riley also puts two premium wines on the menu by the glass at prices well below market rates and offers a good wine daily during their happy hour for $2 a glass.
Why? Riley's answer is simple: "I wanted Spokane to drink better bottles of wine." (KF)
2nd PLACE: Left Bank; 3rd Place: Twigs; NORTH IDAHO'S BEST: The Wine Cellar
---
BEST ALL-AGES CLUB
Empyrean
Well, that's not much of a surprise, now is it? Of course Empyrean — the all-ages joint that scads of local music-lovers rallied around when times got tough last year — would be voted best all-ages venue in town. When the man came down on the beloved venue — too much dance-space, not enough sprinklers — Empyrean powered on. Recently relocated to the long-loved Big Dipper building, Empyrean continues feeding live music and poetry to Spokane. It's an art space, a coffee shop, a venue and a community hub — and we're damn glad to have it. (LS)
2nd PLACE: Knitting Factory; 3rd PLACE: The Cretin Hop
---
BEST SPORTS BAR
Swinging Doors
A recent online message board asked the question, "What makes a good sports bar?" A slew of answers followed. Some said good bar food, atmosphere and big TVs. Some responded that a friendly ambience was most important and a staff who will talk to you about sports is a must. It's no surprise then that the Swinging Doors won The Inlander's best sports bar. They have the food, the staff and, above all else, more than 60 TVs. (TLM)
2nd PLACE: Heroes and Legends 3rd PLACE: The 'Q' at Northern Quest; NORTH IDAHO'S BEST: Capone's
---
BEST LATE-NIGHT FOOD
Satellite Diner
A table by the window is outfitted with French fries, a burger, chicken fried steak and hash browns and eggs. Outside, a colorful parade of drag queens and transvestites catwalk down Sprague to and from Irv's.
The random assortment of people smoking, loitering and pairing off outside wouldn't normally mingle together, but it's 2 am, and the hungry masses congregate at the Satellite Diner waiting to be that 49th person before maximum capacity.
By day, this popular diner is busy, yet quiet. By night, it's an altogether different beast. That's just what owner Colleen Freeman envisioned 12 years ago when she opened it. "There was no place downtown after 10 pm to eat," she says. "I was tired of Jack in the Box and the bright lights of Denny's and Perkins."
The diner was an immediate success, and since then it has turned into an all-day restaurant. Seven days a week, from 7 am-4 am the Satellite's 33 employees keep the institution open and running. "It's sort of a big city feel in here late at night," Freeman says. "Every city has a place like this, and Spokane needed one."
At times, the line outside stretches down the block. Inside, the diner smells like eggs and Tabasco sauce. Yellow walls and twinkle lights silhouette men in blue Nike sweatshirts and women in bangles and pink stilettos. Drunken or sober, hip or not, everyone gets a seat. The first 49 do anyway.
"There's something horrifying about leaving a dimly lit bar where you had such a good time," Freeman says. "You can carry it all in here. Have some breakfast, sober up, get some coffee in you, and enjoy your friends."
The late-night crowd is always loud, a bit rowdy, but full of fun and games, Freeman says. Her graveyard staff is friendly and loyal to both the diner and their patrons, who at times need more babysitting than dinner service.
And at the end of each night, the Satellite satisfies Spokane's late-night munchies. By 4 am the tables are empty except for uneaten toast and empty glasses of water. A man in a baseball cap leaves licking his fingers.
"I have the best and most diverse customers in town," Freeman says. "Everyone eventually wanders though these doors." (JB)
2nd PLACE: Taco Bell; 3rd PLACE: Dick's
---
BEST BOWLING CENTER
Lilac Lanes
Lilac Lanes is "for bowlers, by bowlers." I'm not making that up. It says it right there on the north-side bowling alley's Website. It's 32 lanes of waxed-down, bowling goodness. Can you get drunk while you bowl? Yes, you can at their full bar. Can you gamble? Yes, in their casino, in fact. Cosmic bowling? Silly question: yes, on Fridays and Saturdays. (LS)
2nd PLACE: Hugo's (formerly Big Daddy's); 3rd PLACE: North Bowl; NORTH IDAHO'S BEST: Sunset Bowling Center, CdA
---
BEST MOVIE THEATER
AMC
Now that they have an IMAX they really deserve the honor of best movie theater. They bring in independents and they showcase them on a giant screen. They've got everything. Whether you're watching Alice in Wonderland in 3D or you're seeing a Lion's Gate recent release, you'll be satisfied with their consistency, the comfortable seats and the food choices. (TLM)
2nd PLACE: The Garland; 3rd PLACE: Village Center at Wandermere; NORTH IDAHO'S BEST: Regal at Riverstone
---
BEST HAPPY HOUR
Zola
At some bars in town, happy hour consists of a crowd of patrons all intently watching the TV, cupping their beer in both hands, trying to let go of their strenuous workday. At Zola happy hour is different. Work stresses don't even make it through the door. During this happy hour a crowd of smiling customers sit at the bar or in the seats on the upstairs made out of a recycled tilt-a-whirl. You can get a pint of Pabst for a dollar and anything off the menu is five bucks. (TLM)
2nd PLACE: Clinkerdagger (Hall of Famer); 3rd PLACE: Twigs; NORTH IDAHO'S BEST: The Oval Office
---
BEST BAR FOR HANGING OUT AND RELAXING
The Elk
At one of the only round-abouts in the entire region sits the famed Elk Public House, attracting people from all directions to Browne's Addition — like some magnetic nexus of the universe. All roads lead here. That is perhaps is why Inlander readers have voted for the Elk year after year, in various categories: best all-purpose pub, best patio dining, best bar food, best tavern, best bar for hanging out… and now, after 10 winning years, the esteemed pub enters The Inlander's esteemed Hall of Fame.
General Manager Marshall Powell says the Elk's secret is simple: It fills the niche between fast food and fine dining — a gaping hole in the area's dining options. "Reasonably priced food in a comfortable environment," he says.
It is here that you can order any number of lunch or dinner options for less than $10. (Some of our favorites include the grilled lamb sandwich with potato salad or the traditional Reuben, with tofu subbed for the corned beef.) Not to forget the great beer and wine selection, friendly staff and the cross-section-of-life clientele.
"The neighborhood and proximity to downtown are also huge factors for us," Powell says. "Hung-over people will be sitting next to guys in business suits, who will be sitting next to an old couple that comes in … We get people from every walk of life here."
In the summer, people crowd in every inch of the patio, soaking up the sun, quenching their thirst with one of the many microbrews on tap and listening the bartender's latest playlist. It's the perfect place to carbo load after a long bike ride along the Centennial Trail. And now with the addition of the taco-and-tequila bar El Que around the corner, the nexus of people drawn to this corner of Spokane seems only to be expanding. For good reason. (JF)
2nd PLACE: Zola; 3rd PLACE: The Viking (Hall of Famer); NORTH IDAHO'S BEST: Capone's