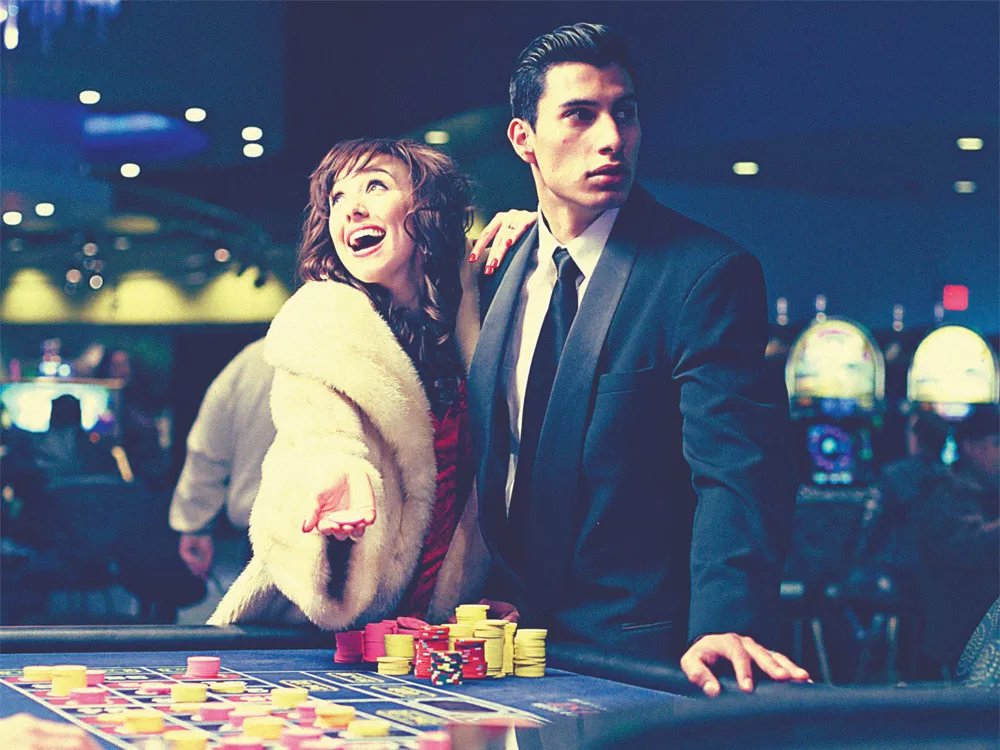 BEST BEER BAR
Manito Tap House
Like at most restaurants, the menu at Manito Tap House has undergone some revision since opening in September. Since Day One, though, it's been game on for Beer-ivores. As if it weren't enough to have 50 beers on tap, the list has information on bitterness, alcohol content and even relative proximity to Spokane? You want a lager from 50 miles away? They got you. A Belgian that actually comes from Belgium? Done. Which reminds us: How many places have more than one Belgian at a time, much less the need for an entire Belgian category? (Luke Baumgarten)
2nd PLACE: The Viking; 3rd PLACE: Post Street Alehouse; NORTH IDAHO'S BEST: Capone's, CdA
---
BEST COCKTAIL BAR
Twigs
With four locations to choose from, you're never very from your next martini. In addition to the massive martini menu, Twigs offers seasonal cocktails like the Pumpkin Pie-tini and White Russian Eggnog. Twigs' River Park Square balcony is a hot spot for people watching with a pomegranate margarita in hand, and cocktail lovers flock to the South Hill, Valley and Wandermere patios to spend hot summer nights sipping cool Lemon Drops and dragon fruit mojitos. (Kirsten Harrington)
2nd PLACE: Bon Bon; 3rd PLACE: Bistango; NORTH IDAHO'S BEST: (TIE) Seasons of Coeur d'Alene; Bardenay, CdA
---
BEST MOVIE THEATER
AMC at River Park Square
You can go to a movie anywhere, so why not pick the spot where you can taunt some ducks, ride a carousel, grab a cocktail, try on clothes you can't afford, binge on ice cream and then get lost on some escalators all before your showtime? The River Park Square AMC has the movie thing down, like many other theaters, but it's the complete entertainment package that keeps people trekking back for flick after flick. (Tiffany Harms)
2nd PLACE: The Garland; 3rd PLACE: Regal NorthTown; NORTH IDAHO'S BEST: Regal Riverstone Stadium 14
---
Best Place to Be When the World Ends
At Home
Let me bring you up to speed if you don't happen to watch any of the following television programs: Doomsday Preppers, Doomsday Bunkers, 2012 Apocalypse, Apocalypse 2012, Ancient Aliens, Nostradamus 2012 or any of the probably 15 others that include "2012" or "apocalypse" in their titles. If you've seen any of these, just skip down a few lines. I'll meet you there.

OK, for the rest of you. Back in the day — like way back in the day — the Mayans (think Egyptians, but with different pyramids) made a calendar that, for some reason, ended in December of 2012. Some people actually believe this. Never mind the fact that the alleged apocalypse date would have already happened because the Mayans were too dumb to figure out the need for a leap year. And toss out the realization that the Mayans believed in monsters and never offered any clue as to how the world would end. If you do that, this is an air-tight prediction. Got it?
All right, crappy TV watchers, you back? Good.
So, with this in mind, we asked our readers where they'd want to be at the end of the world. No, we are not saying the world is ending. This is just a hypothetical. Do not build a bunker. You're safe. We promise.
But we asked anyway and people said the darndest things.
The overwhelming No. 1 response from our readers was "at home." That makes sense. The world is going to end, so you might as well be in your own recliner watching some Two and a Half Men, right? No, it's not the most creative place to be, but we'll also mention that second place was "with family," so we'll assume that the majority weren't planning on hanging on the couch in their underwear. Rather, they'd be in their underwear with family in the other room.
Our more religious (or perhaps guilty-conscienced) readers aptly responded "at church" or "praying" or "in the hands of my savior," while a surprisingly high tally remarked "in bed" or "in bed having sex" or "in a bar." One dude (and thankfully only one dude) simply said "whorehouse."
Others clearly wanted to be somewhere beautiful, with plenty of readers responding "Priest Lake" or "Mt. Spokane" or "Riverfront Park." Some just want to end the world with some fun while "on the dance floor" or "skydiving" or eating/drinking at one of the several hundred restaurants that were mentioned as a response to this question.
Only one person gave the correct answer "in a time machine." The rest of you should have thought of that.
But don't take any of these responses as advice. We're pretty sure the world isn't going to end this year. Or at least we don't think so. (Mike Bookey)
2nd PLACE: With family; 3rd PLACE: In church
---
BEST CASINO
Northern Quest
There's the casino part, yeah. It's great, what with its 46,000-square-feet packed with a couple thousand slot machines, table games, Keno, live poker and off-track betting in the Turf Club Lounge. But Northern Quest also plays up the "resort" part of its name with a handful of gourmet restaurants, a nightclub, cigar lounge, a luxury spa, and of course, their extensive concert series that brings some of the biggest names to the area. It's like Vegas, only not 1,200 miles away. (Tiffany Harms)
2nd PLACE: Coeur d'Alene Casino; 3rd PLACE: Hugo's
---
BEST SPORTS BAR
Swinging Doors
If you're going to watch sports, but not be at a game, you need at least one TV. All those ads for the cellphones that let you watch sports — don't listen to them. You need TVs and you need them to be large and strong in numbers. That's where Swinging Doors has you covered. They got 60 TVs. They got a 14-foot HD projector screen. They got a 70-inch 3-D Plasma set. It's like they bought out every Best Buy in the state. Basking in the glow of every sport imaginable, you win. (Tiffany Harms)
2nd PLACE: The Q at Northern Quest; 3rd PLACE: Flamin' Joe's; North Idaho's Best: Capone's, CdA and Post Falls
---
Best Wine Bar
LeftBank
Feeling a little inexperienced or intimidated by snooty oenophiles swishing and spitting at upscale wine bars or wineries? The LeftBank is a great place to go if you're really wanting to widen your wine-tasting horizon. Manager Charlie Murchy makes it his priority to please the guest.
"I like to make sure everybody finds a wine they like. I don't want anyone to drink a wine that I tell them to drink."
Owners Aaron and Katrina Kelly wanted to create an un-intimidating space where guests can discover wine, with knowledgeable yet unpretentious staff who take on the role of educator as well as server. A quaint cafe in Venice, Italy, inspired the wine bar's business model.
They make it easy to educate your palate, with over 60 wines by the glass, and $5 happy hour glasses and $10 flights, which is a miniature wine tasting in itself.
The atmosphere is polished yet cozy. Its warm, earthy interior and toasty fireplace offer a contrast to the cool glass of the chandeliers and sleek furniture. A heavy rotation of local art bedecks the walls, and Friday and Saturday nights bring live music, including the acoustic stylings of Mike Dwyer.
Though the nectar of the gods is the main focus, a modest menu of tapas is sure to please. Flatbread pizzas are also featured and are extremely popular — "the best in the city," says Murchy. A slice, a salad and a glass of wine will only put you back $12 during happy hour, which runs 3-6 pm Monday through Friday.
"When I heard we won, I was totally stoked," says Murchy. "What sets us apart is our selection. We really work hard to make sure to have the customers in mind. I try to get a really good grasp of what they are liking." (Alicia Purvis-Lariviere)
2nd PLACE: Twigs; 3rd PLACE; Nectar Tasting Room; NORTH IDAHO'S BEST: The Wine Cellar, CdA
---
BEST KARAOKE
Monterey Cafe
Man, at some karaoke spots, people think they can get away with anything. Drunk renditions of "My Heart Will Go On," and every Alanis Morissette song imaginable permeate the very walls of those shady joints. But the Monterey, at least, keeps a higher standard. So save for the nights that there's a wedding party packed in there, chances are you'll enjoy some impressive material. And they sell 40s of beer and have delicious pizza, which tastes even better when your ears aren't bleeding. (Tiffany Harms)
2nd PLACE: Star Bar; 3rd PLACE: Studio K
---
BEST TRIVIA
Blue Spark
The advent of smart phones ruined a lot of things, but including a lot of trivia nights. That's why it's nice to see trivia nerds still have a home at a few remaining reputable spots, like the Blue Spark. Their fun combination of pop culture and real-person knowledge allows for everyone to find a niche, and they don't stiff on the prizes, either. So while the bar itself glows, you won't find any of that emanating from under the tables. (Tiffany Harms)
2nd PLACE: Flamin' Joe's; 3rd PLACE: Brews on Washington; North Idaho's Best: Moose Market Lounge, CdA
---
Best New Nightspot
The Vault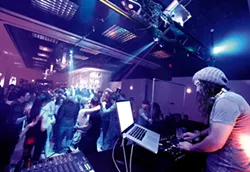 "It's not a meat market — it's a party." That's how Eric Windsor, co-owner of the Vault Social Club and Eatery, describes Friday and Saturday nights at his massive downtown Spokane restaurant and nightspot. "People don't come here to stand against a wall."
Opened in October in a 19th-century building on Wall Street that used to house a Marine recruiting station, an optical shop and a savings and loan bank, the Vault has become one of Spokane's premier nightspots.
But it's a weird beast. The main room is huge and hangar-like, with sky-high ceilings. Seizing on the building's architectural heritage, Windsor and co-owner Tim McKinney gave the place a 1920s feel, restoring the Art Deco moldings, keeping the decor clean and minimal, and hinting at Prohibition on the cocktail menu. Downstairs, in a separate dining and dancing room, they've even showcased the old savings and loan vault, the business's namesake (and, they admit, a pain in the neck for their servers to run back and forth to).
All this might suggest an old-timey speakeasy kind of place. But this is very much a modern-day nightclub. Come 11 on Friday and Saturday nights, revelers slip past the bouncers and flood the dance floors on both levels to grind to house, dubstep, Top 40 and electronica in the midst of a dazzling light show.
That makes for a slightly odd juxtaposition, but Windsor and McKinney (and our readers) say it's been working.
Windsor chalks that up to his DJs but also to a focus on customer service. The doors may be guarded by bouncers, but they're well-dressed bouncers, and "we're not treating everyone who comes through our doors like a sloshy drunk. ... We're not wanding people."
They believe they're bringing out people (especially those in the 26-32 demographic) who might not otherwise come downtown for a night out.
"It's been a little stale," Windsor says of the nightlife scene. "We wanted to bring down new people instead of fighting over the same bean. The market's more fun [that way].
"The whole room starts bouncing, jumping around. When [DJ Jacob Schreiber] puts his hands up, everybody puts their hands up — you don't see that at other weekly clubs." (Joel Smith)
2nd PLACE: Manito Tap House; 3rd PLACE: Saranac Public House; NORTH IDAHO'S BEST: Seasons of Coeur d'Alene
---
BEST HAPPY HOUR
Zola
Once again, Zola wins with its happy hour. The trendy downtown bar is popular enough for its live music, refurbished décor and warm vibe, but it's the happy hour menu really brings them full circle. Instead of providing puny versions of main dishes, Zola offers up regular portions at half the price. And one can't argue with the drink prices either. It's really only smart to hit up this happy hour. Because if you're eating and drinking at any other spot, you're shaming your belly and your pocketbook. (Tiffany Harms)
2nd PLACE: Twigs; 3rd PLACE: The Safari Room, Davenport Tower; North Idaho's Best: The Iron Horse, CdA
---
Best DJ
DJ Ramsin
It started in grange halls, bingo parlors and high school dances. In 1986 Ramsin Amirkhas was a DJ helper.
He carried crates of 45s and also pre-mixed songs using his fingers to wind the cassette tape to just the right spot before handing it to the DJ to play.
New wave songs from the Smiths, ABC and the Fixx became the passion in his life and opened the door to what would become a life-long career with music.
"I've always been amazed at how one person can play music and people would just go crazy," says Amirkhas, now the resident DJ at Impulse nightclub at Northern Quest Casino.
"My parents let me play around with music, but they thought I would be a lawyer, I guess. But me, I've always been a showman," he says.
Today, Amirkhas plays at weddings and private parties. Every Friday and Saturday at Impulse, he mixes a set list that includes the likes of Big Sean, LMFAO, the Bee Gees and David Guetta.
He's coined his technique as "old-school recall." Play a modern Top 40 hit from Rihanna and then mix it with a cult classic from the Cure.
"Impulse is such a dynamic room," he says. "I've got 21-year-olds and people all the way up to their 60s, which means I have to hit people and hit them hard."
Yet he does it all with CDs. Amirkhas says his CD collection is more than 6,000 strong, in addition to his two crates of cassette tapes.
"I've never submitted to a software computer mix," he says. "It's amazing to see how digital technology has come along, but I'm not a laptop jockey. I'm a disc jockey, and mixing songs, one at a time, that's what it's all about to me."
"My career has just been a blessing," Amirkhas says. "I may be the oldest DJ in town, but I don't feel 43. I've got the music and the energy of the crowd and I'm addicted." (Jordy Byrd)
2nd PLACE: DJ Hype (aka Drew Williams); 3rd PLACE: DJ Prophecy (aka Brandon Burrow)
---
BEST LIVE MUSIC VENUE
The Knitting Factory
Spokane has the small venue thing down. But every so often, it's nice to catch a big name on a big stage, and that's where the Knitting Factory takes the cake. It had downtown swarming with gussied-up ladies for Kid Rock, cool nerds for They Might Be Giants and Aesop Rock, closet Gwen Stefani fans for Bush, and '90s nostalgists for Filter. So, it comes as no surprise that for the eighth-consecutive year, the Knit has won the hearts of our voters. (Tiffany Harms)
2nd PLACE: AClub; 3rd PLACE: Zola; North Idaho's Best: John's Alley, Moscow
---
BEST DANCE CLUB | BEST PLACE TO MEET SINGLES
Marquee
Think of it as a good think that the MarQuee is really one of the only bars of its kind in the area — a spot where people go to get all sexy and dance all sexy. And with their abundance of Technicolor alcoholic beverages and five VIP rooms, the MarQuee clearly has everything set up for you to do your thing. Whatever that means for you. We're not here to judge. (Tiffany Harms)
BEST DANCE CLUB: 2nd PLACE: Impulse at Northern Quest; 3rd PLACE: Irv's; North Idaho's Best: Icon, CdA;
BEST PLACE TO MEET SINGLES: 2nd PLACE: Church; 3rd PLACE: Zola
---
BEST LATE-NIGHT HANGOUT
The Satellite
Diners are to nightlife as your brain is to your body — they may not be essential (you still got that cerebellum thing, right?) but they do make everything much, much better. That's why the Satellite has become one of the most beloved of Spokane institutions, because it provides a service to nightlifers — a place to go in the morning, a booth to sober up in, or some coffee while you wait for a cab. Also, cheese fries. In fact, mostly cheese fries. Damn those are good. (Tiffany Harms)
2nd PLACE: Northern Quest; 3rd PLACE: Zola
---
North Idaho's Best Live-Music Venue
John's Alley
Although Moscow, Idaho, is technically a college town, there's nothing really college-y about it. It has a quaint, low-key vibe that extends through its restaurants, shops and nightlife. It's also a defining feature of the town's one and only consistent venue for live music — John's Alley.
Outside the venue, a handful of smokers and tired dancers perch on the edges of a large flowerbox while the sounds of muffled music punches through the wall behind them. The heavy wooden front door opens to a large room, with the stage to the left, the bar straightforward and colorful murals peppering the walls all around. On nights where a local favorite — like the Clumsy Lovers, Finn Riggins or Afroman — is playing, it's packed wall-to-wall with people dancing, drinking and playing bar games.
The Alley has been around since the '70s and has been a live music venue since the late '80s or early '90s, says "Vertical" Dave Sturing, who has been running sound at the tavern for the past eight years and who earned his nickname for his extreme height.
The venue doesn't have a set genre it plays up. "There's anything from bluegrass to metal," says Sturing. "And I'm not kidding."
Like Moscow, the Alley has cultivated a culture known to welcome anyone. People go for the music and cheap drinks, but they also go because it's the kind of place where you can dance with a stranger. It's just comfortable.
"[It's like] a living room with a stage," says Sturing. "It's just a good vibe that you'd want in your living room, but not have to clean up when everyone leaves the party."
Although other spots in Moscow offer live music, it's only on occasion. The Alley usually has a show at least two nights a week, with local or touring bands, but Sturing says that the venue has been known to have as many as 14 consecutive days of music.
And for a spot that's been around since the '70s, it shows no sign of slowing down, so long as there are people who like their music upbeat and their venue low-key. The Alley's got that much covered. (Tiffany Harms)
---
BEST BOWLING CENTER
Hugo's
Hugo's describes its bowling set up as "Bowlicious Boutique Bowling." For those who aren't sure how bowling could be in any way connected to the "boutique," it goes like this — fancy bowling suites, big screens playing music videos and a wait staff delivering you bistro cuisine. And why not? Too long has bowling been associated with dingy, windowless buildings and a lingering cigarette smoke odor from the pre-ban days. Hugo's brings bowling back around to the classier side, and it's got the popularity to show for it. (Tiffany Harms)
2nd PLACE: Lilac Lanes; 3rd PLACE: North Bowl; North Idaho's Best: Sunset Bowl, CdA