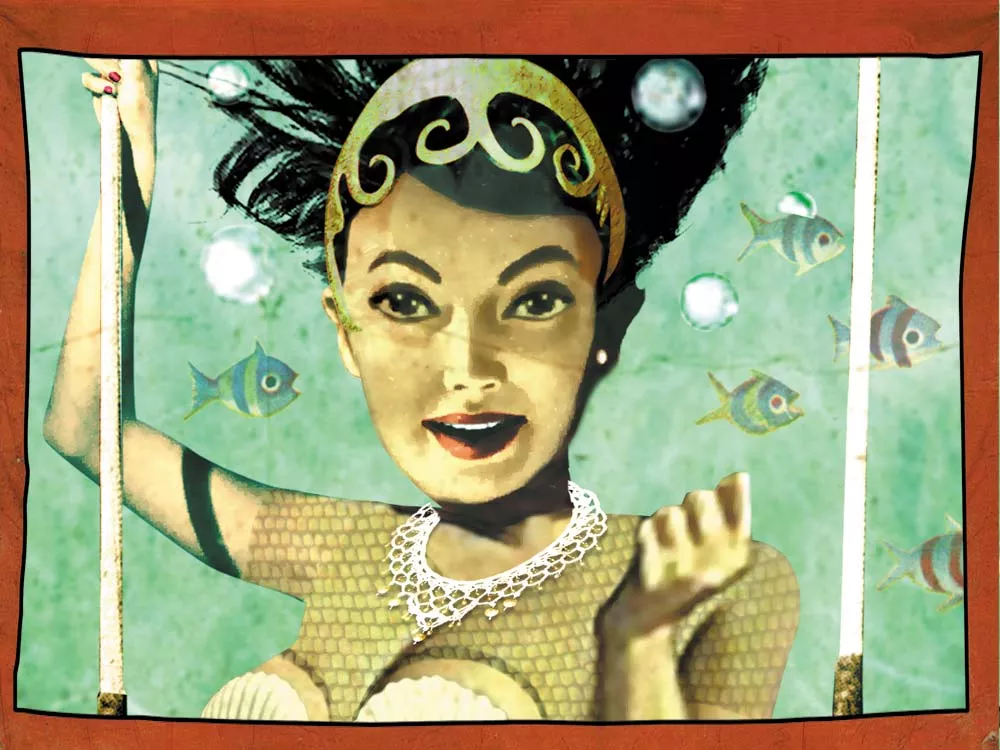 BEST TV ANCHORPERSON
Stephanie Vigil, KHQ
TV anchors have long been parodied as snobby, arrogant, and aloof. But no one, according to KHQ director Neal Boling, says that about Stephanie Vigil. She's accessible. She's friendly. She's self-deprecating. She's still shaking hands at community events. And don't worry about her fleeing to a larger market. This year, Vigil's proud to say, she signed a contract to stay with KHQ (and presumably, win Best Of) for many years to come. (DW)
2nd PLACE: Nadine Woodward, KXLY; 3rd PLACE: Robyn Nance, KXLY
---
BEST LOCAL DEMOCRAT
Mary Verner
"I am honored your readers voted for me. I'm sorry it wasn't for Best Rap Star," Spokane Mayor Mary Verner says with a laugh. "Maybe the category could be Best Local Official Who Makes a Fool of Herself rapping."
Again the self-deprecating laugh.
Verner is a little puzzled, she says, at being voted Best Democrat when she has held only nonpartisan positions — city councilwoman and mayor — in Spokane. She's concerned the new, partisan category sends a mixed message. "I don't want to alienate one party or another."
But perhaps that's the sort of worry about fairness that makes her consistently popular with voters. (KT)
2nd PLACE: State Sen. Lisa Brown; 3rd PLACE: Chris Marr; NORTH IDAHO'S BEST: Mary Lou Reed
---
BEST TV NEWS TEAM
KHQ
The KHQ news team doesn't just report problems. It looks for solutions. It didn't just report the MLK bomb attempt. It hosted a town hall meeting, "Taking a Stand Against Violence." Anchor Dan Kleckner scooped everyone when reporting the bomb-finders' claims that they were fired. Even more happens behind the scenes. When one viewer was having troubles getting medication for her son, she contacted the anchor via "Connect with Kleck." It never made the air, but Kleckner helped solve her dilemma, according to news director Neal Boling.
"Our anchors are not just in glass cases," Boling says. "They can talk to people and solve their problems." (DW)
2nd PLACE: KXLY; 3rd PLACE: KREM
---
BEST TV SPORTSCASTER
Dennis Patchin, KXLY
In the 27 years that Dennis Patchin has been at KXLY — and in the 10 years he's won Best Sportscaster — he's never seen a year like this: the Spokane Shock and EWU winning a national title; a half-dozen Spokane high school teams winning state; Whitworth getting ranked No. 1 in the nation.
It's a sportscaster's fantasy.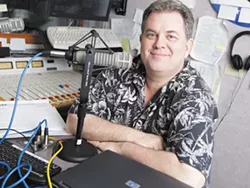 "Any time someone wins a championship, it always leaves an impression," Patchin says. "Any time you can see their expression, you remember it: It's part sense of relief, and part sense of absolute pure joy. "
Describing Spokane's recent successes, Patchin is generally contemplative. At times, though, his voice slips into that iconic loud "Are you kidding me?" baritone that's made him the biggest sportscasting name in the Inland Northwest.
In 2001, Patchin won over Inlander readers for the Best Sportscaster title by a single vote. Since 2003, he has dominated the category. Chalk that up to his longevity, his long hours, his blunt opinions. And most of all, to his drumbeat of enthusiasm.
"Oh, we root for the local teams to win. Because it makes our job easier ..." Patchin says. "You're probably not going to run headlines 'We're rooting for Eastern, we're rooting for the Shock,' but secretly you're hoping they win."
Every year, the Best Of results for local TV are predictable: KHQ wins news, KREM wins weather, KXLY wins sports.
It's a long legacy. When a younger, thinner Patchin arrived at KXLY in 1984, he met Rick Lukens and Bud Nameck, two others just as obsessed with making KXLY best in sports.
"Three guys who were very competitive and did not want to lose" is how Patchin describes the group. "Not only did we want to win, we wanted to win big."
KXLY beat the other guys in sports, Patchin says, by going to more games, digging up more information, working more hours. Patchin would work 50, 60 hours a week — sometimes 80. But here, Patchin clarifies:
"We don't work in TV sports. It's not like having a job," Patchin says. "A guy like me might spend three hours talking about sports [anyway] if I was working a regular job. I'd probably go to lunch and talk about sports. I'd hang out with people after work and talk about sports ... You have to be passionate about what you do." (DW)
2nd PLACE: Derek Deis, KXLY; 3rd PLACE: Tim Lewis, KREM
---
BEST LOCAL SPORTS TEAM
Gonzaga Men's Basketball
We "Best Of" voters are a stalwart, loyal crew. A weaker, more fickle voting base might have faltered during Gonzaga's shaky December. They might have been distracted by EWU's national football victory, but not us. We — in the Kennel, in our living rooms, our pizza parlors and sports bars — roared our Zag chants louder than ever. And in early March, Gonzaga's thrilling comeback proved our unwavering faith correct all along. (DW)
2nd PLACE: Spokane Shock, Arena Football Champs; 3rd PLACE: EWU Eagles Football, National Champs
---
BEST LOCAL PHILANTHROPIST
Jim Sheehan
An unexpected inheritance could have set Jim Sheehan up for a life of ease. Instead, as has been well recounted, he plowed a good part of the money into founding the Center For Justice — a public-interest and civil rights law firm — in 1999. He rehabbed the Community Building to house it and other nonprofits in 2001. And then he gave the adjacent Saranac Building a green makeover — it is LEED platinum certified — in 2007. The former public defender has certainly "walked the walk" by supporting his values of access to justice and caring for the environment, making him a hit with Inlander readers. (KT)
2nd PLACE: Walt Worthy; 3rd PLACE: Mark and Marcy Few
---
BEST COP
Deputy Craig Chamberlain
Here's one sure way to get busted: When your phone rings while you're driving, and you just hung up from a phone interview with a law enforcement officer four minutes before — answer it.
"This is Deputy Craig. I was testing you to see if you'd answer while driving. Thanks for helping me with my quota."
That's funny if it was a joke. (If not, I swear I was using a hands-free device of some sort.) But Spokane County Sheriff's Deputy Craig Chamberlain's combination of humor and a tough-guy look makes it hard to know when to laugh. Unless it's a matter of obvious importance — traffic accidents, public relations, outmoded '70s music — you can't figure out if he's being hilarious or setting you up.
Example: "I'm a huge disco fan. Earth, Wind and Fire is basically the best band that's ever been created since the beginning of time. And I don't think anyone will dispute that." Not while he's packing heat, anyway.
What actually can't be disputed is that Chamberlain loves what he does. A Spokane native who graduated from University High School and earned an economics degree on the coastal side of the state, he's been with the Sheriff's Office for 15 years. For the past decade, our top cop has been investigating serious injury and fatal crashes as part of the traffic unit — and, of course, doing traffic and other TV spots on the local Fox affiliate.
These days, he knows his profession is taking a beating in public opinion. And yes, he knows people aren't thrilled to see his red-and-blues in their rearview. But that only pushes him to try harder.
"The challenges I like are the people who've had bad experiences with law enforcement," Chamberlain says. "They're shielded from the get-go and they want nothing to do with you. But after 15 minutes, you're laughing, talking and you're best friends."
It sounds like a stretch. But if anyone could pull it off, this is your guy.
As far as the disco goes, we'll allow him this quirk. At least he's not blaring it from his patrol car's loudspeaker.
"I've been known to key my P.A. so everyone can enjoy a good Earth, Wind and Fire song," Chamberlain says. "There's absolutely no reason to be selfish and contain that in the cockpit of your vehicle. Although I've been known to do that, too."
That's definitely a joke. Right? (AM)
2nd PLACE: Officer Tim Moses; 3rd PLACE (tie): Deputy Brandon Armstrong, Officer Gordon Grant
---
BEST LOCAL REPUBLICAN
Cathy McMorris Rodgers
It was a busy day on Capitol Hill, filled with hearings ranging from Afghanistan to government shutdowns, and Rep. Cathy McMorris Rodgers had to juggle her schedule to fit in a call about winning a giant honor from Inlander readers.
What?
"This is a fun one. This does my heart good," the four-term congresswoman from Eastern Washington says, cheerfully.
She is part of the new wave in GOP leadership, exhorting her colleagues to take up the Internet and social media.
"The closer we can stay to the people the better, and to be responsive to them and have conversations in real time. It's exciting." (KT)
2nd PLACE: State Rep. Kevin Parker; 3rd PLACE: State Sen. Michael Baumgartner; NORTH IDAHO'S BEST: Gov. Butch Otter
---
NORTH IDAHO'S BEST PHILANTHROPISTS
Ray and Joan Kroc
This new fitness and community space on the gritty western edge of Coeur d'Alene looks pretty spectacular just from the road: a striking edifice of rock, timber and glass.
It's even more striking inside. The exposed wood becomes dominant, with tall clerestory windows allowing shafts of natural light to pour deep into the building.
And this astonishing first impression comes even before using any of the building's many amenities — pools, playgrounds, climbing walls, theaters, exercise gear, coffee shop. No wonder membership has exploded since it opened just shy of two years ago.
"Experts said we could expect as many as 5,000 when we opened and in a year's time maybe 8,000," says Maj. Ben Markham. "Well, we had 14,000 within 30 days and 18,000 now."
"I signed up before it even opened," says 29-year-old Coeur d'Alene native Shaylia McHenry. In fact, her whole clan did. "We are a pretty athletic family."
McHenry competes in sprint triathlons and gets a full workout at the Kroc Center. She especially appreciates the pool for instruction and training but is equally appreciative of the onsite daycare for her two young daughters, ages 2 and 4.
The Kroc Center, named for McDonald's founders Ray and Joan Kroc, became possible when Joan Kroc left a gift of $1.5 billion to the Salvation Army upon her death in 2003. The money was to be used specifically for community centers; so far, it has funded 30 of them. (The couple wasn't from North Idaho, but that didn't stop Inlander readers from singling them out as the area's Best Philanthropists.)
"A lot of research took place," before the center opened, says Maj. Markham, part of the Salvation Army administration at the center.
Markham says Maj. John Chamness, who was in charge of the project, toured other Kroc Centers as well as other community centers throughout the country.
Chamness and several design and architectural firms made a list of all the best things they saw and then incorporated them into a building plan that would fit a northern climate where activities will be indoors for much of the year.
And they made it welcoming.
"Anybody can come walk in the front door without having to be a member," Markham says. Anybody who wants to can come in the front door, sit down and have some coffee, or a sandwich.
"This is a place to come and gather," Markham says.
And, wow, have they ever. (KT)
---
BEST JUDGE
Tari Eitzen
Comes now the Hon. Tari Eitzen, who would like to crossexamine voters in this category: What particular aspects, or specific qualities were used in this, er, judging?
We can't answer for you, Inlander voters, so we could only shrug. Eitzen handles everything from disputes about last wills and testaments to malpractice to murder. And in every one of these, she better get it right.
"I wake up every morning and look in the mirror and think just how lucky I am," Eitzen says. "It is incredibly stressful but rewarding. It's serious work but really gives you an acute appreciation for the human condition." (KT)
2nd PLACE: Hon. Sam Cozza; 3rd PLACE: Hon. Debra Hayes
---
BEST TV WEATHERCASTER
Tom Sherry, KREM
Actor Tom Hanks, despite his talent and fame, has a reputation for being the nicest, most down-to-earth guy in Hollywood. Think of Tom Sherry as the Tom Hanks of Spokane. With his cartload of Best Of awards and his legendary knowledge of Inland Northwest weather patterns, Sherry could get cocky by now. But by all accounts, he is still just as friendly and next-door-neighborly in person as he is on air. Competence and humility: a perfect combination to provide comfort amid the inevitable Snowpocalypse. (DW)
2nd PLACE: George Maupin, KHQ; 3rd PLACE: Kris Crocker, KXLY
---
BEST ATHLETE
Courtney Vandersloot
Basketball rivals constantly find themselves in a love-hate relationship with Gonzaga star Courtney Vandersloot.
On the one hand, they love the way she plays the game. On the other hand, they hate the way she systemically destroys them.
"She's the best point guard in the country," Saint Mary's coach Paul Thomas says. "If I had to make a team right now, I would start with her."
"I would, too," Gonzaga coach Kelly Graves says.
Vandersloot, who has blond hair and an infectious smile, is delightful when not playing basketball. Put a ball in her hands, however, and she turns into Freddy Krueger, only with less charm.
"She's just a great competitor," Graves says. "You run out of adjectives at some point.
"The bottom line is, she's a winner."
Not at all coincidentally, so is Gonzaga. The Bulldogs have dominated the WCC and enjoyed unprecedented success in the NCAA tournament during the four years Vandersloot has been their point guard. For three straight years, she has been voted the WCC's Most Outstanding Player and the league tournament's MVP.
Vandersloot is usually so much better than everyone else on the floor, it's almost painful to watch opponents wilt in her presence.
Need a jumper from the three-point line? Done. A no-look pass for an easy basket? Done. A steal? Take a charge? A daredevil drive through heavy traffic?
Done, done and done.
"It's amazing what she does, night-in, night-out," Graves says.
Vandersloot just set an improbable NCAA Division I record, for men and women, when she passed 2,000 career points and 1,000 career assists against UCLA Monday night. She's a lock to earn All- America honors after getting honorable mentions the past two years. Vandersloot recently won the Frances Pomeroy Naismith Award, which goes to the best female college player 5-foot-8-inches or under.
"I do have to share this award with my teammates, coaches and Gonzaga," Vandersloot says, "as I wouldn't be the player I am today without them."
Vandersloot was a top college soccer prospect before deciding to focus on basketball at Kentwood High School in Kent, Wash.
The speed, quickness, stamina and vision Vanderloot developed in soccer has served her well on the basketball court. "She sees the game like no one else," Graves says.
Arguably the best female athlete in Gonzaga history, Vandersloot hopes to turn pro in the WNBA this summer. (HS)
2nd PLACE: Steven Gray, Gonzaga basketball; 3rd PLACE: Robert Sacre, Gonzaga basketball
---
BEST DOG TRAINERS
Carol and Dana Byrnes, Diamonds in the Ruff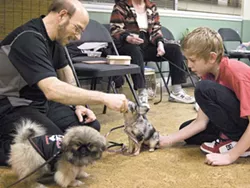 A few weeks ago, Carol Byrnes got a call about a pot-bellied pig. The pig's owners wanted to train it to do tricks and wondered if Byrnes, a co-owner of Diamonds in the Ruff with her husband, Dana, would be up for the job. "I've never trained a pig before," Byrnes says. "But it sounds like fun."
Carol and Dana are primarily dog trainers but their methods, which focus on motivation and education rather than punishment, work for basically any animal. They've worked with dogs, cats, parrots and, maybe now, a pig.
For the husband and wife team, the old ways of dominating your animal are out: "Welcome to the new era of dog training, where humans and dogs are partners in life and learning, rather than masters and slaves," reads a quote on the website.
"Traditional training from way back — 1930s, '40s on into '80s was almost entirely based on compulsion, force, domination, intimidation," Carol says. "Lion tamers had whips and dog trainers had choke chains." But at Diamonds in the Ruff, the training is more like good parenting.
The couple started training and raising Dobermans for shows, and Carol volunteered at a training school. She says she fell in love with teaching and simply "got addicted." Dana resisted training at first but after he joined Carol as an assistant, he fell in love with training, too. When a woman they worked with decided to close her business, they decided they had to take over the reigns and open their own school. Carol says she wanted the freedom to create her own curriculum based on the philosophy of positive, motivational training.
For the Byrnes, dog training is always a labor of love.
"We decided at the time that if it became about money, we wouldn't do it anymore," Dana says. They both have day jobs. Dana is an IT manager and Carol is the educational director for SpokAnimal C.A.R.E. Dana works from 8 am to 5 pm, and then teaches from 6 to 9 pm. They have classes all day on Saturdays, and have even added a Sunday class.
Dog training also comes with perks, like training dogs for movies. Their dog Stanley has been in two films. In Falling Up he played the role of the unconscious dog in the elevator.
"It's a lot of fun, a lot of work, a lot of waiting, and doing the same thing over and over and over again." Carol says. The dog might have the perfect bark, but the actor will mess up a line, or the dog and the actor will be perfect but the lighting is wrong. So, she says, you do it until the director likes it. (CF)
2nd PLACE: Lilac City Dog Training Club; 3rd PLACE: Nick Lungu, I-Guard International