BEST MARTIAL ARTS STUDIO
Warhorse
Formerly Kenpo Karate, Warhorse teaches karate and Brazilian jiu jitsu at locations on the South Hill, in Spokane Valley and in Post Falls (with an additional outreach program in Hayden). Damon Tong has owned the place for 18 years, and he attributes his success to fun classes, great teachers and their support for the community. (He says they recently raised $40,000 for the American Childhood Cancer Organization.) (Joel Smith)
2nd Place: Jung Kim's; 3rd Place: Spokane Boxing & Martial Arts
---
BEST RUNNING/WALKING EVENT
Bloomsday
Whether it's because of the costumes, the crowds or the element of international competition, Bloomsday remains miles ahead of its roadrunning peers. And it's just getting better. Last year's 35th-anniversary edition of the 12-kilometer race/trot/moving party through some of Spokane's most scenic neighborhoods saw 51,260 finishers — its highest number since 1996! (Joel Smith)
2nd Place: Komen Race for the Cure; 3rd Place: The Dirty Dash
---
BEST HEALTH CLUB
YMCA
It's no surprise that the YMCA has been winning our readers poll lately — it's huge. Almost 80,000 people (that's one in every eight Spokane County residents) now flock to the three new or newly revamped locations (Central, North Spokane and Spokane Valley) for everything from free weights to ping pong to pool time to Zumba classes. And not only is it popular and accessible but it's relatively cheap, at $49 a month for an adult (or even less with their new sliding-fee scale). (Joel Smith)
2nd Place: Oz Fitness; 3rd Place: Spokane Club
---
BEST DOG PARK
Dog Park at High Bridge
Sometime last year, when I got my first dog — a ridiculously cute Boston terrier runt named Matilda — I finally got to be in the club. The dog park club.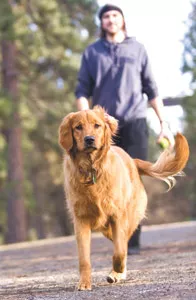 Because, like hanging out at a playground without a kid, it's just kind of creepy to hang out at dog parks if you don't have a pup and some freshly filled poop bags in your hands.
On a cloudy Saturday a couple weeks ago, Matilda and I finally dove in and checked out SpokAnimal's dog park at High Bridge Park in Peaceful Valley. It's a fenced-in area full of happy pups and proud pup parents. We were greeted at the gate by a ragtag band of pugs and Rotts and beagles, and Matilda happily took off with her canine brethren — to run in circles, pounce in mud, carry sticks, sniff butts. Standard dog stuff.
That's the usual scene at the park, according to SpokAnimal Director Gail Mackie. She says on some nice Saturdays, it's typical to see 100-150 dogs playing at the park under the eyes of their doting owners.
That's immensely satisfying for Mackie, who "tried and tried and tried to raise funds for it, and it just wasn't happening," she says. Finally, she says the SpokAnimal board put up the $40,000 to open the park in December 2010. That one-year anniversary they celebrated a few months back was a proud one for her.
And now "it's the most used park in Spokane, according to the parks department," she says.
I believe it. Above two play areas — for large dogs and small dogs — stands a wooded area, an area that Mackie says was kept "totally natural" on purpose. It's a great spot for newbie dog owners like me to hike around leisurely with my dog without fear that she could get away. Even the outer edge of that area is fenced in.
And though it may have been a slog to open, Mackie says 2012 will see lots of improvements to the park: more trees, wood chips to cut down on muddy paws, more dog behavior trainings.
Mackie says that once the ribbon was cut on the park, local dog owners really took ownership of it. On my visit, one lady filled a giant water bowl with bottled water for the pups to drink. Another gave me tips on making my own sweaters for my dog. And that's precisely what makes the SpokAnimal park so loved — people truly enjoy being here with their dogs and other dogs owners.
"Just like any other dog park," Mackie says. "It's only as good as the people who use it." (Leah Sottile)
2nd Place: Stateline's Gateway Dog Park; 3rd Place: Pet Haven Park (opening soon)
---
BEST OUTDOOR REC SUPPLIES
REI
Maybe you're hunting wolves in North Idaho. Perhaps you think a trip to Bowl and Pitcher is adventurous. Regardless of the conclusion, REI is your place for freeze-dried food or waterproof mittens. Or bicycles, or sleeping bags or clothing for hiking that you can wear at work, or whatever. It's one of those "got that" stores. As in, if someone says they need something, chances are you can say, "Yeah, REI's got that." (Chris Stein)
2nd Place: Mountain Gear; 3rd Place: Cabela's
---
BEST-KEPT SECRET ABOUT THE INLAND NORTHWEST
The Weather
Could it be the frigid winters? Perhaps the warming springs? The balmy summers? The cooler falls? Whatever it is, people in the Inland Northwest like the weather here, not least because this region has a bona fide four-season climate. And don't tell anyone in Seattle: This is the Inland Northwest's best-kept secret.
"Since we're located nearly halfway between the equator and pole, we have sort of the best of both worlds," says Nic Loyd, a meteorologist at Washington State University's Agricultural Weather Network. "So we get cold weather and warm weather and of course the clashing storms and winter time."
Or lack of storms, as this winter has shown. But Loyd says our dry December has a lot to do with the cyclical weather patterns. However, that's another unique thing about the Inland Northwest: From the West Plains flatlands to North Idaho's mountains, there is a variety of terrains around here and therefore, a variety of micro-climates.
"One thing that the mountains will do even more than weather or climate on the large scale it gives us sort of small-scale features," says Loyd. "We have pretty good variability in space, depending on the elevation and the location, depending on the mountains or valleys."
And that all factors into a host of other things Inland Northwesterners like. Things like skiing. Things like floating the river with a beer cooler. Things like hiking when there's no snow and snowshoeing when there is.
And they apparently like doing it in different places, for the runners-up in this category are Riverside State Park and Priest Lake.
Houses on the city's northwest flank overlook Spokane's hidden state park, but when you're in the park, maybe at the towering Bowl and Pitcher rock formation or up on the Centennial Trail, you feel like you're deep in some forlorn woods.
Meanwhile, Priest Lake is a slice of North Idaho at its finest. A few lakeside houses on a pristine lake and, if you seek it out, genuine isolation.
Once again: Do not tell Seattle. Or Tacoma, for that matter. These are the secrets of the Inland Northwest. And they belong to its people alone. (Chris Stein)
2nd Place: Riverside State Park; 3rd Place: Priest Lake
---
BEST BIKE SHOP
Wheel Sport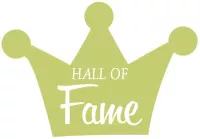 If you have an appetite for shredding, railing, hucking, or just generally going fast on a bicycle, hit up Wheel Sport. Their strengths lie in their selection, as they carry both manufacturers that make every kind of bicycle imaginable and the components necessary for the operation thereof, as well as a few niche brands, if you want to ride something unorthodox. And when you biff it hard on some gnarly single-track, they'll be there to get your bike back in shape. (Chris Stein)
2nd Place: The Bike Hub; 3rd Place: Two Wheel Transit; NORTH IDAHO'S BEST: Vertical Earth, CdA
---
BEST PLACE TO SKI & BEST PLACE TO SNOWBOARD
Mt. Spokane
With ample powder and a short commute, Mt. Spokane is simple, no-frills skiing and snowboarding for the people of the Inland Northwest. The mountain offers runs for skiers and snowboarders of all levels. And what it lacks in infrastructure it makes up for with the sheer beauty of its views from the mountain's peak. (Chris Stein)
BEST PLACE TO SKI: 2nd Place: Schweitzer (Hall of Fame); 3rd Place: 49 Degrees North
BEST PLACE TO SNOWBOARD: 2nd Place: Schweitzer (Hall of Fame); 3rd Place: 49 Degrees North
---
STUCK IN SECOND: Best Recreation Gear
Mountain Gear
The awkward spot Mountain Gear finds itself in: a local business stuck between a chain store that sells everything outdoorsy, and another that's got a reputation for guns, camo and taxidermy. Once again, the lineup repeats for this category, putting the store above Cabela's, but not quite able to knock REI off the top spot.
The reaction of store manager John Schwartz?
"I think it's great," Schwartz says. "I'll take it."
Mountain Gear consists of both a mail-order catalog (based out of a Spokane Valley warehouse) and a retail store. And while REI carries a selection of bicycles and Cabela's a selection of firearms and fishing gear, Mountain Gear has a different take.
"The goal was to supply local outdoors people and make a small income for myself," says founder Paul Fish. "It was also to move out of my living room, where I'd made backpacks for a few years."
The store opened on West Sprague Avenue in 1983, moving to North Division five years later, and it's grown substantially since. They expanded to a mail-order catalog later on in that decade, and eventually an Internet site, which Schwartz says outpaces their paper catalog in sales.
"We're basically a backcountry climbing shop," Schwartz says. "We focus more on hardcore climbing, back-country skiing, telemark skiing."
And while the online business is brisk, Spokanites are Mountain Gear's largest client base, Fish says.
"We really feel our customers are loyal to Mountain Gear," Fish says. "Even when they shop online, a lot of them choose to shop with Mountain Gear, which we really appreciate."
Though they compete, there is no bad blood between REI and his business, Fish says. It's simply a case of different objectives.
"REI does a phenomenal job of introducing people to the outdoors," Fish says. "And Mountain Gear does a phenomenal job of making sure they have a phenomenal time in the outdoors."
When asked if he frets over the store lingering in second place, Schwartz shrugs it off.
"I'm not as concerned with that as I am with taking care of my customers that walk through my door every day," Schwartz says. "I wouldn't say second place is a bad thing in this particular category." (Chris Stein)
---
BEST SNOWBOARD/SKATE SHOP
Wintersport
Say you're in the market for a long, flat piece of wood that will go fast on a variety of terrain, snow-covered or otherwise. Well, shop no further than Wintersport. Skis, snowboards — heck, even wakeboards and skateboards — this store's got them. It's also got a selection of clothing, bindings and other accessories, so you'll never have to worry about being cold or slow. (Chris Stein)
2nd Place: Let it Ride; 3rd Place: Alpine Haus; NORTH IDAHO'S BEST: Ski Shack, Hayden
---
BEST BIKING EVENT
SpokeFest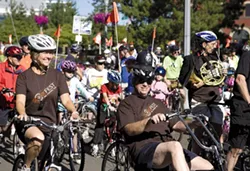 Take a look at the top three finishers in this category this year. In third place is a once-a-month rolling pub crawl frequented by the young and thirsty. In second place is the polar opposite, an event so intense that participants have to devote their entire year getting ready to survive it.
And in first place: SpokeFest, a Bloomsday-like happy medium that brings out a couple thousand kids, casual riders, racers and bike evangelists to pedal through some of the area's most beautiful sights.
If that isn't the picture of a healthy, well-rounded bike community, we don't know what is.
Its easy-going, accessible nature might be what pushes SpokeFest over the top. The annual ride in September has a one-mile option for the kids, a laid-back nine-mile version for newbies, the classic 21-mile loop through Riverfront Park, and a 26-mile add-on on to the 21-miler for serious bikers.
And they plan to add another access point this year. SpokeFest head Bill Bender says they're organizing a criterium race through downtown for the Saturday night before the big SpokeFest ride, giving bike enthusiasts the chance to watch amateur and pro racers duke it out around a closed circuit.
Of course, the organization also deserves credit for more than just the September festivities. The nonprofit also serves as an umbrella agency for several different bike initiatives, including the Summer Parkways Series (which this year will consist of two traffic-free community rides in the Chief Garry and Manito/Comstock neighborhoods), Spokane Bikes (the group that puts on Bike to Work Week and other efforts), and a number of educational outreaches, like equipping kids in the East Valley and Central Valley School Districts with helmets and bike safety training.
"I hoped it would be like this," says Bender. "We're really doing everything we want to be doing. We've got more people out there, we've got health stories from people talking about new leaves they've turned over. We're really happy with the bike education pieces.
"And we get included in a lot of bike advocacy sorts of things. We get consulted by folks in the city government and from other cities wanting to do the same thing. I've been in contact with someone in Salt Lake City who wants to do both a SpokeFest sort of event and a [Summer Parkways] closed-streets sort of event."
That's right. Thanks to SpokeFest and this category's other winners, the Inland Northwest is actually starting to lead on bike culture. (Joel Smith)
2nd Place: Ironman CDA; 3rd Place: FBC Full Moon Ride