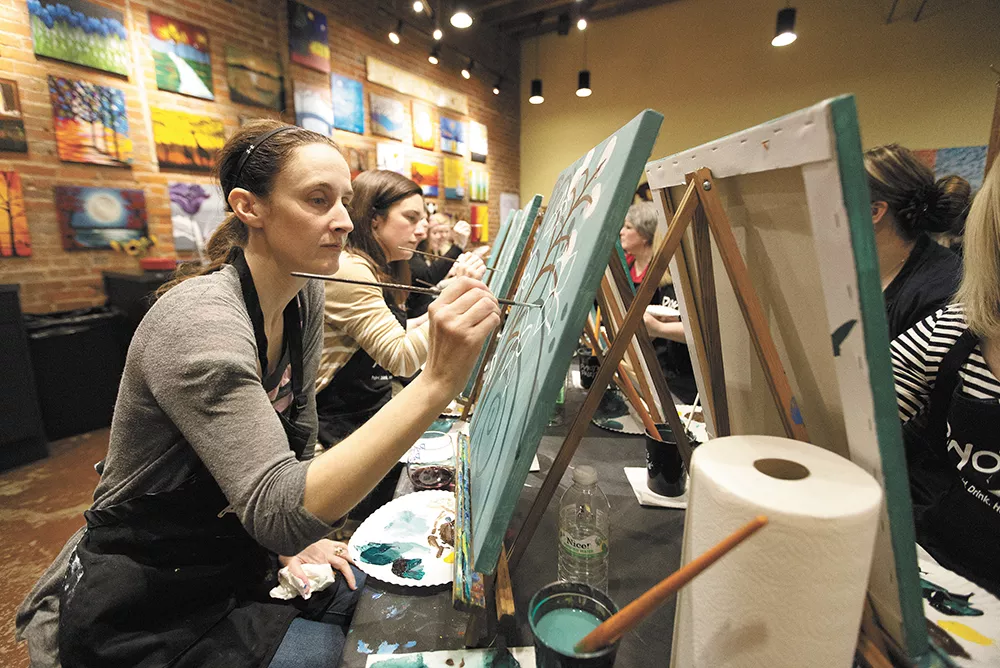 Romance is in the air. Spokane readers prove it's not all champagne and doves. Intimacy can form in unlikely places — at trivia, on a blind date, in the jewelry store, and above a cliffside view.
The unwed flock to NYNE — readers' choice for Best Place to Meet Singles. The chic open space has become a staple in the nightlife scene since opening five years ago, inviting a clientele of drinkers, dancers and music lovers.
"nYne has a truly special atmosphere," says owner Kitty Kane. "I told myself years ago that I wanted to come to work every day to a place that is fun, inspiring and attracts good, positive people. To that end, we strive to provide our customers with a good time."
The nightclub is playful, yet industrial chic, with brick walls, a towering glass bar and a half-court basketball — hoop and all — in the middle of the dance floor. On any given night, singles can sing karaoke, rub up against each other on the dance floor with a band or DJ, or play a game of trivia.
"For singles, it is important for a venue to offer variety and lots of choices for how they can get to know someone new," Kane says. "Our strong calendar of events helps us continually attract new customers which gives singles a better chance of meeting that special someone. ... We maintain an environment that is fresh, urban, energetic, clean, safe and unique."
Singles don't have to bump into each other at a bar. While blind dates are recognized as comical tropes, when the atmosphere is just right, sparks can fly. The creative team at PINOT'S PALETTE — readers' choice for Best Place for a Blind Date — have created a playful yet romantic ambiance that relaxes the strangers and the friend-of-a-friend set up on a blind date.
"We have many couples who come on a first date because it breaks the ice," says owner Jackie Casey. "Pinot's Palette is a loud, energetic, unpretentious place where anyone can come and fit right in. We turn up our music so there are never any awkward silences, and people are really friendly."
Casey opened the paint-and-sip studio in February of 2014. At Pinot's Palette, amid the backdrop of exposed brick walls and hardwood floors, couples can sip Washington wine and beer from the bar, listen to music, and paint with a guided instructor. The franchised studio offers classes, private parties, and corporate events. Date night is busiest, as it allows painters to get to know either without strained conversations.
"Painting is something that most adults have not done since elementary school art classes, but the artists break up the painting step-by-step, making it easy for everyone," Casey says.
If the romance leads to an engagement, look no further than the JEWELRY DESIGN CENTER — readers' choice for Best Place to Buy an Engagement Ring. The design company first won the Best Jewelry award in 2008, and subsequently from 2010-14.
"We want the readers to know how very thankful we are for their votes and for our community's continued support," says CEO Brian Toone. "It is humbling to be honored with the award year after year."
The Jewelry Design Center opened in 1977 and recently has expanded into a 12,800-square-foot state-of-the-art facility on Division. The company has become a Spokane fixture, recognizable by a giant, rotating diamond sculpture and handsome river rock and log cabin-style façade.
The family-owned business imports loose diamonds and gemstones and offers an impressive selection of engagement rings from Simon G., Gabriel & Co. New York, and Verragio. Glass cases glitter with rose gold bands, platinum settings, and oval-shaped diamonds. The company also creates custom engagement rings, forging the perfect symbol of love from a pen and paper, computer 3-D imaging, modeling, and casts and molds.
Lovebirds, engagement ring in tow, head to RIVERFRONT PARK — readers' choice for Best Place to Pop the Question. The park represents the heart of the city, and provides an intimate escape for couples. Whether it's on top of a tiger at the Looff Carrousel, watching the fireworks on the Fourth of July, or strolling hand-in-hand below the clock tower, Riverfront Park was made for lovers.
Romance and engagements all lead to the big day, and wedding bells toll best at ARBOR CREST WINE CELLARS — readers' choice for Best Place to Have Your Wedding Reception. The gorgeous clifftop winery offers old-world charm with cobblestone pillars, sprawling gardens and panoramic views of downtown Spokane, Liberty Lake and Spokane Valley.
"There is definitely an awe factor at Arbor Crest," says event and sales manager Bridget Chapman. "It's a beautiful place to get married and spend your special day, but it's also a unique place ... people are excited to show off the city to their guests."
Arbor Crest hosts approximately 30 weddings each year between May and October. The venue offers planning services, fabulous wine, and a 5,000-square-foot tent overlooking the vineyard. Dates book fast — about a year and a half out — and the winery guarantees one wedding per day.
"What's special about Arbor Crest is that we're not just a wedding venue," Chapman says. "We are a winery, and concert hall, and a destination location. There's always something romantic happening on the grounds. Whether that be a picnic or a wedding proposal ... it's a great place to get married and then come back each year to celebrate that special day." ♦ (JORDY BYRD)
---
Best Place to Meet Singles
1st PLACE: nYne; 2nd PLACE: Borracho Tacos & Tequileria; 3rd PLACE: Church
---
Best Place for a Blind Date
1st PLACE: Pinot's Palette; 2nd PLACE: Twigs; 3rd PLACE: Zola. NORTH IDAHO'S BEST: Uva Trattoria
---
Best Place to Buy An Engagement Ring
1st PLACE: Jewelry Design Center; 2nd PLACE: Pounders Jewelry; 3rd PLACE: Dodson's Jewelers. NORTH IDAHO'S BEST: Clark's Diamond Jewelers, CdA
---
Best Place to Pop the Question
1st PLACE: Riverfront Park; 2nd PLACE: Manito Park; 3rd PLACE: By the Spokane River Falls. NORTH IDAHO'S BEST: Lake Coeur d'Alene Waterfront/Boardwalk
---
Best Place to Have Your Wedding Reception
1st PLACE: Arbor Crest Winery; 2nd PLACE: The Davenport Hotel; 3rd PLACE: The Glover Mansion. NORTH IDAHO'S BEST: Coeur d'Alene Resort/Event Center