BEST TATTOO PARLOR
Living Skin Tattoo
"I'm not a big horn tooter," says Living Skin owner Geddy Anderson. "I just hope hard work pays off. We try to do good tattoos and go the extra mile by drawing every design by hand for our customers." The custom tattoo shop has been inking patrons since 2003. With four tattoo artists, a passion for details and more than 55 years of combined tattooing experience, this is one of the best shops to get an original, permanent, piece of body art. (JB)
2nd PLACE: Bullet Proof Tattoo; 3rd PLACE: Tiger Tattoo; NORTH IDAHO'S BEST: Inkworld Tattoo, CdA
---
BEST PAWN SHOP
Pawn 1
Expect the unexpected. Diamond engagement rings, guitars, bicycles and pistols are all up for grabs at a reasonable price at Pawn 1. The privately owned chain has bought, sold and traded with the Inland Northwest for 26 years. Management will tell you the company's success lies in the community in which they operate. That's why the company donates to and partners with organizations like Big Brothers Big Sisters, YMCA, Second Harvest Food Bank and the Inland Northwest Blood Center each year. (JB)
2nd PLACE: Axel's; 3rd PLACE: Double Eagle Pawn
---
BEST BANK
Washington Trust Bank
The folks at Washington Trust know that banking doesn't have to be arduous. With the click of a mouse or the swipe of a smartphone, the oldest and largest privately owned commercial bank throughout Washington, Idaho and Oregon offers free checking accounts, easy online bill payments and sweet rewards. Even better, Washington Trust cashiers and managers thank you — by first name — as you walk out the door. Now that's the friendliness that defines the Inland Northwest. (JB)
2nd PLACE: Sterling Savings; 3rd PLACE: Inland Northwest Bank
---
Best Clothing Boutique
Swank
Jody Jones didn't choose the name of her store at random from the dictionary, but she believes all the definitions for "swank" describe it to a (high-fashion) T: "Dashing smartness (n), stylish or elegant (adj.), to swagger … to show off (v)."
"We like to have fun and also push the envelope" when it comes to fashion, says the former police officer-turned boutique owner.
"Our style is downtown edgy; our target customer is from 14 to 60. We offer something for everyone," she says. "It is common for three generations of women to come in and they are all able to find something they love."
Jones tries to keep price points low enough for the customer base most drawn to hip lines like Wild Fox and Miss Me.
"I set prices lower than suggested by my manufactures and lower than my competitors to make items more affordable for everyone," she says. Jones believes Swank nabbed the top spot in Spokane's competitive boutique market because of client rapport.
"Our customers know that not only do we offer styles usually only found in larger cities, we are honest if we don't like something on them. Sometimes we will push their own comfort level into a new style."
Since she opened in 2004, Jones has changed locations and expanded. Nestled in NorthTown Square, Swank is a solitary local boutique flanked on all sides by chain stores.
"The new location has considerably more foot and vehicle traffic. … We get out-of-town shoppers and Canadian buses through regularly."
Jones' younger sister and employee Jameca Hall admits some customers are surprised they aren't a chain.
"They'll ask, 'Where are your other branches?'" says Hall.
Jones creates events, like the "Swanky Swap," to serve new and already-existing clientele. Women can trade clothing pieces and get a chance to accessorize with Swank merchandise.
Owning a boutique has been a huge shift for former Officer Jones.
"Being self-employed definitely has its own set of challenges and rewards," she says. "I enjoy being in charge of where my business is headed and watching it grow with our customers. I do miss the civil-service aspect of law enforcement, but I don't miss the hours!" (LFR)
2nd PLACE: Lolo; 3rd PLACE: Finders Keepers; NORTH IDAHO'S BEST: Tiffany Blue, CdA
---
BEST CREDIT UNION
STCU
It started on a shoestring budget in a shoebox — literally. That's how Lewis and Clark English teacher Ernie McElvain and a group of his peers formed the not-for-profit Spokane Teachers Credit Union that has helped fuel the area's most beloved local businesses, restaurateurs and students. Just ask Krista Kautzmann, manager at South Perry Pizza, or Tim Lannigan, owner of Neato Burrito. Everyday people like these grace the credit union's bus ads, billboards and commercials — defining what it means to be a cooperative. (JB)
2nd PLACE: Numerica; 3rd PLACE: Global Federal Credit Union
---
BEST FLORIST
Appleway Florist
Family-owned since 1952, Appleway Florist grows spring flowers and bedding plants in their greenhouse, but they also arrange baskets of chocolate, coffee and fruit. With third-generation employees, the time and effort that goes into the care of growing and arranging flowers and plants is superb. The best sellers in the shop are the vase and rose arrangements and, oddly enough, an edible arrangement called the Junkfood Basket. From roses to daffodils to balloons and stuffed animals, this florist has it all. (LM)
2nd PLACE: Liberty Park; 3rd PLACE: Just Roses; NORTH IDAHO'S BEST: Hansen's, CdA
---
BEST NEW BUSINESS
Trader Joe's
Trader Joe's is chock-full of health foods that will fill you up without emptying your wallet. Located on the South Hill, the store offers vegan, gluten-free and all sorts of other organic snacks and meals at a lower price. With local produce mixed with low-cost imported cheeses and wine, Trader Joe's is healthy and cost-effective. They also plan to hold wine-tasting events further down the road. Their most popular wines are the Charles Shaw wines, better known as "Two-Buck Chuck." (LM)
2nd PLACE: Sweet Frostings; 3rd PLACE: Global Neighborhood Thrift Store
---
North Idaho's Best Hotel
Coeur d'Alene Resort
It's the first thing you see as Northwest Boulevard rounds into Sherman Avenue — triangular-roofed towers rising tall from adjacent Lake Coeur d'Alene. It's a year-round meeting place where memories are made: New Year's Eve at Beverly's, Mother's Day brunch at Dockside, a summer day of world-class golf, including your own lake chauffeur to the famous floating green. And it's known — by locals and visitors alike — simply as the Resort.
No stranger to accolades, Coeur d'Alene Resort was named best U.S. resort in 2011 and finest travel experience worldwide by Conde Nast Traveler. Yet it's especially exciting to be recognized by Inlander readers, says Jerry Jaeger, longtime president of Hagadone Hospitality, which runs the resort, the golf course and the Coeur d'Alene Inn.
"We wouldn't be here today if it weren't for the good people in Spokane and Coeur d'Alene," says Jaeger, who co-founded the resort in 1986. With 35,000 square feet of meeting space and 338 well-appointed guest rooms, the resort caters to both business and leisure travel: about 200,000 guests per year. And yet it was local Inlander readers who gave the resort top marks in Idaho.
Pretty cool.
Now imagine next year, once those same readers get an eyeful of the just-completed renovations. The new lobby with its 32-foot-long, 22,000-gallon koi aquarium. A hugely expanded Whispers lounge with both indoor and outdoor fireplaces. A new high-definition entertainment system resort-wide, an expanded fitness center and upgrades to guest room decor. They've even overhauled Dockside's kitchen and serving facilities, including a new gooey dessert station (good news for the readers who voted Dockside home of the "best dessert" in North Idaho).
"We just made it 25 years, and we look forward to making the next 25 years," says Jaeger of the enhancements. "We want to secure the future for our 1,850 team members," who he says are the No. 1 reason Coeur d'Alene Resort is the resort. (Carrie Scozzaro)
---
BEST ORGANIC/NATURAL FOODS
Huckleberry's
Spokane's first natural market, Huckleberry's, offers natural and organic produce, seafood, meats, dairy products and pre-packaged foods. Local produce and local wines and beers call Huckleberry's their home. There are several Huckleberry's sections in select Rosauers supermarkets to make it easier for customers who don't live in the area of the market. And if you don't feel like cooking, try Huckleberry's 9th Street Bistro, stocked with soups, salads, pastries, smoothies and possibly the best turkey and apple sandwich known to man. (LM)
2nd PLACE: Trader Joe's; 3rd PLACE: Main Market; NORTH IDAHO'S BEST: Pilgrim's Natural Market, CdA
---
BEST JEWELRY
Jewelry Design Center
Nearly 40 years of business have made Jewelry Design Center Spokane's top stop for diamonds, gold, silver, platinum and all other manner of sparkly things. If you can't find the perfect piece in the vast quantity of pre-made jewelry that would put a dragon's hoard to shame, designers are at your disposal to craft you a unique piece. Jewelry Design is know for showing each of their costumers special interest, so that you go home with the best bling for your buck. (LM)
2nd PLACE: Finders Keepers; 3rd PLACE: Pounder's; NORTH IDAHO'S BEST: Lucky Monkey, CdA
---
Best Vintage Boutique
Finders Keepers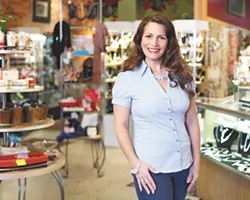 Deena Caruso is a proud Hall-Of-Famer. A row of framed Inlander "Best Of" awards hang outside the office in her Finders Keepers "Jewelry Galore" store. Now her shops have won for 10 years, putting her in Best Of's Hall of Fame.
"I like to win," she admits. "I like to be No. 1, but it's not what's important. I'd rather empower all the people around me."
While she is heavily involved in the ambience and inventory of both her downtown boutiques, Caruso is reluctant to take the credit for Finders Keepers' collective success.
"I have 18 wonderful people who work for me, and they make the customers want to come back."
Caruso wants to set another thing straight: She's not one of those "high-society types." She may rock designer frocks at nonprofit galas, but Caruso's not truly at home in them.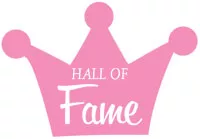 "I don't want people to think I'm just hanging around in elegant dresses," she insists. "I spend most of my time in jeans and T-shirts driving my kid all over town."
After homeschooling her 10-year-old daughter (an aspiring musical actress) for three hours each morning, the two of them commute from jazz to dance to voice lessons. "My first priority is being a mom."
That's not to say this self-made businesswoman and jewelry designer doesn't have other priorities. Caruso is also passionate about people buying local.
"Buying locally is recycling your dollar in ways you don't even know. ... It builds connections, it creates jobs," she says, adding that nearly all her jewelry, including 6,000 pairs of one-of-a kind earrings, is constructed from treasures found in shops and estate sales.
"I have a soft spot for really good vintage jewelry. ... I'm always on the hunt for great pieces."
She also has a soft spot for fellow artists. While her own "D. Caruso" hairpins and headbands are placed sporadically throughout both shops, she also features employee Becky Anderson's "Artishionfox" earrings and necklaces and carries her 10-year-old's handmade barrettes in her dress boutique.Â
In addition to top-shelf designer gowns by Terani Couture, MacDuggal and Sue Wong, Caruso also carries trendy casual pieces with lower price points, like YA clothing.
Caruso says even her new products are "vintage-inspired."
Stocking merchandise is simple when you trust your own sense of style: "I buy things I would wear," Caruso says. "I usually buy one in my size." (Lisa Fairbanks-Rossi)
2nd PLACE: Veda Lux; 3rd PLACE: Carousel
---
BEST MALL
NorthTown
Clothes, jewelry, dining, lizards, comic books and more. That's what makes NorthTown Mall the place to shop in Spokane. It's easy to lose track of time in this mall. You will find yourself walking in and saying goodbye to the daylight. Enter at your own risk, because by the time you are finished drinking bubble tea, looking through books and movies at Barnes and Noble and checking out snakes and chameleons at the reptile store, you'll find yourself stumbling back to your car under the night sky. (LM)
2nd PLACE: River Park Square; 3rd PLACE: Spokane Valley Mall; NORTH IDAHO'S BEST: Silver Lake Mall, CdA
---
BEST PET BOUTIQUE
Diva Dog Boutique
We love you, golden retrievers, boxers and labradors, but Diva Dog Boutique is not your milieu. Get your human to this specialty shop, though! With the region's most exclusive selection of tiny fashion-forward apparel, designer bedding, collars and leashes, it's no wonder our readers are suckers for Diva Dog's sumptuous styles. (LFR)
2nd PLACE: Urban Canine; 3rd PLACE: Prairie Dog Mercantile, NORTH IDAHO'S BEST: Pampurred Pets, Post Falls
---
Best Readerboard
Golden Rule Brake
Most readerboards outside of stores announce weekly sales or business hours, things like "Now open on weekends!" or "Buy one, get one free!" That's cool and all, but where's the pizzazz? The wit?

Our readers found plenty. Your favorite displays belonged to Golden Rule Brake, which has locations on the South Hill, in Spokane Valley and on the north side. Their signs have a different phrase on each side, treating drivers to a double-dose of inspiration.
South Hill location manager Alex Tiffany says that Golden Rule Brake owner Jerry Low is the brains behind the readerboard.
"Tonight it will say, 'Make your life a mission, not an intermission,'" Tiffany says. "And the other side will say, 'Work as though everything depended on you.'"
Tiffany says they're always getting compliments on their readerboards.
"We get 'em daily," he says. "They come in and say they love every one of them."
Each of the three Golden Rule Brake locations received votes. Golden Rule Brake readerboards are so good, in fact, that one reader voted for "anything but Golden Rule Brakes." Hey, guy, don't hate the player…
Garland Auto Service's ever-changing jokes made you all giggle (or roll your eyes) enough to vote it as the second best readerboard in town, and Dutch's, with its near-poetic proclamation of "Surly Staff. Poor Selection. High Prices. Terrible Quality," rounded out the top three. (Azaria Podplesky)
2nd PLACE: Garland Auto Service; 3rd PLACE: Dutch's, Inc.; NORTH IDAHO'S BEST: Davis Donuts, Coeur d'Alene
---
BEST GIFTS
Boo Radley's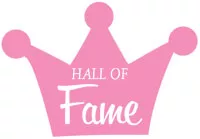 If you want your favorite friends and family members to know you are uber-hip and they are intriguing and irreverent, buy them gifts from Boo Radley's. Honored with "Hall of Fame" status in 2011, this reliably smart, quirky gift emporium consistently delights Spokane shoppers because it offers the cutting-edge books, magazines, tees, and vintage-inspired action figures no one else carries. The current must-have? Mustaches. (LFR)
2nd PLACE: Atticus; 3rd PLACE: Simply Northwest; NORTH IDAHO'S BEST: Lucky Monkey, CdA
---
BEST HOTEL
The Davenport
A January 1916 newspaper headline announced that "the fame of the Davenport hotel has spread to far-off Japan." It's pretty hard not to be proud of a structure that's brought good PR to Spokane for a century. The Davenport lobby's artfully restored ceilings and posts, opulent floral arrangements and the Peacock Room's stunning stained glass make everything from galas to coffee dates feel like a special occasion. (LFR)
2nd PLACE: Northern Quest Hotel; 3rd PLACE: Hotel Lusso; NORTH IDAHO'S BEST: Coeur d'Alene Resort
---
BEST FURNITURE | BEST HOME DECOR
Tin Roof
You will go into Tin Roof for a throw pillow or a table lamp and leave inspired to redecorate your family room. Why Tin Roof succeeds at being Inlander shoppers' top choice for both furniture and home decor may be owner Heather Hanley's eye for transitional style. Want to add some shabby-chic accessories to your classic furniture or transform something old and traditional into something sleek and modern? Do it! That piece of art you love doesn't "go" in your home? Nonsense. The innovative, encouraging staff of designers will show you how to make all your genres meld, one piece at a time. (LFR)
BEST FURNITURE: 2nd PLACE: Walker's; 3rd PLACE: Dania
BEST HOME DECOR: 2nd PLACE: Madison Home; 3rd PLACE: Mel's; NORTH IDAHO'S BEST: Real Deals Home Decor, CdA
---
BEST SHOPPING DISTRICT
Downtown Spokane
It's been a quiet hope shared by owners of specialty shops from Carnegie Square to the area currently known as "SODO": Revitalize it, and they will come. The money poured in downtown has been a worthwhile investment for the dozens of talented chefs, artists and business people profiting in a downtown that is both diverse and vibrant. (LFR)
2nd PLACE: Garland District; 3rd PLACE: Sherman Avenue, Coeur d'Alene
---
BEST ANTIQUE STORE
Vintage Rabbit
The vastness of Vintage Rabbit can be daunting, especially if you're in a hurry, so don't be. Nearly 30 dealers now contribute to the antique mall. Ask them about the back stories of your favorite finds. (LFR)
2nd PLACE: Market Street Antiques; 3rd PLACE: Tossed and Found; NORTH IDAHO'S BEST: Wiggett's, CdA
---
BEST NEW-CAR DEALERSHIP
Wendle Ford
The Wendle Ford is a Spokane landmark of sorts. How else are you supposed to know if you've reached the Y in the road on Division Street. Besides residing at the fork in the road, it's Wendle's giant sales lot offering everything in the Ford family — cars, crossovers, SUVs and trucks — that tells you that you've arrived. (They also sell Nissan and Infiniti.) If their friendly sales staff wasn't enough to persuade you to stop by, their seemingly endless supply of new and pre-owned vehicles should do the trick. (AP)
2nd PLACE: Appleway Valley Honda; 3rd PLACE: Larry H. Miller Toyota; NORTH IDAHO'S BEST: Parker Toyota, CdA
---
BEST SPA
Spa Paradiso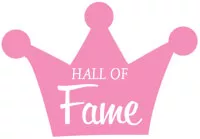 When the going gets tough, the tough get going. But really, the tough should get to Spa Paradiso for some relaxing spa treatments. These folks do everything: therapeutic massages, body treatments, skin care, hand and foot rituals and waxes. They even have a hair salon that offers guests a complimentary scalp rub. Now, your whole body — from your feet to your follicles — can be in tune with the world. (AP)
2nd PLACE: Current at Northern Quest; 3rd PLACE: Brick House; NORTH IDAHO'S BEST: Zi Spa, CdA
---
Best Shopping District
Reader Throwdown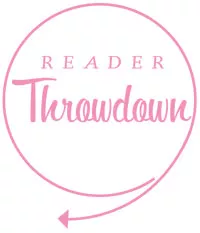 The shopping options in the Inland Northwest have grown. If you want proof, you can see it in the ballots for Best Shopping District. Of course the lion's share of the votes went to big areas like downtown Spokane and Coeur d'Alene, but plenty of Inlander readers have their own micro-district faves, from the International District in East Central to Carnegie Square on the western edge of downtown Spokane.
Of course we had the usual comedians, who voted for Costco or Goodwill — both, admittedly, shopping districts under one roof.
Then there were a few who dreamed farther afield, like Bellevue Square and Johnson Street in Victoria, B.C.
Geography played a role in most votes, as people like Terrie Drahman of North Spokane like to shop close to home. She chose the burgeoning Wandermere district as her favorite. "We've been up here 10 years now, and we've watched it grow and grow," she says. "There's a nice pet supplies shop and froyo and now the cinemas. There's that really nice bistro, Twigs."
Cathi Bradley lives in North Spokane, too, and she loves to support local businesses, which is why she named Hillyard as Best. "I love all the antique stores up there. I just try to do as much local as I can."
Kaaren Bloom grew up in Spokane and moved back in 2003; she says the SODO district (South of Downtown) brings the kind of shopping vibe to town you used to have to travel to Seattle to find. "I love Sun People Dry Goods," Bloom says. "It fills a void; it's a hub of forward-thinking, DIY-equipping, totally-inspiring goodness. SoDo has the most dynamic variety — boutique clothiers (Lolo), quality food (Saunders Cheese Market, the vendors found at the Spokane Public Market). And how awesome is it that we have a Public Market?!"
Out in Coeur d'Alene, not far from the boutique-lined Sherman Avenue, you'll find a great neighborhood district up along the FOURTH Street Corridor, not far from where Troy Murphy lives. "In the summer, you see people walking, biking, skateboarding," says Murphy. "Capone's kind of anchors it all, but there's Kayak Coeur d'Alene, a florist, mechanic shops, tattoo parlors. It's a nice variety, with family-owned places like the Mexican Food Factory."
It's the modern-day mom and pops that keep downtown Sandpoint so great in Julie Berreth's mind. She and her husband own a small business in nearby Ponderay, The Basement Games and CDs. "I've lived in Sandpoint 20 years, and it truly has the most friendly small-town vibe I've ever experienced." She mentions locally owned businesses like Image Maker, Maps & More, Fritz's Frypan and the Fish Trap as the kinds of only-in-Sandpoint shops she loves.
"People want to shop locally," Berreth adds. "We have this little movement, 'Shop Small, Share It Forward.' If you find your niche and are good to people, they will support you. People want to shop small." (Ted S. McGregor, Jr.)
---
BEST BARBER SHOP
The Man Shop
Itching to take your bros on a guy's day out? Check out the Man Shop. This place has everything a man could ever need including a pool table, darts, a putting green, arcade games, magazines and a big-screen television. And that's just while you wait. Once you hop into the Man Shop's oversized barber chairs for a cut or shave starting at just $10, you'll have control of your own TV. This place almost makes me wish I were a man. Almost. (AP)
2nd PLACE: Weldon Barber; 3rd PLACE: Porter's Barber
---
BEST HAIR SALON
14th and Grand
Is your hair looking a little drab? 14th and Grand can help you out. As you stride into their stylish salon, you can take a seat and prepare to be pampered. The 14th and Grand team members specialize in either haircutting or hair coloring and work together to ensure that each client has a great experience.
Whether you want a simple cut, a special hairdo for a night on the town or want to experiment with color, these stylists have you covered. (AP)
2nd PLACE: Jaazz Salon (Hall of Fame); 3rd PLACE: Oasis;
NORTH IDAHO'S BEST: Bombshell, CdA
---
BEST BOOKSTORE
Auntie's Bookstore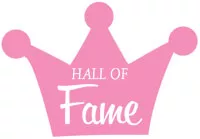 This year marks the 18th time that Auntie's Bookstore has been chosen as the best bookstore in the area. But really, is anyone surprised? Whether you're a reading buff or not, chances are you've probably spent your fair share of time in Auntie's. The independently owned store is packed to the gills with countless sections — fiction, non-fiction, mystery, music, history and more — as well as with stationary, calendars and other gifts for the book lovers in your life. (AP)
2nd PLACE: Barnes & Noble; 3rd PLACE: Hastings