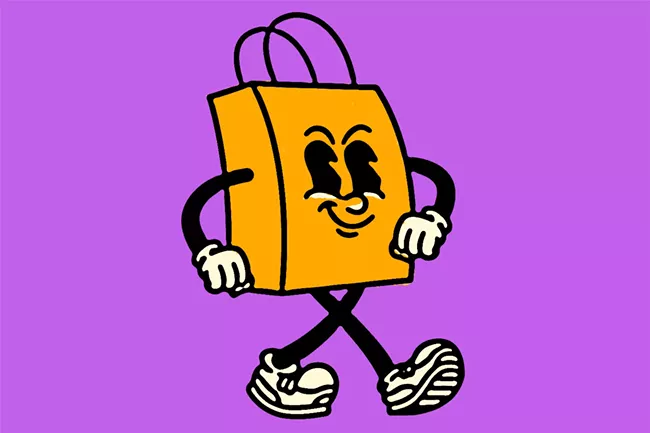 Best Boat Dealer
HAGADONE MARINE GROUP
What do we know about what makes a good boat dealer? Sure, we've been on a boat or two in our time, but what are we? Like, Boating Industry: The Magazine? But here's the thing: The editors at the literal Boating Industry magazine gave Hagadone Marine Group in Coeur d'Alene their "Editor's Choice" award, pointing to the customer service that helped give them a 34 percent increase in revenue from 2020 to 2021. That award is basically like winning the Inlander's Best Of, but for being a boat dealer. (DW)
2nd PLACE: Trudeau's Marina
3rd PLACE: Elephant Boys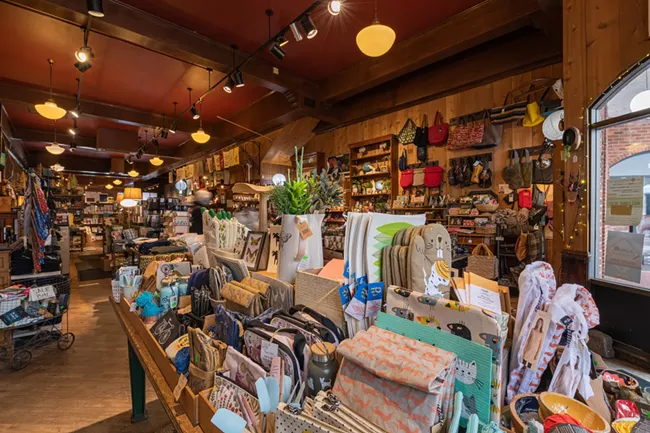 Best Gifts
ATTICUS COFFEE & GIFTS

Where's the one place you can buy a handmade fish-shaped gurgle pot, delicious loose-leaf tea and Chris Bovey prints all in one go? Atticus, of course! The combo gift/coffee shop has a unique array of gifts spanning from books, journals, candles, PNW-themed clothing, mugs and much,
much
more. So, order a coffee and peruse the cozy store that our readers dub the best gift shop in the city. (MP)

2nd PLACE: Boo Radley's
3rd PLACE: Simply Northwest
NORTH IDAHO'S BEST: Lucky Monkey, Coeur d'Alene


Best Organic/Natural Foods
HUCKLEBERRY'S NATURAL MARKET
Every time I walk into Huckleberry's, Spokane's OG natural market, I always head to my few choice spots. The massive produce section. The grocery carts filled with clearance items. The wall of cold beer. The bistro, to simply enjoy the sights and scents. Then, with trepidation and a growing knot in my stomach, I head to check out, always with the same questions: Am I in the right line? Is this even a line? Wait, did I forget my bag? (ND)
2nd PLACE: Pilgrim's Market, Coeur d'Alene
3rd PLACE: Main Market Co-op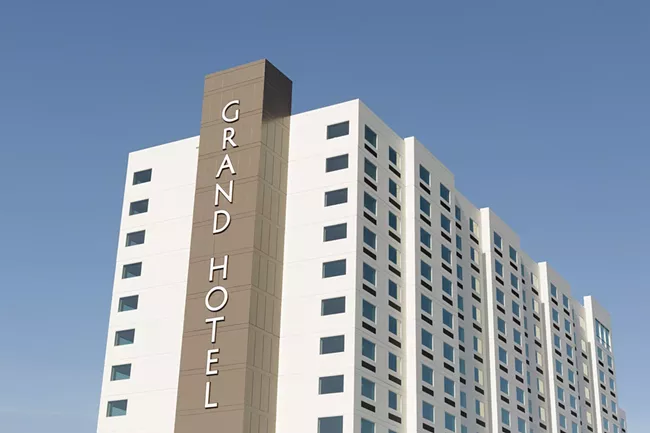 Best Hotel
THE DAVENPORT GRAND

Before the Grand, there was a parking lot. Way before then, it was Trent Alley, a working class neighborhood of Japanese, Chinese, Italian, Greek and German immigrants working and owning the restaurants, barber shops, laundries, groceries and — yes — hotels that defined the east end of downtown. The Grand brings a similar diversity of people and purpose to its patch of land, with its swank rooms for convention goers and plum spot adjoining the First Interstate Center for the Arts. Locals can still enjoy its high-end offerings, especially in the summer during happy hour on its rooftop patio. (ND)
2nd PLACE: The Historic Davenport Hotel
3rd PLACE: Northern Quest Resort Hotel
NORTH IDAHO'S BEST: The Coeur d'Alene Resort
Best Jewelry
JEWELRY DESIGN CENTER
Diamonds are the timeless icon of the jewelry world, and they're the specialty of the Jewelry Design Center. Since opening in 1977, the store has remained a staple business in the Inland Northwest. Their collection features hundreds of pieces, including Jewelry Design Center Handcrafted rings and necklaces. In need of a custom design or repairs on your favorite accessory? They've got you covered there, too. (SSa)
2nd PLACE: Pounder's Jewelry
3rd PLACE: Tracy Jewelers
NORTH IDAHO'S BEST: Clark's Diamond Jewelers, Coeur d'Alene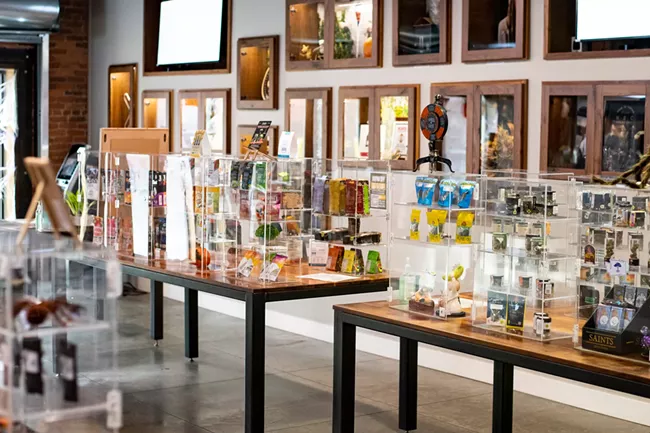 Best Cannabis Shop, Best CBD Selection
CINDER
Convenience, selection and value are the names of the game at each of Cinder's three locations around Spokane — downtown, North Side and Spokane Valley. With knowledgeable staff and a wide variety of products, it's no wonder Cinder has won this honor for five years running. While grocery stores and gas stations now carry CBD products, those are all sourced from industrial hemp. Consumers can shop without worry at Cinder, knowing that their large selection of CBD products come from Washington-grown cannabis. (WM)
BEST CANNABIS SHOP
2nd PLACE: The Green Nugget
3rd PLACE: Apex Cannabis
BEST CBD SELECTION
2nd PLACE: Bath by Bex
3rd PLACE: Locals Canna House


Best New Car Dealership
WENDLE MOTORS, FORD, NISSAN
Wendle Motors has been serving the Spokane area since 1943. If you're not quite following, that's 80 years of selling new cars in the region. Wendle, which is family owned and operated, assists with every part of the process from helping customers pick out their new dream cars, maintaining them once they've hit the road and arranging any financial assistance their customers might need. (MP)
2nd PLACE: Subaru of Spokane
3rd PLACE: George Gee, Buick, GMC, Kia
NORTH IDAHO'S BEST: Parker Subaru, Coeur d'Alene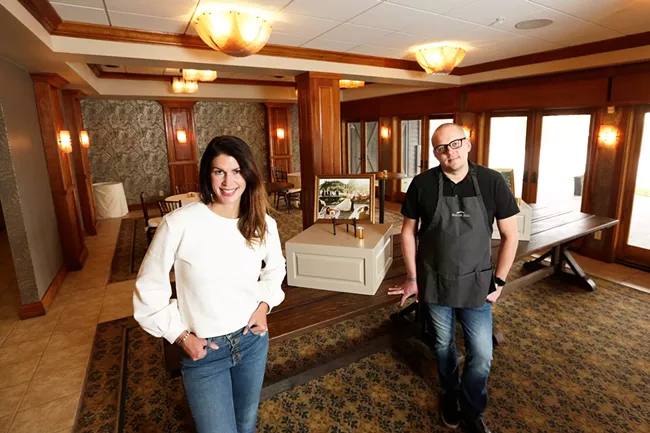 Best Wedding Venue

BEACON HILL CATERING & EVENTS


With sweeping views of Spokane and carefully manicured gardens perfect for pictures, Beacon Hill's catering and event space offers a stunning backdrop for your special day. With menus that can range from high-end snack displays to full Mediterranean meals, and indoor/outdoor facilities that can accommodate hundreds, Beacon Hill's team is set up to help design the event you have in mind. They're also partnered with places like Barrister Winery, Arbor Crest Wine Cellars and Riverside Place, offering even more options for your big celebration. (SW)

2nd PLACE: Arbor Crest Wine Cellars
3rd PLACE: Commellini Estate
NORTH IDAHO'S BEST: Hagadone Event Center, Coeur d'Alene

Best Veterinary Clinic
GARLAND ANIMAL CLINIC

In the heart of Spokane's North Side, the Garland Animal Clinic has been continuously caring for the area's beloved companion animals since 1966 — that's a long time! The clinic's current owners, Drs. Steve Boharski and April Weber-Boharski, purchased the practice back in 1999, and moved it down the street to an expanded, state-of-the-art facility in 2017. It's easy to see why locals love Garland — with 11 veterinarians on staff, plus dozens of skilled support staff, clients' furry friends are always in compassionate, caring hands. (CS)

2nd PLACE: Indian Trail Animal Hospital
3rd PLACE: Hunter Veterinary Clinic
NORTH IDAHO'S BEST: Prairie Animal Hospital, Coeur d'Alene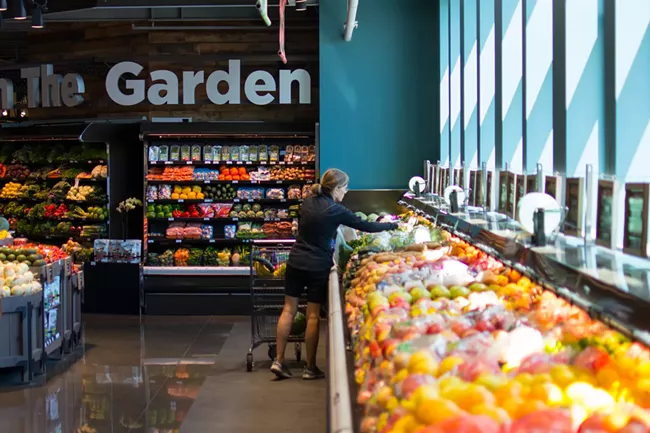 Best Local Grocery Store
MY FRESH BASKET

Filling a void in the downtown grocery scene when it opened in 2017, My Fresh Basket quickly became a favorite, offering a gourmet variety of meats, cheeses, produce and health-focused dried goods, drinks and cleaning products. Somewhere on the spectrum between a Trader Joe's and a Whole Foods, My Fresh Basket offers plenty of affordable options while providing some high-end choices you'd be hard-pressed to find at other stores nearby. Plus, the deli is a wildly popular lunch spot for those who work north of the river, including some of us who put together your favorite paper every week. (SW)
2nd PLACE: Rosauers, 29th Avenue
3rd PLACE: Yoke's Fresh Market, Foothills
NORTH IDAHO'S BEST: Pilgrim's Market, Coeur d'Alene
---
THE VOTERS SPEAK!
Best Toy Store
WHIZ KIDS

"They have a large variety of toys and games." (Holli B.); "Great selection and staff is so sweet and friendly! A great experience." (Rebecca G.)

2nd PLACE: Boo Radley's
3rd PLACE: Figpickels Toy Emporium, CDA
Best Bridal Shop
MARCELLA'S BRIDAL
"Amazing, kind, helpful, accommodating and encouraging staff. Beautiful designs!" (Bethany P.); "Always willing to go the extra mile." (Christiane P.); "The consultants are the BEST." (Melissa C.)
2nd PLACE: Honest in Ivory
3rd PLACE: Believe Bride
NORTH IDAHO'S BEST: Affordable Elegance, Coeur d'Alene
Best Budtender
MERVIN SIMMONS, CINDER
"I have always had anxiety going into [cannabis] stores due to being overwhelmed, but since going to Mervin I have enjoyed it every time!" (Shelby D.); "This guy is incredible. Always in a great mood... I'm always delighted to see his face." (Paige D.); "Merv is the coolest... he is the wizard of weed!" (Jude C.)
2nd PLACE: Alexander Mahin, Lucky Leaf Co.
3rd PLACE: Serg DeLeon, The Green Nugget
Best Farmers Market
KENDALL YARDS NIGHT MARKET
"It's a festival every Wednesday. Great storefronts and open environment. Reminds me of Moss Bay Days in the '70s. Love it!" (Tami K.); "Large variety of vendors." (Patricia B.); "Live music." (Kate V.)
2nd PLACE: South Perry Farmers Market
3rd PLACE: Liberty Lake Farmers Market
NORTH IDAHO'S BEST: Kootenai County Farmers Market, Hayden
Best Local Cannabis Brand
BLUE ROOTS CANNABIS CO.
"Stay true to the blue! They have hard workers, ensuring a quality product by hand!" (Laura Y.); "Always has good strains. Very consistent in quality, never been disappointed." (Jess B.); "Best cannatelas in the world." (Jordan B.); "Because nothing makes my days more tolerable than Blue Roots."(Jennifer C.)
2nd PLACE: Phat Panda
3rd PLACE: Root Down
Best Pet Supplies
NORTHWEST SEED & PET
"Knowledgeable, compassionate, and they donate to The Humane Society and The Friends of Manito." (Leigh H.); "I love this small business! I love that I can bring my dogs, and the owner has often recommended options and provided samples of healthier alternatives for my pups when it comes to treats." (Taylar M.); "Knowledgeable people. Locally owned, great pricing." (Richard B.)
2nd PLACE: The Urban Canine
3rd PLACE: Prairie Dog Mercantile
NORTH IDAHO'S BEST: GoodDog Pet Supplies, Coeur d'Alene
Best Vintage Clothing Boutique, Best Vintage Home Decor & Furniture
BOULEVARD MERCANTILE
"Always a treasure to be found." (Bobbi P.); "Eclectic, unusual and right up my alley." (Sarah H.) "They maintain a beautiful store with well-curated spaces that make sure to change things up throughout seasons and trends." (Lily C.)
BEST VINTAGE CLOTHING BOUTIQUE
2nd PLACE: Veda Lux
3rd PLACE: Teleport Vintage + Co.
North Idaho's Best: Rebel Junk, Coeur d'Alene
BEST VINTAGE HOME DECOR & FURNITURE
2nd PLACE: Chic & Shab
3rd PLACE: The Bohemian
North Idaho's Best: Midtown Home & Vintage Market, Coeur d'Alene
Best Used Car Lot
CAL CARS, SPOKANE/COEUR D'ALENE
"I have bought two cars from them, and they always make sure the cars are in tip-top shape while still asking a fantastic price." (Ashley D.); "Honorable, great experience, they really take care of their customers. They make sure you are getting the vehicle you want and one you can see yourself driving every day!" (Paxston S.)
2nd PLACE: Jennifer's Auto Sales and Service
3rd PLACE: UGM Motors
Best Wine Shop
VINO!
"The folks who run Vino! are the best. They will help you decide on the best wine at any price point — and you are sure to love what they select. John Allen is a local treasure!" (Gail G.); "Buy local is always best. Such great people who know their wines!" (Tonia W.); "Great staff, selection, feels like family." (John E.)
2nd PLACE: Nectar Wine and Beer
3rd PLACE: (tie) Rocket Market, Wanderlust Delicato
NORTH IDAHO'S BEST: Pilgrim's Market, Coeur d'Alene
Best Women's Boutique
AUDREY'S BOUTIQUE
"Nice selection!" (Alice H.); "Personal and professional service, great fashions and all the extras to complete your look, from undergarments to accessories." (Cheri M.)
2nd PLACE: Lolo
3rd PLACE: Veda Lux
NORTH IDAHO'S BEST: Velvet Hammer Boutique, Coeur d'Alene