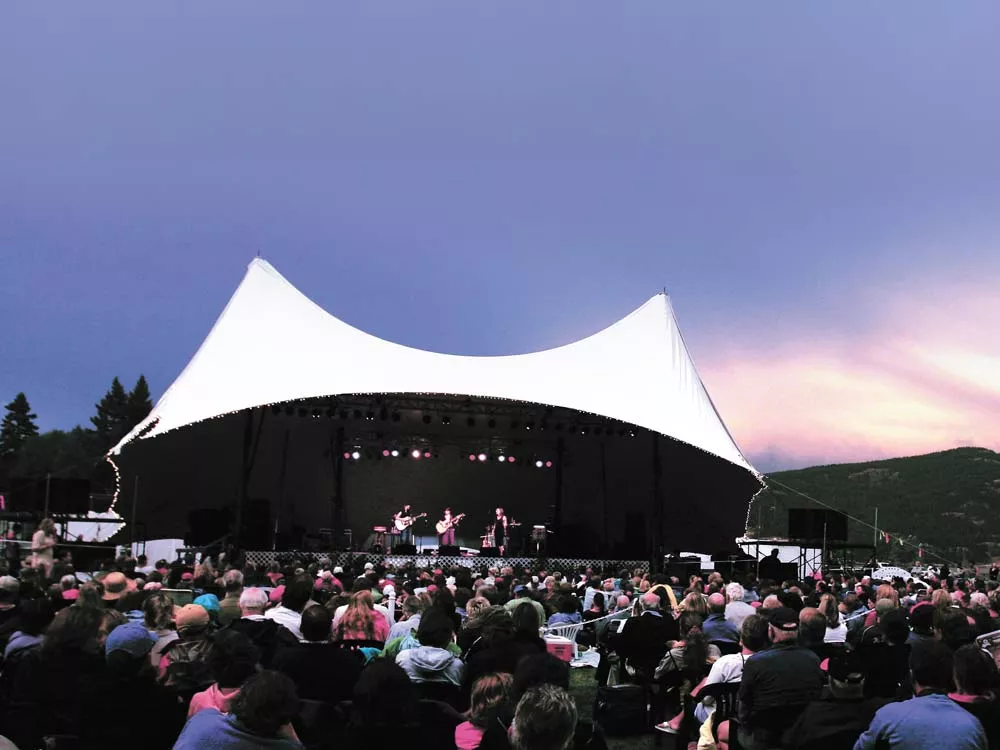 This isn't the type of festival where people die of dehydration or get trampled to death. It's much more refined than that. At the Festival at Sandpoint, there isn't a thick pile of sludge on the Honey Bucket floors and the decibel levels won't cause anyone's eardrums to bleed.
Nevertheless, the Festival at Sandpoint manages to put on one hell of a show. Here's what you can look forward to this week.
Rickie Lee Jones won a Grammy for a song titled, "Makin' Whoopee." All at once that makes her music sound a little dated, a little dirty and yet still friendly — like an episode of the 1960s Newlywed Game. For three decades the artist has slithered between pop, soul and jazz. Jones manages to be a chameleon with her childlike voice that is both innocent and raspy when necessary. At her best, she's like a female Randy Newman. Catch her on Aug. 4 with Lavay Smith & Her Red Hot Skillet Lickers ($34.95).
Brandi Carlile loves Spokane and Spokane loves Dave Matthews. It seems like a strange connection but Carlile — a Seattlebased indie singer/songwriter — got her big break from Matthews at the 2003 Sasquatch! Music Festival. Since then, Carlile has played a handful of local gigs, including the Festival at Sandpoint last year, and she clearly can sing. Her voice is an anachronism calling on the twangy days of Patsy Cline and the powerhouse raw vocals of Grace Slick. Watch Carlile on Aug. 5 with Ivan & Alyosha ($36.95).
Video didn't kill the radio star. In some cases, it made him stronger. Take for example Chris Isaak. His black-and-white music video for "Wicked Game" featured him rolling around the beach with an impossibly beautiful topless model. In return, the video and song stuck like an earworm in people's heads. Isaak's alternative country voice (and jaw line) is flawless. His voice is both sexy, velvety soft like Elvis, yet honest and sticky like Hank Williams. Listen to Isaak on Aug. 6 with Lukas Nelson ($44.95).
Some might argue that Fantasia sounds better under the influence of heavy psychedelics, but if you think the music is mostly for the kiddies, watch A Disney Symphantasy. The family concert will feature music from Disney classics like Fantasia and The Little Mermaid, plus a slew of other children's activities. Join the fun on Aug. 7 with the Spokane Youth Orchestra ($6).
Male singer songwriters are polarizing. Which means you'll either love or hate the boy-next-door archetype that is Josh Ritter. The Moscow, Idaho, native is steeped in romance, fingerpickin' and Americana/roots songwriting. His voice is more David than Goliath, but words — as his heroes Cohen and Dylan so readily prove — hold power. Especially when sung so earnestly. Listen for epic tales of love, conquest and heartache from Ritter on Aug. 11 with Darren Smith ($29.95).

Festival at Sandpoint • Aug. 4-14 • War Memorial Field, Sandpoint, Idaho • $6-$44.95 • All-ages • festivalatsandpoint.com • 888-265-4554