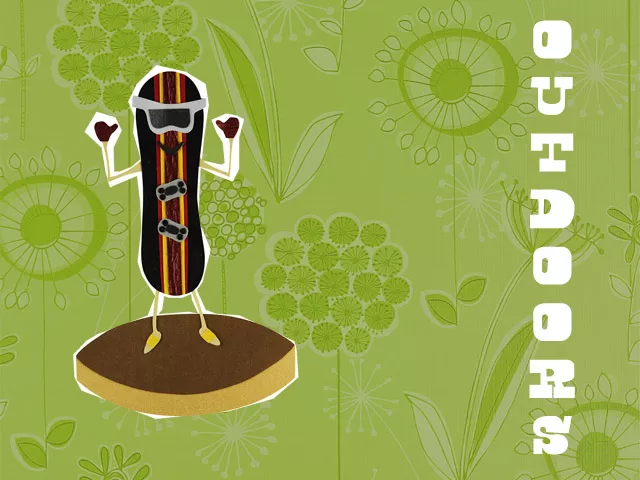 BEST OUTDOOR BASKETBALL COURT
City Park, Coeur d'Alene
Something tells us that the beachside park won our best-outdoor-court prize for reasons other than its rims and backboards. Sure, it has two full courts, which are only 10 years old. But the real draw is obviously the unparalleled people watching the park affords. Come summer, the place is swamped with bathers and sun worshippers, families watching live music performed in the band shell, and everybody else just cruising the boardwalk and gawking. This is definitely not the place for amateurs to work on their free throws, but if you're a serious hoopster to eager to show off your game, there's no place finer. (JS) 2nd PLACE: Comstock Park; 3rd PLACE: Audubon Park
BEST PLACE TO SWIM
YMCA
It's amazing that a series of private, indoor pools could beat out the natural splendor of our two greatest lakes, but really it's no surprise. After all, the YMCA's 16 heated lap-pool lanes at its three different locations (downtown, north Spokane and the Valley) — plus the therapy pool, the lazy river, the kids pools and the hot tubs — are open year-round, and the lake is swimmable for maybe three months. No, it's not as lovely, and, yes, you come away smelling of chlorine, but there's no better place to while away the winter months, preparing for months of lake swimming ahead. (JS) 2nd PLACE: Lake Coeur d'Alene; 3rd PLACE: Priest Lake
BEST PLACE TO SKI
BEST PLACE TO SNOWBOARD
Schweitzer
It may not have the world's longest gondola, but Schweitzer's got plenty enough of everything else to make it the ski and snowboard destination of the Inland Northwest. With almost 3,000 skiable acres and 92 runs, it dwarfs the other mountains. And did we mention the view? A quick trip up the Lakeview Triple chair elevates your terrestrial little ski trip to a spiritual plane, with hundred-mile vistas and all of Lake Pend Oreille laid out below you. (JS) BEST PLACE TO SKI - 2nd PLACE: Mount Spokane; 3rd PLACE: 49 North BEST PLACE TO SNOWBOARD - 2nd PLACE: Mount Spokane; 3rd PLACE: 49 North
---
BEST FUTURE USE OF THE YMCA BUILDING
AND LAND IN RIVERFRONT PARK
Tear It Down
When it comes to the old YMCA building in Riverfront Park, to raze or not to raze is the question. The answer, according to you, the smartest of readers in all the land, include "Bulldoze it," "Back to nature," "Demolish it," "Expand the park" and "Tear it down!"
OK, relax. We got it — get out the dynamite, fetch the wrecking ball.
But how did we get to such a destructive state of affairs? A quick rundown, for the unaware: A few years ago, the YMCA decided to sell off its old '60s-era building. Then one thing led to another and the city got stuck with the $5.4 million tab. And now city leaders are arguing about what to do with it.
There's a good chance that those stuffy elected officials might not listen to you. So here are some other fabulous ideas you all came up with. We can only hope that City Hall has its ears on.
First, it appears our readers like to have some fun, so we combined a few ideas into one: The Raddest Place on Earth. Under one roof, we'll have a roller skate discotheque equipped with bowling lanes, a bungee-jumping apparatus, a paintball area, a drive-in movie, a wiffleball stadium and a shuffleboard hall. On the roof will be a circus, bird habitat, dog park and zoo. With platypuses.
Sound awesome? How about the idea for the "giant ball pit and anti-gravity dodge ball arena"? Imagine floating through the gutted Y building like Superman, casting your balls across the infinitude.
Or how about a "second suction goat" — a massive, one-acre goat whose suction power is equal to that of a star-destroying black hole? Or a "particle accelerator"? A "rocket ship"?
Those ideas are good, if a bit obvious and unoriginal. A couple of you seek to go back to nature without destroying the building by converting it to a "marmot farm" or "marmot nursery." We're unsure if this facility would be strictly for viewing or if we would soon become known for our delicious marmot meat exports.
Which leads us to the hungry folks among us, who want an "amazing brew pub," "bar and grill" or "Cheesecake Factory." And the people who'd like to see a "farmers market," "community garden" or "Spokane's Pike Place."
The number of options is staggering, thanks to you readers. That is, unless you take the advice of these inspired few: "Don't care." "Nothing." Wow. Genius. (ND)
---
BEST OUTDOOR
REC SUPPLIES
REI
It's hard to say whether our voters like REI's endless inventory of outdoor gear and clothing, its co-op model (members get back a portion of what they spend each year) or just its Northwest brand-name appeal. Whatever the case, REI is a perennial favorite in our Best Of polling. Check out the store on North Monroe if you need a bike, a pair of snowshoes, a bivy sack or even just a pair of comfortable walking shoes. (JS) 2nd PLACE: Mountain Gear; 3rd PLACE: Cabela's
---
BEST BIKE SHOP
Wheelsport
On a recent trip to the Wheelsport in Spokane Valley, we watched with bemusement as one of the friendly young salespeople attended to a middle-aged man who was shopping for a new bike. He was that customer. The guy no salesperson wants to get. He was clearly clueless about bicycles, or at least with the style and technology of modern bikes. But he didn't let his ignorance get in the way of an apparent suspicion towards the Wheelsport employee. "Are you sure I should be this upright?" he would ask. "What does this thing do? Do I have to pay extra for the water bottle?"
A lesser salesman would have thrown up his hands and asked, "Do you wanna buy the bike or not?" But this young man kept his eyes from rolling, stifled most of his frustrated sighs and continued to calmly and patiently answer the man's questions — all the way to the cash register.
Customer rapport like this is one of the things that make Wheelsport so popular. Salespeople are generally eager to help, and they're legitimately help-ful. And knowledgeable. More than once we've fallen into long conversations with employees about the relative merits of carbon fiber and Sora shifters.
Of course, Wheelsport also has ubiquity and longevity going for it. Since opening its first store on lower North Division in 1973, the company has opened three other locations — in the Valley, on far North Division, and on the South Hill. Each of these stores carries a slightly different line of merchandise. They all hawk Specialized bikes, but the Valley store carries Kona and Evil, among others. They also focus specifically on dirt and downhill biking.
"Most us in here are downhill racers," says Valley manager Josh Tofsrud. "No other store in town really focuses on the dirt jump."
They've put that focus into co-sponsoring a USA Cycling-sponsored, five-race series this year, which will bring riders from across the country to compete. Wheelsport also provides tech services for the MS 150 ride, Tour des Lacs and Valleyfest.
In general, Tofsrud says, "We focus on keeping people on their bikes." (JS)
2nd PLACE: Spokane N Sport; 3rd PLACE: Two-Wheel Transit; NORTH IDAHO'S BEST: Vertical Earth
---
BEST YOGA STUDIO
Harmony Yoga
Though based in Iyengar, Harmony Yoga — tucked into a quiet neighborhood on Spokane's Lower South Hill — teaches an integrated method. Director Alison Rubin has studied under Rodney Yee and Eric Schiffmann, and other teachers have worked in Ashtanga and Kundalini. Not specific enough for you? Try Cara Wright's pre- and post-natal workouts or Rubin's "Yoga for Triathletes" class, which works on the balance, strength and flexibility needed to get that winning edge. (JS) 2nd PLACE: Mellow Monkey Yoga; 3rd PLACE: Lila Yoga; NORTH IDAHO'S BEST: Garden Street Yoga
---
BEST HEALTH CLUB
Oz Fitness
Though the YMCA is climbing the podium in hot pursuit, Oz Fitness remains our readers' favorite place to sweat it out. Formerly under the 24-Hour Fitness banner, Oz now operates five gyms in the Spokane area, plus a few more in Billings, Medford and elsewhere in the Northwest. With eager trainers and well-equipped facilities, Oz keeps a step ahead of the competition. (JS) 2nd PLACE: YMCA; 3rd PLACE: Spokane Club
---
BEST PLACE TO CAMP
Priest Lake
There are many different factors for measuring a great campsite. There's the beauty of the lake and the lushness of the forest and the fineness of the beach sand and the dryness of the firewood and the remoteness of the setting.
Some come for the modernity of the RV hookups, bathrooms and showers. Others just ask for a fire pit, a stick and a marshmallow.
But there's one attribute that all true Pacific Northwesterners can agree is necessary for camping: huckleberry picking.
And so our winner, Priest Lake Indian Creek Campground, not only has a fantastic swimming beach, hot showers, full RV hookups and beautiful campsites — it also has some of the heaviest branches holding the biggest huckleberries on the most bountiful bushes you've ever seen.
The camp store even carries huckleberry ice cream. "Sunsets are beautiful up here," says Erin McKindree, assistant manager of the campground. "You can access hundreds of miles of hiking trails and ATV trails."
The campground caters to both the RV-savvy and people who prefer real camping.
If you're lucky, you'll see wildlife: Moose, deer, snowshoe hares, squirrels, birds and owls and bears, oh my. "We do have bear-proof dumpsters," McKindree says. "Bears don't frequent them as much anymore."
Ferrol Simpson is 81 years old. He's been coming to camp at Priest Lake since 1965. And he's none too pleased that The Inlander is proclaiming the glories of his favorite camping spot to the entire Inland Northwest.
"Can't get reservations because all the Washington people are over there," Simpson says. "It's got rocky beaches, dirty water, dirty campgrounds, not very many trees."
But more seriously, he says he keeps returning for the beautiful beaches and the beautiful lake. "And it's just been a tradition of our family," Simpson says. "It's our priority."
They've been at Priest Lake when windstorms sent trees smashing down onto boats and tents. They've been there when Mount St. Helens powdered the beach with gray ash.
"It's a place where our family loves to meet together and tell stories around the campfire, and roast wieners and hotdogs, and sing," Simpson says. Those memories he's made — not just the camping amenities — are what makes Priest Lake special. How long will he keep coming? Year after year?
"Until I die," Simpson says. (DW)
2nd PLACE: Farragut State Park; 3rd PLACE: Lake Roosevelt
---
BEST GOLF COURSE
Downriver
It is perhaps a testament to Spokane's serious commitment to golf that our top three vote-getters for best course were not ritzy, expensive, private greens but affordable public parks. Where green fees start under $25. Where you won't get laughed off the course for showing up in blue jeans and flip-flops.
What's even more remarkable is the quality you get for that measly $25. All three of our winning courses have either breathtaking views, beautiful natural surroundings or a stunner of a drive to and fro. The overall winner — Downriver — has all of the above.
Sure, it may not have the same prestige as second-place Indian Canyon, but you just can't beat its environs. The heavily treed 18-hole, 71-par public course is nestled inside one big horseshoe bend on the Spokane River, with Northwest Boulevard on a ridge high above. The air smells of pine. The rapids roar.
And did we mention the golfing is good?
Resident pro Steve Conner cites holes five and 12 as particular humdingers. Five is a 458-yard par 4, where you're hitting into a small drain. The other is markedly shorter, at 218 yards, and it's a straightaway but still particularly tough.
"We have one of the hardest groupings of par 3 [holes] in Spokane," he says. Yet Downriver has a reputation for being accessible to beginners. You may have to lift the ball 6,168 yards from beginning to end (at least if you're starting from the way-back blue tees), but the layout is compact and the elevation isn't too extreme.
"It's a course that's friendly to all skill levels," Conner says. "It's playable for somebody starting out, but it's challenging enough for a more well-versed player." Even for a guy who plays it every day.
"The holes have some character," he says. "It's just a great community golf course." (JS)
2nd PLACE: Indian Canyon; 3rd PLACE: Hangman Valley; NORTH IDAHO'S BEST: Coeur d'Alene Resort
---
SECTION EDITOR: Jacob H. Fries WRITERS: Luke Baumgarten | Michael Bowen | Jordy Byrd | Nicholas Deshais | Kevin Finch | Jacob H. Fries | Kristen Harrington | Carey Jackson | Natalie Johnson | Julia Lipscomb | Tammy L. Marshall | Carrie Scozzaro | Joel Smith | Leah Sottile | Kevin Taylor | Blair Tellers | Daniel Walters PHOTOGRAPHERS: Markus Burns | Young Kwak | Tammy Marshall | Carrie Scozzaro ARTWORK: ANeMonE