BEST HEALTH CLUB
YMCA
I swim at the YMCA, lift there, run on the treadmill there, soak in the hot tub there, shoot hoops there. Problem is, I'm not alone. According to their 2009 report, more than 39,000 people belong to the club, which has three newly constructed locations around Spokane. And attendance is still exploding — so quickly, in fact, that the central location has started posting hourly attendance figures to help members find less busy times to visit. So, yeah, the Y is awesome. But stay away! It's mine, ya hear? (JS) 2nd PLACE: Oz Fitness; 3rd PLACE: The Spokane Club
BEST OUTDOOR REC SUPPLIES
BEST WINTER SPORTS GEAR
REI
For shoppers interested in sturdy, long-lasting outdoor clothing and gear for any season, take your cash to REI. Whether it's glommits, snowshoes or a simple running shirt made from 25th-century material, the store on North Monroe has it all. Founded as a cooperative in 1938 by a Seattle couple, Recreational Equipment Incorporated — its full name — gives members money back at the end of every year. The more you buy, the more you get back to buy more. Genius. No wonder everyone loves this place. (ND) BEST OUTDOOR REC SUPPLIES 2nd PLACE: Mountain Gear; 3rd PLACE: Cabela's BEST WINTER SPORTS GEAR 2nd PLACE: Mountain Gear; 3rd PLACE: Winter Sport; NORTH IDAHO'S BEST: Ski Shack, Hayden
BEST LAKE, RIVER OR STREAM TO FISH
Priest Lake
Like Elvis Presley and DEVO, Priest Lake has something for everybody. Even over the other massive area lakes teeming with gilled aquatic vertebrates. Here's the thing: you wanna shmab around in your bass boat with its massive million-horsepower Evinrude and five of your best angler buddies? There's a put-in for that. However, if a wake-free experience is more your speed, paddle or troll your way up the causeway separating Lower Priest from Upper, to have a fishing experience identical to that of our pioneer forebears. Well, plus a halfie of Miller High Life. They didn't have that back then. (LB) 2nd PLACE: Lake Coeur d'Alene; 3rd PLACE: Lake Pend Oreille
NORTH IDAHO'S BEST WINTER SPORTS GEAR
Ski Shack, Hayden Lake
Carolyn Lyden was selling T-shirts and buzz cuts in the mid-'70s. When someone asked if she could take their ski gear, her barbershop-and-casualwear one-stop quickly became the Ski Shack.
But when the weather's cold, it's not the promise of a perfectly tapered nape that draws in customers.
Selection is one reason people love the Ski Shack. Lyden has made an art form of stuffing the small space with more inventory than it should hold. Just before the seams split, she tacks on a few more feet of floor space.
"Every doorway is a new addition, and we keep adding and adding and adding," says ski tech Evan Hoskinson. "You never know what's coming next."
Anyone new to North Idaho's top winter recreation outfitter won't be concerned with what's coming next. Getting a handle on what's here now is challenge enough — not because there's a lot of gear, but because there's a lot of different gear. With an eye toward keeping their offerings special, they curate the shelves more than just stock them.
"We don't order five of the same coat in different sizes," Hoskinson says. "If you want unique stuff, come here and you'll find something that nobody else has."
Nobody except a thousand places on the Internet, of course. Which brings us to the real reason the Ski Shack is a success: the badasses behind the counter.
"Everybody who works here lives and eats and breathes skiing," Bob Legasa says. "They've got a passion for it."
Legasa's a ski industry pro (and contributor to The Inlander) who put his skis on layaway here. As a kid. In 1978. And he's still coming back.
"You're not going to find me going to a chain store to have somebody work on my skis," Legasa says. "These guys know what they're doing."
And what they're doing is making sure you've never smiled bigger. It's Evan Hoskinson's mission.
"When we get people out there for the first time and see their faces when they come back, we know they're hooked," Hoskinson says. "They're going to be doing this the rest of their lives — just like us." (AM)
BEST PLACE TO SNOWBOARD
Mount Spokane & Snowboard Park
Many who grew up here thank Mount Spokane Ski & Snowboard Park for being a prepubescent learning lab. It's where they first strapped on a snowboard, first experienced the magic of carving after dark, and first realized that a parka and snow pants can make anyone look hot. With shuttle buses running on the weekends and much-appreciated Wednesday-through-Saturday night skiing (or night boarding), Mount Spokane's mission is to hook 'em young and stay accessible. If it worked for tobacco, it can work for Spokane's no-frills winter-sports destination. (AM) 2nd PLACE: Schweitzer; 3rd PLACE: 49 Degrees North
BEST BIKE SHOP
Wheel Sport
Urban bike commuter? Stop by. Weekend two-wheel warrior on the Centennial Trail? Come on down. Downhill dirt fiend? Trail junkie? Never ridden before? Wheel Sport can help. This shop, with three locations helpfully spread around Spokane (north side, the South Hill and in the Valley), caters to everyone who wants to ride on the best invention since, well, civilization was invented. That was like 50,000 years ago and Wheel Sport's only been open since 1973! Nice work, guys. (ND) 2nd PLACE: Two-Wheel Transit; 3rd PLACE: Bicycle Butler; NORTH IDAHO'S BEST: Vertical Earth, CdA
GOOD ANSWERS
Mark Henriksen
Mark Henriksen's response to the "Best Outdoor Gear" prompt? "Wool."
Seriously.
An outdoor sports enthusiast, Mark Henriksen says his love for wool evolved slowly. The tipping point was one wintry afternoon when he returned home from snowboarding; he removed the polypropylene shirt he'd been wearing and was overwhelmed by its foul stench.
"I put that synthetic shirt on the floor and my cat got a hold of it," said Henriksen. "It was awful. For the next couple of days I had this cat that smelled terrible, just like the shirt."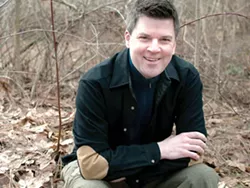 Henriksen noted that the wool garments he wore, on the other hand — in addition to being extremely durable and low-maintenance — resisted the pungent odors that crept into his synthetic clothing.
"It's such an all-purpose material," says Henriksen. "You can wear it in winter, in spring, indoors, outdoors. And you don't have to wash it as often as other fabrics."
"I watch shows like Deadliest Catch and I see those guys wearing cotton shirts and sweatshirts and they're soaking wet and freezing to death," says Henriksen. "I always wonder why they don't just wear wool."
As for Best Outdoor Rec Supplies, Henriksen voted for Mountain Gear and for Best Bike Shop he gave the nod to Two Wheel Transit.
We assume he rides in wool socks, of course. (Jon Brown)
BEST BEACH
Coeur d'Alene City Beach
The Coeur d'Alene City Beach is a stretch of sand that works hard to satisfy a variety of demands. It serves as the launch point for Ironman, thronged with fit hardbodies clad in neoprene. It is the sun-warmed daybed for wallowing tourists from Spokane (and some locals) who baste away their summer days. The beach is connected to the shaded, grassy City Park and is a short stroll from restaurants and pubs in downtown Coeur d'Alene. But beware: Parking at Independence Point isn't free any more. (KT) 2nd PLACE: Boulder Beach, Spokane River; 3rd PLACE: Sandpoint City Beach, Lake Pend Oreille
BEST PLACE TO SKI
Schweitzer Mountain Resort
We imagine running a mountain to be a lot like playing SimCity. You install high-speed lifts when lines get too long, clear terrain when runs get too crowded and add amenities like a spa and snowcat skiing when patrons start looking bored. Do it without breaking the bank and you're either winning the game or you're Schweitzer Mountain Resort. Among the local ski areas, it dominates every vital stat — vertical drop, skiable acres, longest run, sheer awesomeness. But its most attractive feature is its ability to upgrade its offerings without losing that North Idaho charm. (AM) 2nd PLACE: Mt. Spokane; 3rd PLACE: 49 Degrees North
BEST OUTDOOR REC GUIDE SERVICE
ROW Adventures
Thirty years ago, Peter Grubb took people on rafting trips down local whitewater. Now he takes people hiking on the Galapagos Islands and yachting across the Adriatic to visit small Croatian fishing villages.
So, yeah, he knows about adventure.
"Adventure means different things to different people," Grubb says. "But we pretty much cover the gamut."
Whitewater rafting, kayaking, canoeing, fly fishing, barging, hiking, swimming, horseback riding — you name it, ROW Adventures will help you do it.
For their "Galapagos Unbound" tour, ROW takes a small group to within arm's reach of blue-footed boobies, marine iguanas and finches. The sheer diversity of wildlife on these islands helped Charles Darwin formulate his evolutionary theory; the islands' beauty might make you revert to the contentment of a simple ape.
Or, for the "hardest" adventure ROW offers, try an expedition down Idaho's Owyhee River, which is a tributary of the Snake River. It may be close to our home, but this untamed and undammed desert river offers big rapids and an unmatched wilderness experience. Visitors to the Owyhee regularly see bighorn sheep, eagles, beaver and, that's right, no other human but those within your own group.
And it's just one of the rivers within a day's drive from home.
"We have people coming from all over the world" to raft regional rivers, says Grubb. "And people who live here discount things in their own backyard."
There's the Middle Fork of the Salmon River, Hells Canyon, the Clark Fork, the Lochsa and even the Spokane River.
"Spokane is just blessed with this incredible wild river," Grubb says.
Trips with ROW start at less than $60 a person, but Grubb says the sky's the limit. He recently took a family of four on a $20,000 adventure. But, he says, sometimes it's good to keep it simple — and local.
"People tell me they've been whitewater rafting and I ask them where. 'We went on a day trip in Costa Rica,'" they tell him. "Are you kidding me? Our whitewater is 10 times better than anything in Costa Rica." (ND) 2rd PLACE: Spokane Parks & Rec; 3rd PLACE: Peak 7 Adventures
BEST TRIATHLETE
Sister Madonna Buder
Standing in her living room, Sister Madonna Buder is wearing black tights, Zoot shoes and a flushed face. She's just come in from a 15-mile run. She is 80 years old.
Even when she's not training or competing, she keeps up a torrid pace. She'd just returned the day before from Tucson, where she bookended a booksigning with a one-mile swim and five-mile hike. The next day, she'd be off to Miami for an appearance at a fitness convention; they'd expect to run with her there, too, she says.
She's running Boston next month, aiming at another age-group record. As she tells other race organizers, "I don't do marathons anymore unless they're attached to triathlons." But Boston is an exception. When she ran there four years ago, Runner's World magazine presented her with a "Heroes of Running" award.
Sister Madonna has a bit of swimming and cycling experience, too. When recalling an Ironman in her book, The Grace To Race, she tends to focus on the latter parts of the 26.2-mile runs while glossing over the 2.4-mile swims and 112-mile bikes. Apparently, those are just minor irritations. After 15 hours or so of an elevated heart rate, those final few miles are where the real competition lies. At the granddaddy of all Ironman competitions, in Hawaii, they've had to keep inventing new age-group categories for the Iron Nun.
She knows how to put up with pain. While training and competing — which she works in around ministering to jail inmates — she has broken her elbow, hip, collarbone and jaw.
Despite that, she advocates taking joy in your workouts, incorporating them into her daily routine. "I literally run errands," she says, then launches into a discussion of how best to carry egg cartons when running back home from the grocery store.
She doesn't like treadmills or swimming pools, doesn't obsess about her race times, doesn't even wear a wristwatch. She claims that she's always under-trained: "I don't get injuries from training because I do so little of it," she says, laughing.
Yet somewhere out on the trail right now, she's probably jogging along, reveling in God's creation, clicking off the miles, getting ready to demolish another age-group record.
And taking away excuses from the rest of us. (MB) 2nd PLACE: Roger Thompson; 3rd PLACE (tie): Hailey Cooper, Dave Erickson
BEST OF THE INLAND NORTHWEST 2011 - By the Numbers
2,109 Number of ballots we counted for this issue — and those are just the ones from voters who answered the required minimum 50 questions. Overall, online and by mail, we received 2,881 ballots this year — the most ever.
1994 The year we published our first Best of the Inland Northwest issue, with 12 black-and-white pages of results. Today, the region's original readers poll fills 64 full-color pages, with more than 100 questions in seven categories.
1,078 Most votes received by any winner this year, for Auntie's Bookstore in Shopping.
16 Number of different ways KXLY-TV's Kalae Chock had her name misspelled by voters this year under Best Anchor in People.
9 Number of Casanovas who wrote "My Basement" for Best Dance Club in Nightlife.
4 Number of cabin-fevered parents who voted for "Anyplace Outside" as the Best Destination for Kids Fun in KIDS AND family.
2 Number of comedians who zinged back "Spokane Potholes" when we asked for the Best Lake, River or Stream to Fish in GREAT Outdoors.
1 Lone person to vote for "Elf Fest" as Best Free Festival in Arts. (Elkfest, with a "k," took second place for Best Free Festival, but pour us a glass of whatever he's drinking.)
0 Number of votes separating Craven's Coffee and Thomas Hammer in the Best Coffee Roaster category in food and drink. In 2008, Thomas Hammer won the category; in 2010, Craven's won. In 2009 and again here in 2011, after double- and triple-checking the tallies, the local roasters tied for First Place.
SECTION EDITOR Jacob H. Fries ART DIRECTOR Chris Bovey ILLUSTRATOR Jeff Drew

PHOTOGRAPHERS Amy Hunter, Young Kwak, Joe Pflueger, Carrie Scozzaro, Loretta Surma, Anna Vodicka, Craig Sweat WRITERS Luke Baumgarten, Michael Bowen, Jon Brown, Jordy Byrd, Nicholas Deshais, Chelsea Finger, Jacob H. Fries, Tiffany Harms, Kirsten Harrington, Aaron Mahan, Tamara McGregor, Ted S. McGregor, Jr., Carrie Scozzaro, Joel Smith, Leah Sottile, Howie Stalwick, Kevin Taylor, Daniel Walters, Anna Vodicka BALLOTING Brett Anderson