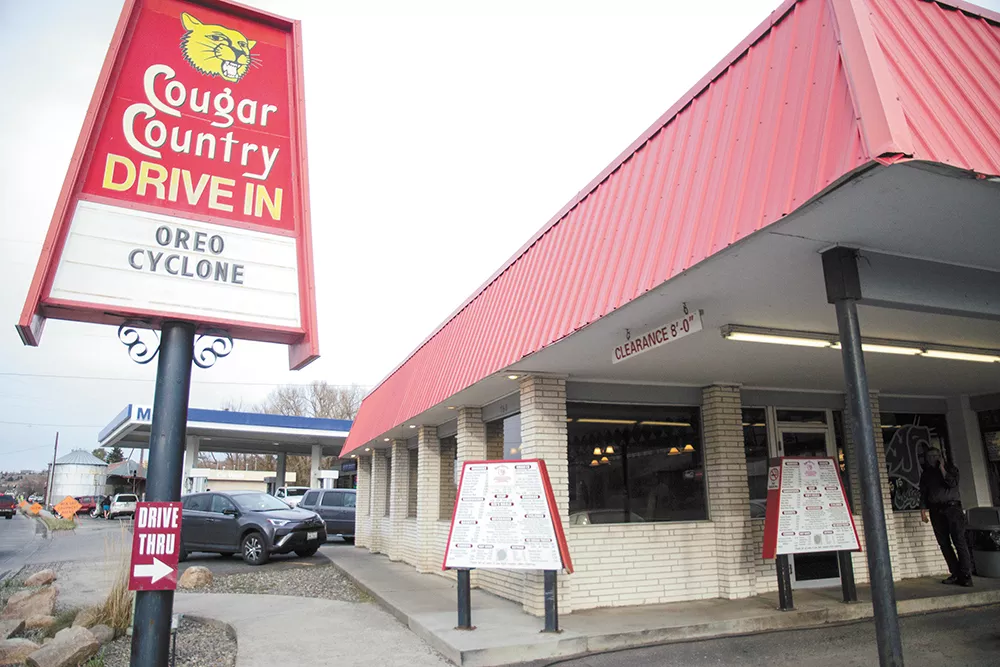 The line of customers stretched out the door, around the corner of the building and down the block when the Cougar Country Drive-In reopened last fall after a change in ownership for the iconic 47-year-old Pullman restaurant.
Now a few months into the new endeavor, owner Mike Wagoner says he has received a fantastic response from the community. Readers voted COUGAR COUNTRY DRIVE-IN the Best Burger on the Palouse this year.
"It's been great," he says. "We've had a tremendous outpouring of support. People are relieved that it's back."
Wagoner says he has focused on making subtle improvements to the menu while preserving the burgers, fries and milkshakes that have kept locals and visiting Washington State University alumni coming back for generations. He notes they have switched to locally sourced Angus beef in all their burgers.
"To me, that's a big difference," he says.
Wagoner says he has also worked to streamline service by introducing new technology on both the front and back end of the restaurant. Customers will notice new touchscreen kiosks and menu monitors at the counter.
But Wagoner says he does not plan to make any dramatic changes. His kids grew up with regular stops at Cougar Country for shakes, fries and some pretty good burgers. He treasures those memories.
"Cougar Country means sharing good times," he says. "We just want to keep that going and going and going."
Visitors to Pullman often find themselves packing home a couple cans of famed Cougar Gold cheese from FERDINAND'S ICE CREAM SHOPPE, which readers named the Best Gifts on the Palouse. WSU Creamery Manager John Haugen says they often sell out of the aged white cheddar over the holidays.
In 2019, they produced 40,000 more cans of cheese than the previous year, he says, in hopes of increasing inventory for this year's sales. They plan to try to bump production this year another 40,000 cans to prep for 2021.
"We should last longer," he says.
The creamery has also introduced smoky, dill garlic, basil, spicy "Crimson Fire" and other varieties of cheese. Customers stopping by the ice cream shop in Pullman can also find other WSU products such as honey from the entomology department as well as chocolates and cookbooks from the hospitality department.
Across campus at the WSU School of Music, professor DAVID JARVIS has taught and performed percussion for 32 years. Readers voted Javis the Best Professor on the Palouse this year. Growing up in Detroit, Jarvis says he learned to love a wide variety of music from jazz to punk to Motown.
"I try to inspire and push my students to listen to everything," he says.
After many years of mentoring young musicians, Jarvis says seeing them carry on their passion for music as performers and teachers still serves as the greatest reward.
"It's great to see students grow," he says. "No paycheck can even come close."
Pullman's PARADISE CREEK BREWERY has also continued to grow with a recent expansion of its Trailside Taproom brewing facility as owner Tom Handy knocked out a wall to more than double the seating space. Handy has also installed a new sound system to host live music and regular trivia nights.
"We're excited to get our patio open again," he adds, taking a break from putting up new cafe lighting outside the taproom.
Paradise Creek, which readers voted the Best Brewery on the Palouse, also continues to host beer pairings and other community events at its downtown restaurant in the city's historic post office.
Handy says he plans to continue experimenting with new varieties of their popular "pucker" beer series to include raspberries or other styles, but he thinks it's the consistency of the quality of beer that keeps people coming back.
"We just try to make them good every time," he says.
As far as consistency, SOUTH FORK PUBLIC HOUSE in Pullman continues its streak as perennial winner for Best Restaurant on the Palouse. With upscale pub food and an extensive rotating tap of regional beers, South Fork has become a local favorite for business lunches and casual drinks with friends.
Customers flock to the Cougar Gold mac and cheese. The restaurant also hosts regular tap takeover events with breweries from around the Pacific Northwest.
Just down the street, college students settle in alongside their professors from 3-6 pm daily for the Best Happy Hour on the Palouse at BIRCH & BARLEY. Co-owner and general manager Jill Bielenberg says their bar area offers several of their regular menu items and beer at reduced prices.
"It's the same quality of food you would get always," she says, "but at a really great price."
Bielenberg says a favorite is the Cougar Burger, topped with Cougar Gold. But she also loves the artichoke dip and their Pullman Poutine of fries smothered in housemade Guinness gravy.
Birch & Barley's Beer Brigade mug club also enjoys an extra discount on drinks during happy hour, she says. Families will also be able to enjoy the happy hour offerings later this spring when the all-ages patio opens again.
BEST BURGER
1st PLACE: Cougar Country Drive-in, Pullman; 2nd PLACE: South Fork Public House, Pullman; 3rd PLACE: Humble Burger, Moscow
BEST GIFTS
1st PLACE: Ferdinand's Ice Cream Shoppe, Pullman; 2nd PLACE: The Bookie, Pullman; 3rd PLACE: Neill's Flowers and Gifts, Pullman
BEST PROFESSOR
1st PLACE: David Jarvis, WSU; 2nd PLACE: Dan Bukvich, University of Idaho
BEST BREWERY
1st PLACE: Paradise Creek Brewery, Pullman; 2nd PLACE: Hunga Dunga Brewing, Moscow; 3rd PLACE: Moscow Brewing Co., Moscow
BEST RESTAURANT
1st PLACE: South Fork Public House, Pullman; 2nd PLACE: The Black Cypress, Pullman; 3rd PLACE: Cougar Country Drive-In, Pullman
BEST HAPPY HOUR
1st PLACE: Birch & Barley, Pullman; 2nd PLACE: Stubblefields Bar, Pullman; 3rd PLACE: Etsi Bravo, Pullman