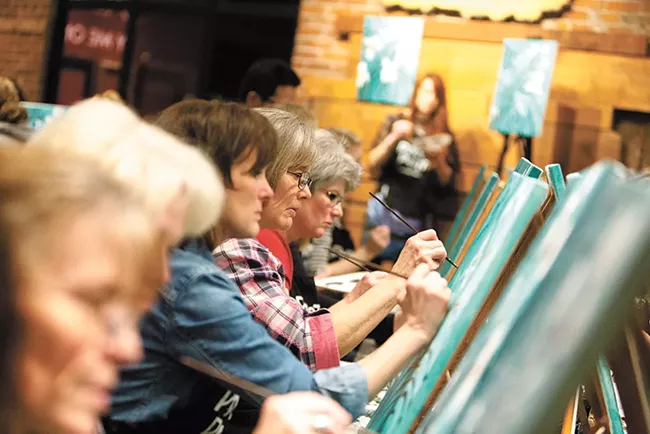 It is a truth universally acknowledged that wine helps people feel like they can master different feats. Even the non-artistic could find themselves feeling like Picasso took over their body. Herein lies the genius of Pinot's Palette.
It provides an engaging and fun atmosphere to what could otherwise feel intimidating for those who haven't taken an art class.
On a painting night, you can sometimes find Jackie Casey, the owner of both the Coeur d'Alene and Spokane locations of Pinot's Palette, bartending while upbeat music plays, and attendees sip on their beverages and attempt to copy the painting showcased in front of them.
Casey herself was coerced by well-meaning friends into attending a Pinot's Palette in Tulsa, Oklahoma, years back when painting seemed less like fun and more like a way to get easily embarrassed.
During the session, her disinterest quickly dissipated as she realized she was having a blast. Casey was proud of the peacock she painted that night. This experience encouraged her to open up her own studios in the Inland Northwest.
"It's really kind of an empowering job, you know, to see people walk in who are so confused on why they even signed up for the class. You could tell they got dragged there by their friends or their spouse or for their work, and by the end people are so proud of what they created. They're all so excited. That's my favorite part of Pinot's Palette," Casey says.
The two locations have 13 artists between them. They can select paintings for certain days from the franchise's library, which houses around 5,000 pieces, or create their own for others to reproduce. Paintings come in a variety of styles stemming from abstract to realistic.
"It's a really hard job. It takes a really unique person to be able to excel at it, because you not only have to be an artist, but you have to be able to replicate someone else's artwork and be able to articulate how to teach the painting, and articulate it in a way that makes sense to people," says Casey. "You have to do all of that while being fun, entertaining and keeping it really light hearted."
Pinot's Palette isn't so much about educating as it is about creating a party for everyone to enjoy, and that's what has people coming back for more.
2nd PLACE: Sip'n Paint Studios; 3rd PLACE: Paints & Pints