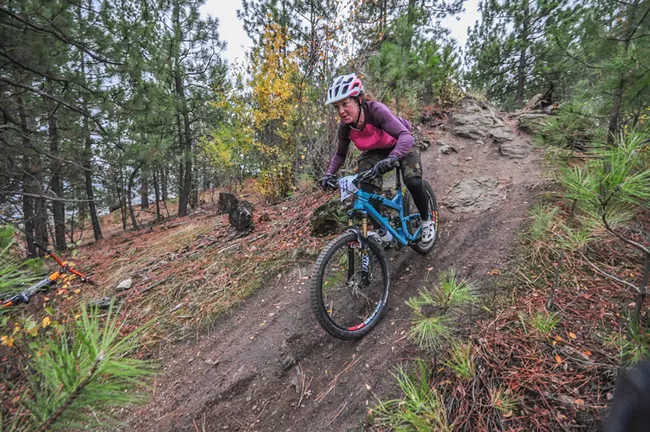 Nestled in something of an elbow of the city, the top of Beacon Hill affords visitors spectacular panoramic views of the metro area, from the far North Side through downtown and out across the Valley. The best part, though, is that from there, you get to ride back down.
Beacon Hill and Camp Sekani have become the region's premier mountain biking destination, a distinction earned through the hard work of local volunteers and nonprofits.
"Fat Tire Trail Riders started in about 2008 to preserve land in the area," says Chris Conley, president of the Evergreen Mountain Bike Alliance's Eastern Washington chapter, which took the baton from Fat Tire Trail Riders in 2015.
Stretching from Minnehaha Park in the west to the city-owned Camp Sekani Park on the east, the rugged terrain and over 600-plus vertical feet of the Beacon Hill area is crisscrossed by 39 miles of trails. However, between the two parks sits a lot of privately owned land. Until 2020, 61 percent of the area's trails ran through private land. Now though, 77 percent are protected on public land.
"In 2020, 250 acres were bought by the county through Conservation Futures funds, along with large easements from Avista. There's still some private land, but we at Evergreen have made agreements with the landowners to allow access to the trails," Conley says. "We're working on a new round of Conservation Futures for 2027."
Volunteers who've helped make Beacon Hill what it is today aren't just waiting around until 2027, though. Work is underway this spring to improve Camp Sekani's central park features like the pump track and jumps, which are already located on public land.
For visitors who are unfamiliar, Evergreen has drawn up handy digital trail maps to help riders navigate the 1,024-acre space; find them at evergreeneast.org.
"Get out there and explore it," Conley says.
2nd PLACE: Mount Spokane State Park
3rd PLACE: Riverside State Park
NORTH IDAHO'S BEST: Silver Mountain