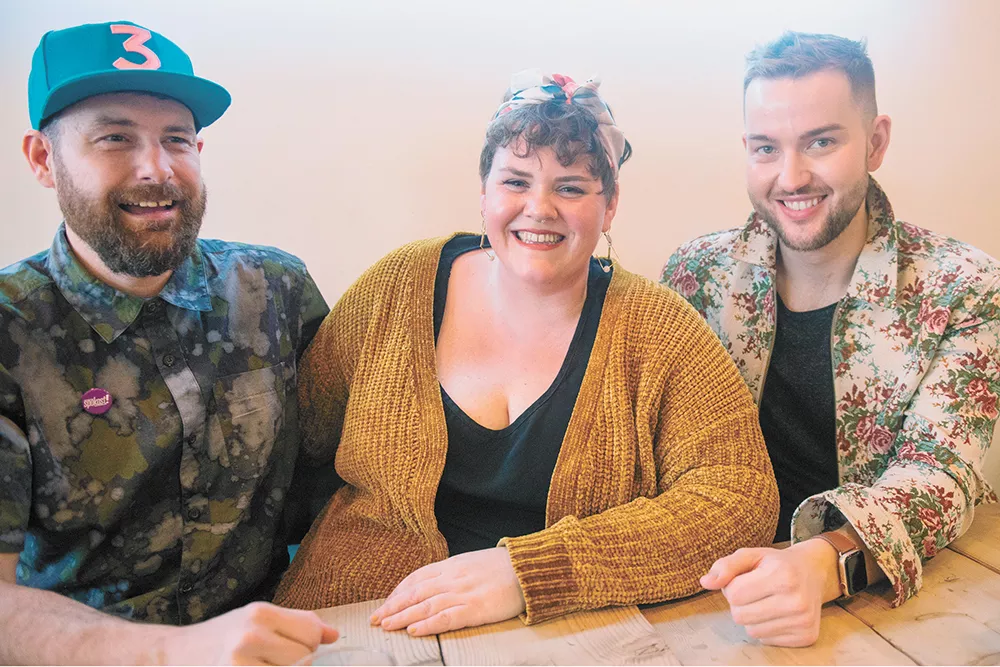 You could say that SpoKast winning Best Podcast was about quality, about personality and charisma, about the chemistry the three hosts have, about the way they capture what's so great about Spokane. But you could also credit something that's as much a part of podcasting as murder mysteries and mattress ads: shameless self-promotion! An entire special episode of the SpoKast was titled "PSA #VoteForMe," all about how you loyal SpoKast listeners should definitely vote for SpoKast as your "favorite, best, greatest local podcast."
It was marketing. But marketing works. After all, while SpoKast co-host Nate Martin works at Bliss Hair Studio, the other two hosts, Brennon Poynor and Andrea Williams, both work for the Woodshop, a local marketing agency.
In one sense, SpoKast operates as your typical hang-out show, a shaggy space where a couple of affable friends riff on the news together and share their thoughts. Think of it as the millennial version of a morning radio show like Dave, Ken & Molly.
Martin describes Poynor as the technically savvy but "deliciously awkward" and himself as irreverent, a tad racy and sometimes dumb.
Williams, who has 13 years of radio experience, is the one with the bubbly personality and the very loud, very exuberant laugh.
Poynor says, "We've had multiple comments about Andrea's laugh and how much they love it —"
"— or how much they hate it," Martin interjects.
Over a decade ago, Williams ran a local music blog that covered the launch of an up-and-coming music and art event called Terrain. It's fitting then that SpoKast hosted Terrain co-founders Luke Baumgartner and Ginger Ewing as their first real guests.
Podcasts are what blogs were a dozen years ago: A way for people who truly love talking about a thing — or a place — to come together and share what makes it special.
Sometimes their experiments fail. When SpoKast recorded a "high AF" special to celebrate getting 420 fans on Instagram, the result was such a mess they ended up pulling the episode. But other times, like when they interviewed Lilac City Live host Ryan Tucker, it crackles with a kind of enthusiasm about what Spokane offers.
"[The goal] is just to shine the light and recognize the community and the magic of the city," Williams says. "If you get your ass outside of your house and you go be social, there's something to do every single night."
So, yeah, SpoKast is marketing. It's just they really believe in their product, and their product is Spokane. They want to go beyond #SpokaneDoesntSuck hashtags and showcase all the cool things that make Spokane great.
Fittingly, that's also what Terrain is about. That's what Lilac City Live is about. Hell, that's the Inlander Best Of is about, too.
2nd PLACE: I Don't Know Her; 3rd PLACE: The F.A.N. Show