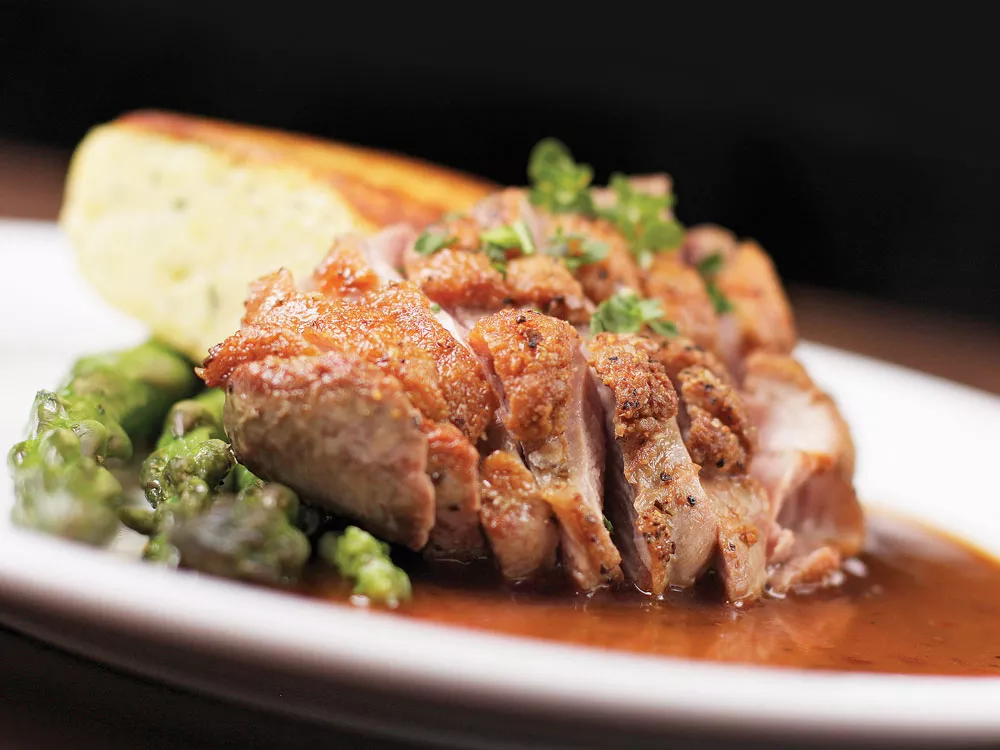 I just love the fact the Coeur d'Alene thinks it's big enough to have a "midtown" — and even better, it's the area where you'll find some quirky shops and more than a handful of thriving little restaurants. Bistro on Spruce occupies a converted car dealership, but far from being a sleek showroom, the interior has been renovated to be warm and inviting, with a welcoming river-rock fireplace and wide wooden blinds giving it the feel of a mountain lodge.
The menu features an eclectic mix of dishes that reminds me of a restaurant best-seller list — no unfamiliar ingredients, no exhaustive lists of the sourcing of meat and greens. Just straightforward descriptions of tasty-sounding comestibles.
We started out with the appetizer special, which happened to be baked brie encrusted with panko crumbs, accompanied by fresh figs ($9). The delicate, almost floral, flavor of the figs and the mild cheese took a minute or two to appreciate — like coming indoors on a bright sunny day. But while lingering, I became more and more fond of it, gradually discovering its nuances.
Of course, the wine flight may have eased my palate. In a delightful twist, the Bistro offers wine flights — of your choosing. Simply pick three of the options on the by-the-glass list, and for $7, you get three 2-ounce pours. We had fun selecting and comparing the wines, which were helpfully labeled with stickers on the glasses.
For our next course, my companion went with the Guinness onion soup ($4). It was rich with sliced onions and the Guinness added a fruitiness that complemented the salty cheese and crouton topper. While not exactly a traditional summertime treat, it was still quite tasty.
My Mediterranean salad ($4) featured mixed greens, kalamata olives, feta cheese, cucumber and — for a switch — crumbled bacon. The tzatziki dressing wasn't particularly outstanding, and the combination of the bacon and olives seemed slightly off. I had trouble getting past the lack of tomatoes, which pair so lovingly with feta cheese. Not a bad salad, but next time I'll go back to the fabulous house salad ($4) I enjoyed on a previous visit, with mixed greens, bleu cheese and tomato (hooray) with a vinaigrette dressing.
Deciding on an entrée from the relatively small list was surprisingly hard. Our server was wild about the unlikely-sounding seared scallops with grilled chorizo sausage medallions, red onion marmalade, sautéed fennel, tri-color potatoes and roasted garlic ($20). So my companion went with that. Although it was probably the most unusual combination of ingredients of any entrée, it worked surprisingly well. The spicy chorizo did not overpower the tender seared scallops, but instead enhanced their sweetness, and the fennel added an airy top note to the dish. I thought a bit more of the tasty red onion marmalade would have helped to mingle the slightly disparate flavors of the chunky potatoes with the scallops and chorizo.
My pan-seared duck breast ($22) was a treat. Cooked as ordered to medium, the skin was not as crispy as I like it, but the rich meat was buttery tender. I enjoyed the marsala demiglace as well, but what really stole the show was the crisped Asiago-basil polenta square. The combination of flavors was a perfect match for the sweet rich duck, and bright green asparagus completed the earthy plate.
We also enjoyed a slice of carrot cake — the OMG carrot cake ($6), to be more specific. Made in-house, like all the desserts, it was a great incarnation of this highly variable favorite featuring pineapple, walnuts and a luscious lemon cream cheese frosting.
A particular highlight of the evening was a jazz trio, more than willing to take requests. The fun vibe generated by the music, combined with owner Chris Mueller's cheery greetings for patrons, made the evening wonderfully relaxing and pleasant. We brought three kids along on the adventure who were more than welcomed, enjoying big fat grilled cheese sandwiches ($5) and a kids' cheeseburger — a bit steep at $8, but delicious enough for me to finish every crumb left behind.
Bistro on Spruce is open seven days a week, with a big hearty weekend breakfast menu, and some great sandwich options for lunch as well; Reuben with house remoulade ($9) or smoked salmon on whole wheat with capers and chive cream cheese ($9). With just one exception — the Black Truffle Sacchettini ($11) — all items will set you back less than $10. If your budget is more limited, or you just want to sample a number of appetizers, $4 tapas are featured from 2:30 to 5:30 Monday through Saturday, featuring small versions of many of the house-made appetizers. Don't worry, there are no flash-fried mozzarella sticks here.