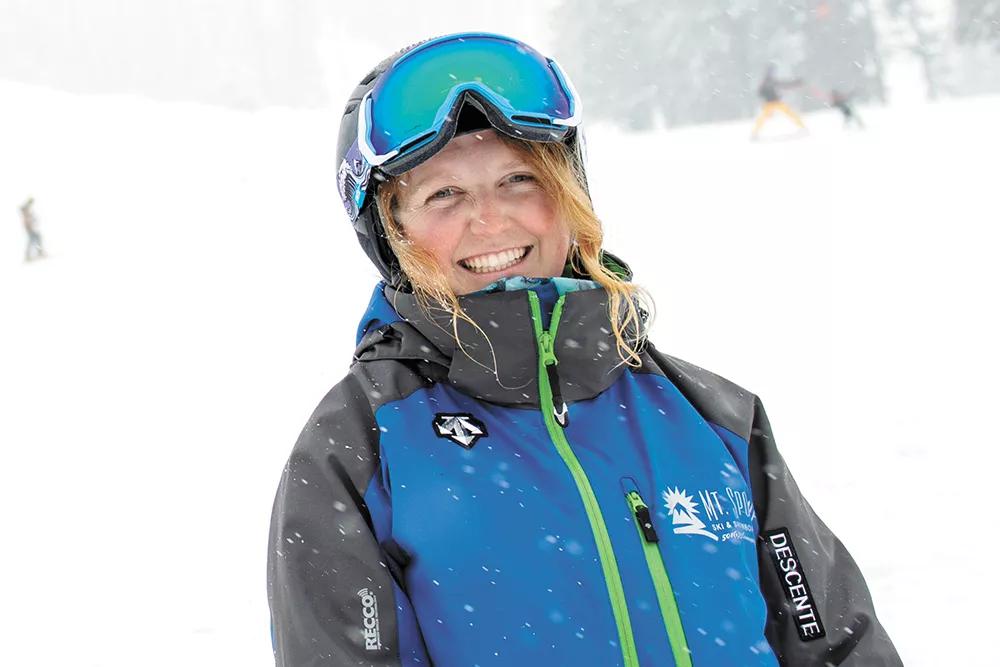 Katrin Pardue, as she says it, is "not your average kind of sports person."
Pardue's been skiing since she was 2. She keeps busy in the off-season with mountain biking and surfing behind boats. She even dabbles in whitewater kayaking.
"My parents would take me up to [Mt. Spokane] daycare," Pardue recalls. "And all I said when I was in daycare is 'I want to ski with you guys! I want to ski with you guys!'"
She credits her parents for all of her outdoor interests. Her mom is a Mt. Spokane ski patroller and her dad works at REI. When I met up with Pardue on a recent snowy Saturday at Mt. Spokane, she was already on her 80th-something day skiing this season.
"I'm addicted to skiing — that's for sure," she says as we ride up the mountain on Chair Three.
Now 25, she is a weekend ski school supervisor, outdoor recreation major at Eastern Washington University, and hopes to eventually run her own ski school. Six years into ski instructing, she's taught all ages — from an 18-month-old toddler to an 89-year-old senior. Pardue says she enjoys it all.
"I really like the little ones because you can tell them silly things, and they'll completely believe you," she laughs.
She says teaching adults is fun, too, because she can speak in technical terms and they understand it. With preteens, she says it's best of both worlds because she can talk to them like an adult, but still act ridiculous with them.
As I spent the morning skiing with Pardue, it became obvious why readers voted her best ski instructor. It seemed like everywhere we went on the mountain she knew someone and they certainly knew her, too.
"Thanks again, Katrin," one instructor says as we head to Chair Three. When we get there, Pardue makes sure to greet the lift operator. He replies with a smile, "Hey Katrin!" At the top of the lift, before we can even make our first run, she runs into a group of friends. One man tells her about the great mid-season deal his wife got on her new skis.
We take a run toward Chair One, and once there, nearly have a repeat experience. This time the liftie greets her first, and they have a quick chat. We pop onto the chair and she jokingly yells back to him, "Stay dry!
She has to head back to the Ski School, so we finish our meeting with a quick run via Northwest Passage. We hit some deep powder on our way down and she kindly shouts back a quick tip: Keep your arms out in front of your body, keep your toes up to balance your weight and just take it foot by foot.
2nd PLACE: Andy Fuzak, Mt. Spokane; 3rd PLACE: Spencer Huender, Schweitzer