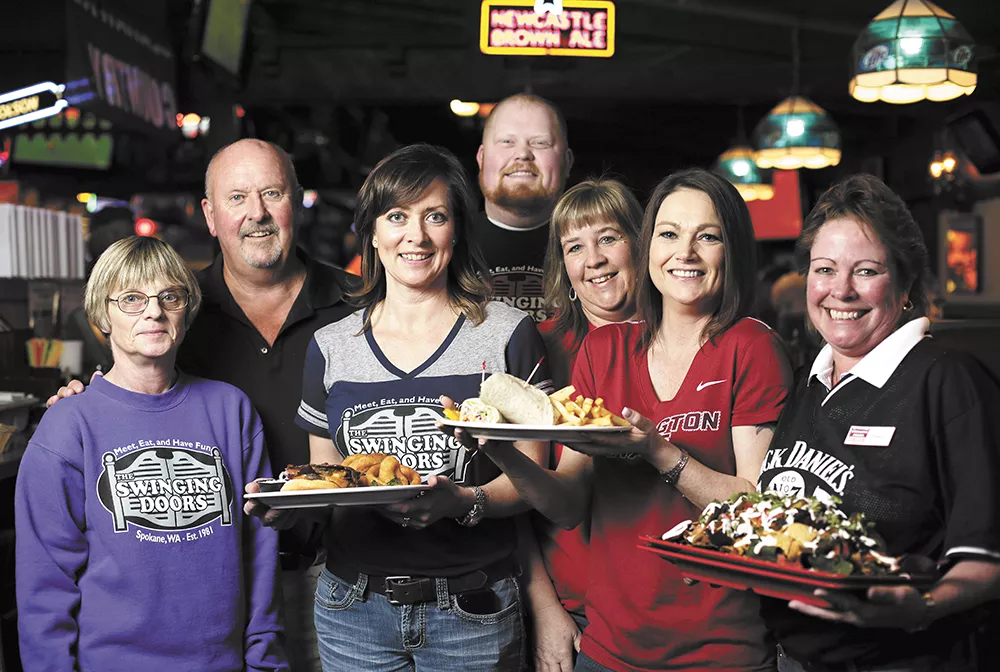 The Swinging Doors wasn't always a sports bar, first opening as what manager Lisa Ruggles calls a "beer, wine and pull tabs" tavern back in 1981, but the evolution into our readers' favorite sports bar was a natural one.
Ruggles, the daughter of owners Bob and Barb Materne, has been working at the Swinging Doors for 24 years, and while her siblings were natural athletes, her interest in sports began and pretty much stayed on the couch with her dad.
"My dad, from the time I was a kid, we had a color console TV, but he would put a black-and-white on top so he could watch two games at the same time," Ruggles says. "He's always been a sports fanatic."
The Swinging Doors has become a sports fanatic's paradise, and now it's in the Inlander Hall of Fame after winning our Best Sports Bar category for 10 years. Materne was in Las Vegas rooting for his alma mater when we passed on the news, but Ruggles says, "it's definitely an honor. My dad gets super-excited about it. This is his baby."
The baby has grown considerably since its start as a neighborhood tavern. The first big-screen TV went up in '89 or '90, Ruggles says, and in 1995, the Swinging Doors added hard liquor to its offerings. The restaurant came along with the booze.
Now the spot on Francis boasts 50 screens hosting every sports package they can buy and a full-service restaurant that attracts families, Little League teams and folks simply more interested in the house specialty broasted chicken or a hearty breakfast than any ballgame. Instead of nine or 10 beers on tap, there are now 27, and about 20 taps rotate and always include a mix of local and regional favorites.
"We've kind of had to walk a fine line," Ruggles says. "Are we a family restaurant? Are we a sports bar?"
The answer? A little bit of both. And whether or not you're there to meet your fellow Seahawks or Packers fans for a game, or meet some friends for coffee and a game of cards (as Ruggles' grandmother does every Thursday morning), there's no mistaking the family vibe that comes through at the Swinging Doors as loud and clear as the signals on the myriad TVs.
"We really consider ourselves family," Ruggles says, noting that some employees have been working there for 30 years. "Siblings. I'm the mom, I guess. I've heard it from customers, too. It really feels like a family atmosphere here, and we try to make our customers feel like part of that family."
2nd PLACE: EPIC at Northern Quest Resort & Casino; 3rd PLACE: The Ref; NORTH IDAHO: Capone's