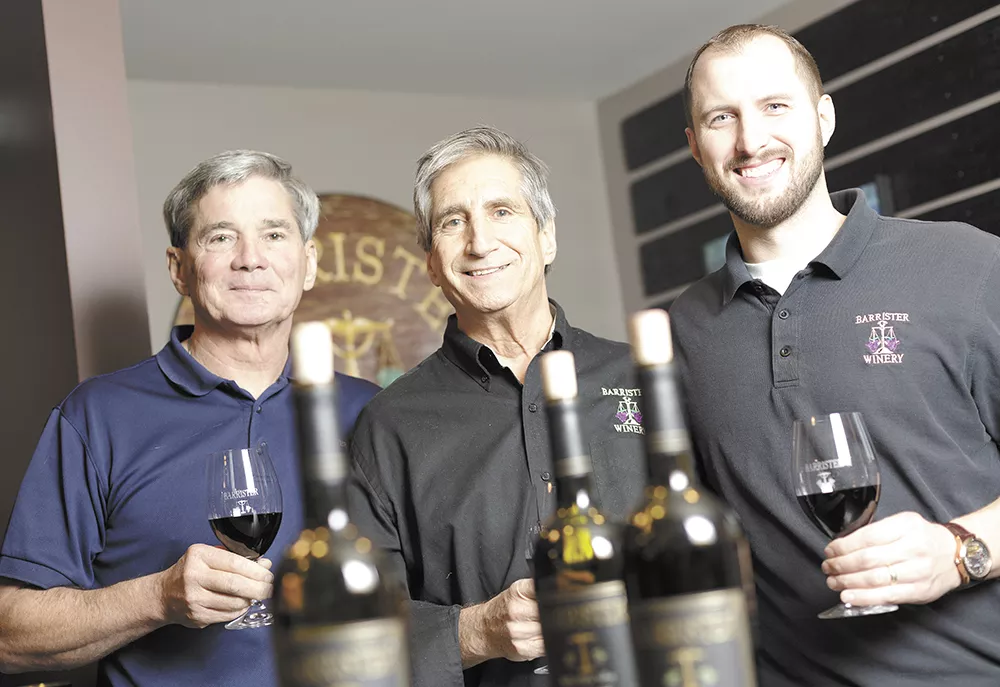 Tucked away on Railroad Alley downtown, the massive double doors to Barrister Winery open up to a beautifully lit room filled with paintings hanging from brick walls, a corner for musicians to set up, and shelves of wine. A lot of wine.
Coworkers and drinking buddies Greg Lipsker and Michael White walked into a wine supply store in 1997 looking for bottles of wine; the kit they left with ended up turning two law attorneys who enjoyed drinking wine into winemakers.
"It's all about experiences," says Lipsker. On track to hold more than 130 events this year, Barrister's tasting room draws people in to experience the wine in the facility where it's made.
"But those experiences also include education," adds Tyler Walters, now a co-owner who has proven himself invaluable to Barrister since he was originally hired to help during the 2009 harvest.
Beyond celebratory events such as weddings, First Fridays and new release parties, educational events are also held for Barrister's wine club members. Maximilian Riedel — an Austrian glassmaker — will soon host a wine-glass-oriented tasting event.
A crucial and growing component of business, Barrister's wine club currently has more than 1,200 members who not only gather for events, but have become a part of the Barrister family through volunteering.
"In 2000 we were crushing a ton and a half of grapes in my garage ... and we were making more wine than our friends could drink," says Lipsker.
Sixteen years later, they — along with the help of other employees and volunteers — are crushing 90 tons a year, equaling around 5,000 cases of wine.
After opening last fall, Barrister's new Downtown Tasting Room has helped increase its visibility to those who hadn't sought out the original location, though Lipsker, White and Walters want to focus on improving their wines and creating more diverse wines rather than increasing production.
White is excited to see Spokane reaching critical mass for wine tourism, as a result of new wineries and tasting rooms. Unlike rural wineries, tourists can visit wineries close together in Spokane all day, and spend the night becoming more acquainted with the city.
"We're in the winemaking industry, but we're also in the hospitality business," says Lipsker. "Which is something I don't think we realized when we started, but it has become one of our favorite parts."
2nd PLACE: Arbor Crest Winery; 3rd PLACE: Overbluff Cellars; NORTH IDAHO'S BEST: Coeur d'Alene Cellars