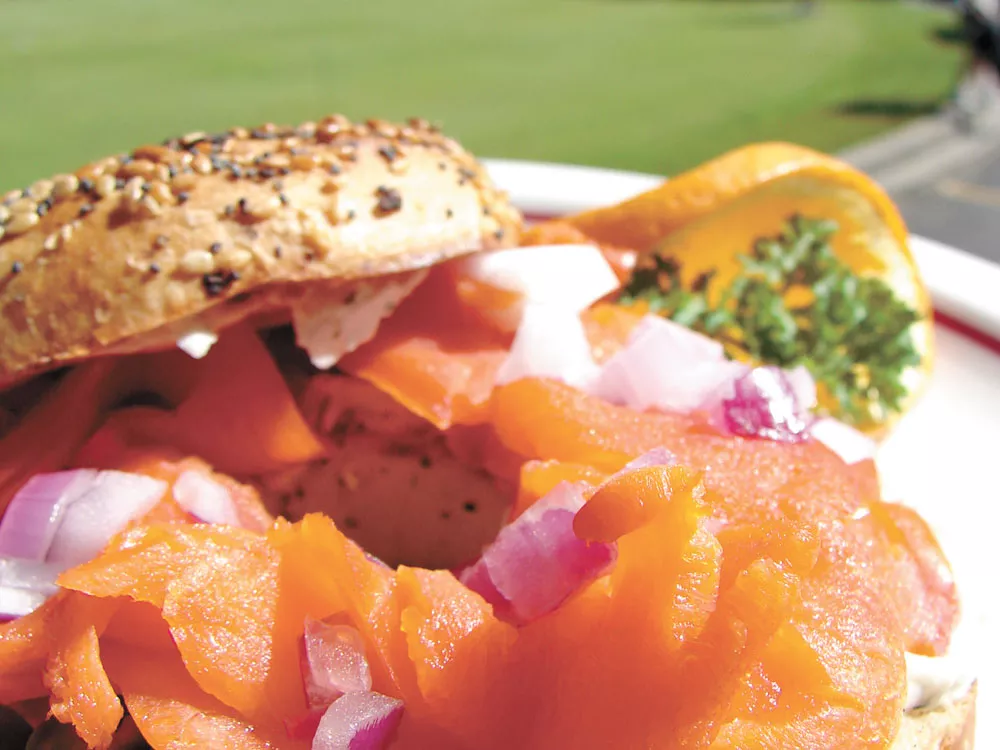 Waterfront dining isn't the only way to combine outdoor food with a killer view. From late spring to late summer and even early fall, many area golf courses cater to clients seeking everything from sandwiches and soda pop to fine wine and gourmet delights. Don't know the difference between a bogey and birdie? No problem. You don't have to know (let alone play) golf to reap the bennies of golf course dining.
WARMING UP | The putting green is for stretching muscles more used to sitting than swinging, so we'll warm up with casual dining sparked by a visit to Backwoods Grill at Coeur d'Alene's Ponderosa Springs Golf Course. That's where chef Anthony Hall has traded in running his Midtown Bistro for grilling gourmet grub year-round. Stiff drinks and really affordable food like $3-$8 breakfast — Panko chicken-fried steak and oatmeal brulée — could be why restaurant workers flock there.
In Post Falls, both Links and Prairie Falls serve casual fare, with Links' menu and ambience more invitingly outfitted: Breakfast wraps ($6), pulled pork sandwiches ($7) and Texas Tindy's Chili ($3/6) are to be eaten only when the wind is blowing eastward.
ON THE FAIRWAY | Also in Post Falls is the Highlands Grill and Tap House, open year-round to serve nearby residents. Pro Chris Johnston loves Scottish Nachos — potato chips topped with cheese, bacon, green onion and sour cream ($7) — as well as their barbecue chicken quesadilla ($9). Several dozen burgers, sandwiches (most involving melted cheese), salads and a few dinner offerings provide necessary comfort after the roughest of rounds.
BEWARE WATER HAZARDS | Like Highlands, a year-round clubhouse serves Avondale's thriving golf community. The Water Hazard is wonderfully casual for such a tony location, indoors or out. Manager Mike Austin recommends the Old Number 7 — prime rib with caramelized onions, Swiss cheese and Jack Daniel's sauce ($9). A kids menu, a dozen appetizers (lots of them fried) from $3-$9 for a sampler plate, and a smattering of entrees like Redhook Beerbattered shrimp ($11) round out the menu.
OUT OF THE BUNKER | Although it's resident-owned, Twin Lakes Village allows the public inside. Bunkers restaurant offers casual dining in the bar, slightly more formal dining in the restaurant and an outdoor patio with breakfast, lunch and dinner daily through the fall, available thereafter for special occasions by arrangement. Their four-page menu (not including dessert) includes "sandwedges" like the French dip ($9), breakfast treats like a homemade cinnamon roll with bacon/ sausage ($6), and entrees like poached salmon ($18).
Coeur d'Alene Public's Broken Tee Grill also has an extensive menu that's heavy on burgers and sandwiches, like the breaded-and-fried Pork Chop John ($7), salads, wraps, and appetizers like their signature Broken Tee Wings ($7.49). Breakfast can be biscuits and gravy ($3.50-$6) to omelets ($7-$8), all in a casual, upbeat environment.
NOTHIN' BUT GREEN | As expected, CdA Resort's golf course restaurant has the most elaborate menu and amazing view. Situated above Lake Coeur d'Alene and the Floating Green for which it's named, they serve resort-style fare at prices reasonable for fine dining. Executive Chef Tim Heinig recommends Beyond the Reuben for lunch: toasted rye, grilled pastrami, cheese, stone-ground mustard, tomato and slaw ($12). Nibble parmesan-crusted halibut with basil hollandaise ($29) or penne pasta with tiger prawns and grilled chicken ($19), knowing you didn't have to pay $125 a round to get there.
OFF THE FAIRWAY | Outside Kootenai County, we also liked Wily Widgeon's year-round café at the Elks (try the Lobster Artichoke Melt, $9.50) and StoneRidge's Grill, serving specials like Seafood Florentine or Whiskey Pepper Chops with Molasses Butter.
So even if your idea of a club involves a three-tiered sandwich with bacon or you think greens are best when topped with a well-seasoned vinaigrette, the area's golf courses can easily keep you on par.