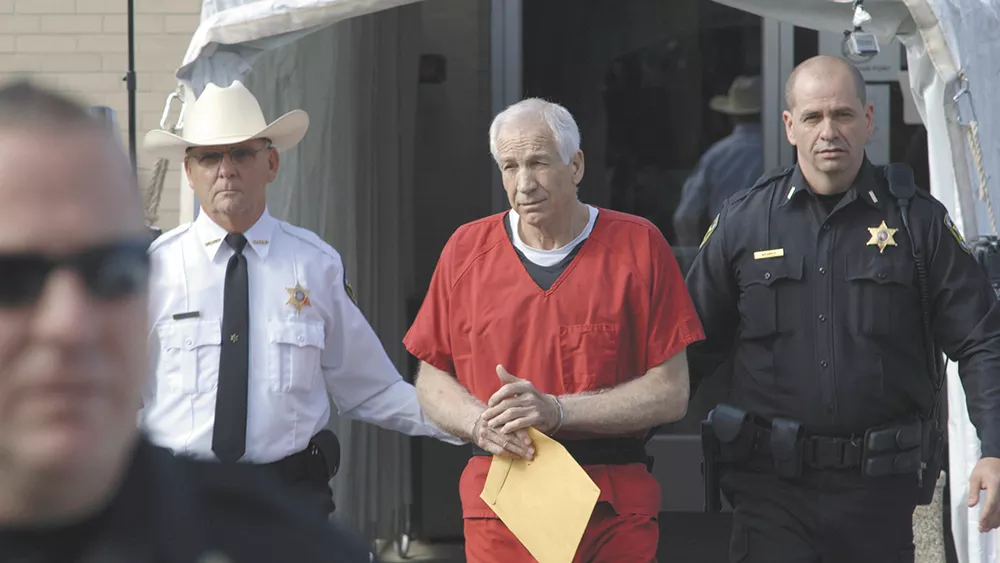 There is no bombshell of new information in Amir Bar-Lev's documentary about the Penn State sex abuse scandal. You might have temporarily forgotten some of the squeamish details, but Happy Valley will readily remind you of all the unbelievable stories that came out of State College, Pennsylvania, in the fall of 2011.
But that's not the point of this film. Rather, Bar-Lev, best known for the terrifically introspective My Kid Could Paint That, takes us into the tight-knit community to explain how any of this could have happened in the first place. For those of us who only know Penn State football by their no-frills uniforms, massive stadium and patron saint and head coach, Joe Paterno, there's a lot to be learned. Happy Valley paints the Penn State culture as one that took football beyond a sport and close to religion, something hardly unique to just this university.
What is unique about Penn State is that they had an awful predator in their midst in the form of Jerry Sandusky, the assistant coach who would eventually be found guilty of 45 counts of abuse. Perhaps even worse, the university, including Paterno, did little to stop Sandusky or alert police. Again, you know that going in, but the documentary's interviews with rabid fans rioting in the streets after Paterno's firing and scenes of fans gathering outside the coach's house bring home the enormity of this event. The film plays out over the year between Sandusky's arrest and the next football season, and you can essentially watch Penn State progress through the stages of grief during that time.
Bar-Lev's access to the Paterno family, who would eventually produce their own investigation in an attempt to clear their late patriarch's name (Paterno died three months after the scandal broke), and Sandusky's adopted son, Matthew, add the sort of emotion that can be lost in the daily news stories through which most followed this story. And archival footage of Sandusky playing in a pool with kids at the summer camp he started, or the story of how he used the courts to tear Matthew away from his family, only to abuse the boy, is enough to make your stomach turn.
It may seem odd to revisit an issue like this that is so many news cycles past us now, but Happy Valley is perhaps the most complete look at what happened at Penn State. It's also a look at how football fandom in some communities, as we're told in the film, can become something akin to nationalism, in which support of the team is everything, and powerful leaders can do no wrong. As with both a football team and a nation, a whole lot can go unquestioned when everything looks like it's going well from the outside. In those sort of conditions, as Bar-Lev shows us, things can turn bad very, very quickly. ♦