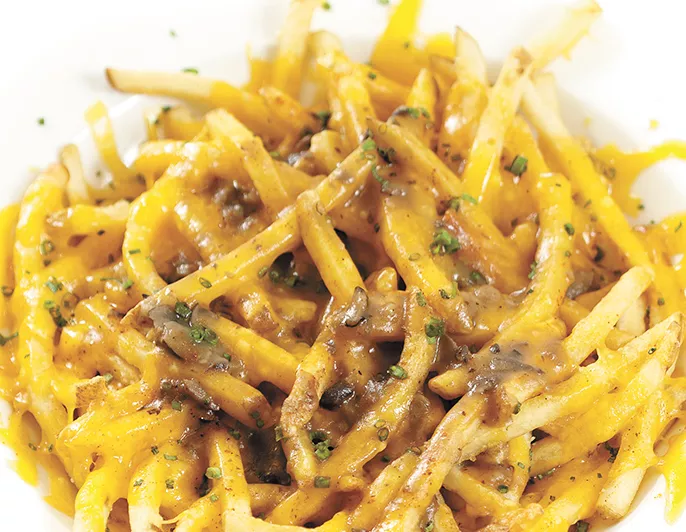 There was a time not too long ago when burgers and sandwiches were accompanied by a sad, soggy pile of fried potatoes on the side, destined to be drowned in ketchup, ranch, tartar or special sauce in an effort to spark some interest in their existence.
Fortunately for those of us who adore potatoes, fries are no longer just an afterthought. In recent years, chefs have stepped up their game. Rather than dumping prefab potatoes into the fryer and walking away, hand-cut potatoes are showing up on menus coast-to-coast, fried to crispy perfection before being adorned in an array of spices, meats, sauces and gravies.
Competition from chickpea, polenta or quinoa fries may have stirred the longing to return to the simplicity of potatoes; whatever the reason, french fries are back. No-Li Brewhouse, Casper Fry and Downriver Grill offer gussied-up versions of the usual suspects. All three dishes start with perfectly cooked fries, but that's where the similarities end.
Poutine
No-Li Brewhouse
The Québecois classic poutine is composed of crispy, skin-on, thick-cut fries smothered in slightly spicy beef gravy and sprinkled with cheddar cheese curds. The heat from the gravy slowly melts the curds to create a messy pile of blissful potatoes. No-Li Brewhouse's poutine strongly resembles the original recipe, with the addition of some welcome local flair.
Here, the fries are smothered in Wrecking Ball Imperial Stout mushroom gravy, sprinkled with shredded Tillamook smoked cheddar and finished with fine bits of chive. Bite after bite, the malty tang of the stout shines through, pairing with the mushrooms to produce a robust mouthful. The smokiness of the cheddar and sweetness of the chives give the poutine dimension, making this delicious dish seem more like a hearty stew and less like a plate of fries.
Bartender Brandon Secor has seen a definite rise in the popularity of poutine, claiming it is often ordered as a stand-alone meal alongside No-Li's popular microbrews.
Herbed Garlic Fries
Casper Fry
"Some customers say these are the best fries they've ever had in their life," says bar manager Curtis Day, and we can confirm he's not exaggerating. The presence of a fried egg on top of a mound of crispy fries invokes thoughts of breakfast and the perfect hangover cure, but this delectable combination is welcome at the dinner table. The fries also serve as late-night bar food, though Day has rarely seen anyone take down an entire plate at any time of the day without help. The presentation is almost too lovely to destroy, but slicing into the perfectly cooked over-easy egg allows the velvety yolk to slowly seep through the potato pile and combine with the sharp cheddar Mornay, a variation on traditional Béchamel. As the elements combine, the fries take on a consistency of heavenly mashed potatoes spiked with fiery bits of garlic.
We were so convinced that there was a layer of mashed potatoes hidden in the middle that we kept eating and eating until they were gone. This wasn't the first time we've eaten these amazing fries, and it definitely won't be the last.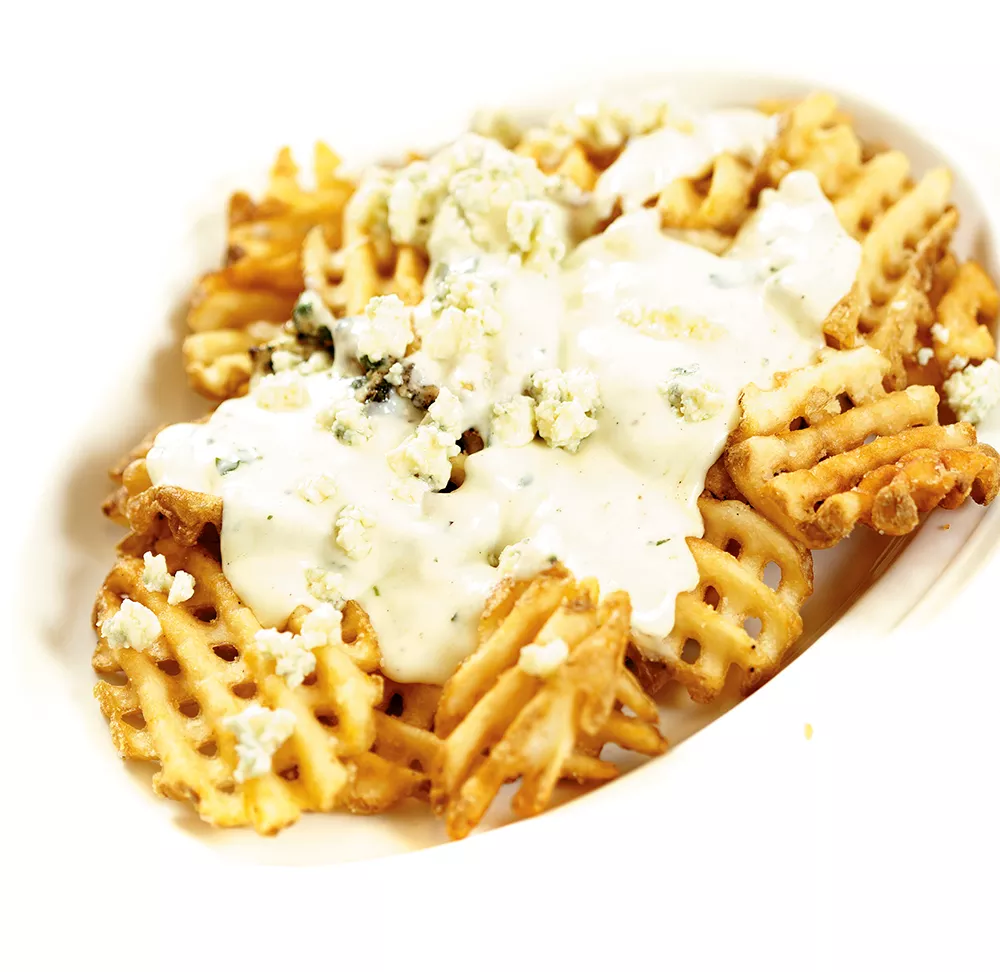 Gorgonzola Fries
Downriver Grill
Glancing through the menu at Downriver Grill, one notes the innovative use of local and seasonal ingredients, but it's easy to keep coming back to the words Gorgonzola cream. Having experience with the filling effects of both Gorgonzola and cream, we armed ourselves with glasses of heart-healthy cabernet and ordered the fries. With their arrival, a hush came over us.
The cross-cut fries were bursting out of the bowl, gently dressed as promised with the luxurious Gorgonzola cream. A healthy sprinkling of black pepper was dusted throughout, cutting through the heavy cream sauce. We were hooked at first bite. The Gorgonzola fries are perfect as a meal or an appetizer to share, but don't expect to order these and have room for dessert.
"We call these the dessert killer fries," says bartender Aaron Sweatt.
The best part? There's not a soggy potato in the bunch.♦