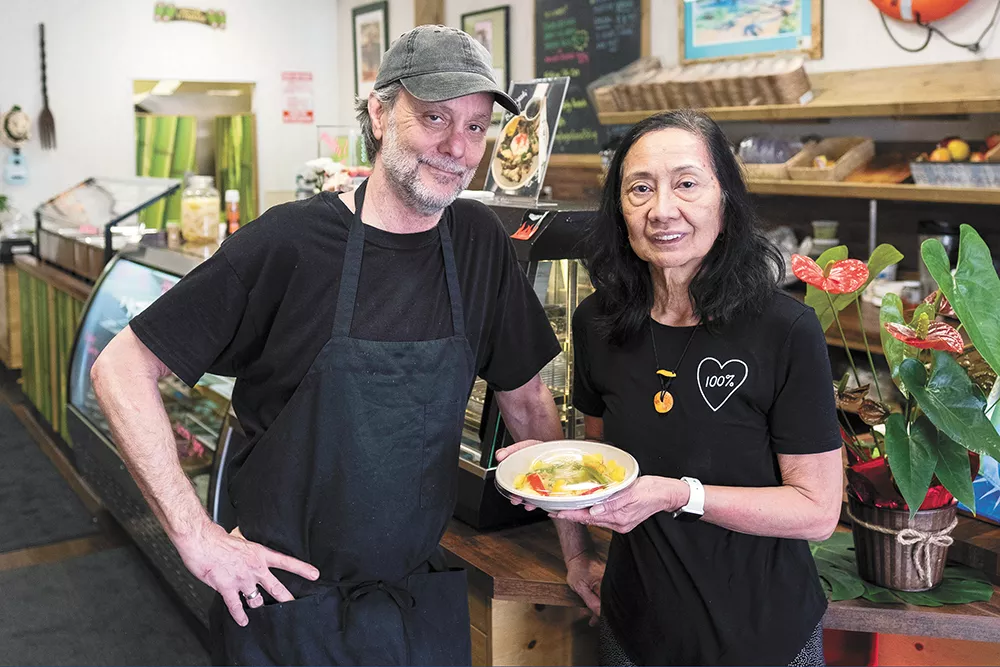 Social media is fun to blame for a lot of society's ills, but if it weren't for the internet, Cody and Berni Young wouldn't be living their dream as restaurant owners bringing vibrant island flavors to Liberty Lake. For one thing, the couple probably wouldn't be together at all without an assist from Facebook.
"I started out in the islands as part of my Navy career," explains Cody Young. "I'd been to a lot of different places as part of the Navy experience. I was in Hawaii. I was in the Philippines. I was in Malaysia. I was in Korea and finally ended my Navy career in Guam, which is the island where my wife was raised. We met when we were both a lot younger. She was 26 and I was 22. And 30 years later, we reconnected on Facebook."
"We ended up getting married two years ago," he adds.
At the time, Cody was chugging towards retirement, a day that came last October. The couple quickly realized that quiet days doing not much of anything would drive them "sort of stir crazy." With both being fans of food culture, particularly the parties they experienced in the Pacific Islands, they started thinking about starting a food truck. And as they crunched numbers for what it would take to fire up a kitchen on wheels, they came across a brick-and-mortar spot in Liberty Lake that once housed a Quizno's and then a bakery.
"Once we started doing the math, we said, 'Gosh, it's really not that big a difference if we did the brick and mortar,'" Cody says. "It was fortuitous we ended up with this location. It was affordable. It was available. It was outfitted so we didn't have to spend a tremendous amount of money on behind-the-wall stuff, like the plumbing and the power."
Before opening up, though, the Youngs used various polls and surveys on Facebook, the NextDoor app, and the like to gauge what would fly in rural Eastern Washington. First they floated the idea of a Japanese teriyaki barbecue place, and the responses were overwhelmingly positive. But in the comments, they noticed something else — "a lot of people saying the area needed a good island-style or Hawaii-style barbecue.
"We're not Hawaiians, and we're not from Hawaii, but we both spent a tremendous amount of time in Hawaii and other islands, so we were comfortable with it," Cody says.
He launched a Facebook page for the nonexistent Big Island BBQ and got over 1,000 followers in two weeks. "We realized that there are not hundreds, but probably thousands of Pacific Islanders that live in a 100-mile radius of this location, people from Hawaii, Guam, Samoa. It was amazing how many Pacific Islanders are here."
Since opening this spring, the Youngs have welcomed a steady stream of Pacific Islanders alongside curious diners to a restaurant they've designed to recall the big food parties of their respective youths. Visitors choose a combination of main dishes (fish, ribs, pulled pork, etc.) and three "scoops" (a variety of rices, salads and slaws) for either $11.95 for a regular plate (two mains and three scoops) or $12.95 for a large plate (three mains and three scoops). Each day's featured dishes are lined up for customers to peruse before they choose.
"The feedback we get most often is how the tastes are so divergent, that they're being exposed to so many flavors in one meal," Cody says. "And that's the whole point in island food culture. ... When they have a party, it's a big, long table. And you start at one end and walk down the table with a plate, and you fill it up as you go. We tried to mimic that a little bit, within health department confines. We wanted people to feel like they were in control of what they were ordering, that they were able to see what they were ordering before they ordered it, because the food is right there in front of them."
With a crew trained to help diners navigate the various cuisines, the only remaining challenge for customers is how to keep their eyes from being too big for their stomachs. ♦
Big Island BBQ • 1235 N. Liberty Lake Rd., Suite 109, Liberty Lake • Open daily 11 am-8 pm • mybigisland.co • 340-9387