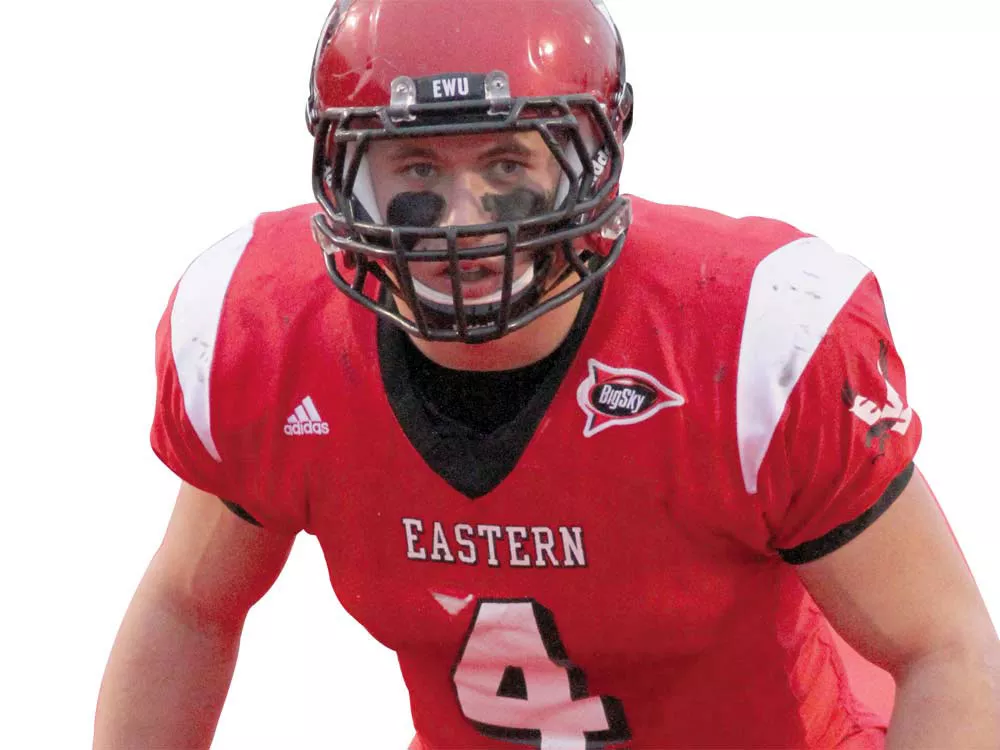 THE PATH
Eastern has come far since losing in the first round of last year's FCS playoffs. The team started this season ranked fifth in the Big Sky, behind its first four league opponents: Montana, Montana State, Weber State and Northern Arizona University. They beat everyone but Weber State, then ran the table, winning their games by an average of 10 points.
In addition to star J.C. Sherritt, the Eagles have received a huge boost by standout running back Taiwan Jones. Jones, who has struggled with injuries during the season (missing one whole game and parts of two others), still racked up 1,522 rushing yards (No. 4 in the FCS) and 13 touchdowns.
In Week Two, the team sat at 16th in the FCS polls. In the final week of the regular season, following an authoritative 34-7 win over Idaho State, they stood at No. 1. (Dan Herman)
J.C. Sherritt guards his first and middle names as if they were precious stones. Only when pressed did Sherritt finally reveal what his initials stand for — but the admission came under one condition.
"You can't put it in the paper," Sherritt said. Sherritt's smiling face suggested he was making a request more than a demand. This reporter, however, chose not to take any chances.
"He's extremely strong," says John Graham, defensive coordinator and linebackers coach for the top-ranked Eagles. "The work he puts into the weight room is probably second to none on this team. He just attacks the weight room."
Sherritt also attacks opponents who stray into his area of the field while in possession of the football. Last year, Sherritt led the Football Championship Subdivision with a school-record 170 tackles — a whopping 14.2 per game, which also led the FCS. He stands fifth this year, with 135.
Sherritt is the Big Sky Conference Defensive Player of the Year and a candidate for the Buck Buchanan Award — which goes to the top defensive player in the FCS.
"He's just an amazing football player and an amazing linebacker," Eastern coach Beau Baldwin says. "He has almost a sixth sense, almost a feel for where that ball is going to go."
Eastern was the only school that offered Sherritt a scholarship. He was the State 2A Player of the Year on Pullman High's state championship team in 2005, but recruiters — just like pro scouts today — were scared off by his height, or lack thereof.
Teammates and coaches love to give the 220pound Sherritt grief about being so short. He's listed at 5-foot-10 — extremely short for a college linebacker — but he might not even be that.
"I think I'm close enough to call it 5-10," Sherritt says with a mischievous grin.
Even his hometown Washington State Cougars were wary of Sherritt's height. WSU did ask Sherritt to try out as a non-scholarship player, but he headed north to Cheney and now ranks second in Big Sky history with 391 tackles — eight shy of the school record.
At his size, Sherritt figures his best shot at a pro career may be in the Canadian Football League.
"I've always been realistic about my height," Sherritt says, "and I've always taken my mom's advice that any day, this football thing could be over."
Sherritt, a health and fitness major, carries a 3.46 grade point average. He plans to seek a master's degree in sports management, then hopes to coach at the college level.
First, however, Sherritt plans to help Eastern win the FCS national championship. The Eagles
(10-2) face the 21st-ranked North Dakota State Bison (9-4) on Saturday in a quarterfinal game at Eastern's Roos Field.
"They're definitely a run-first team," Sherritt says. "Definitely blue-collar. It's just smashmouth football."
Sounds like a great fit for Sherritt and Baldwin, a blue-collar coach with a strong work ethic.
"He's awesome," Sherritt says. "He's a guy that you can relate to. You can walk into his office and talk to him about anything."
Like, say, where to put the Buck Buchanan and FCS championship trophies.

Eastern Washington vs. North Dakota State • Saturday at 12:30 pm • Roos Field • $10-$20; $5 for EWU students • goeags.com • 359-4339 • Broadcast on SWX, ESPN 700 AM