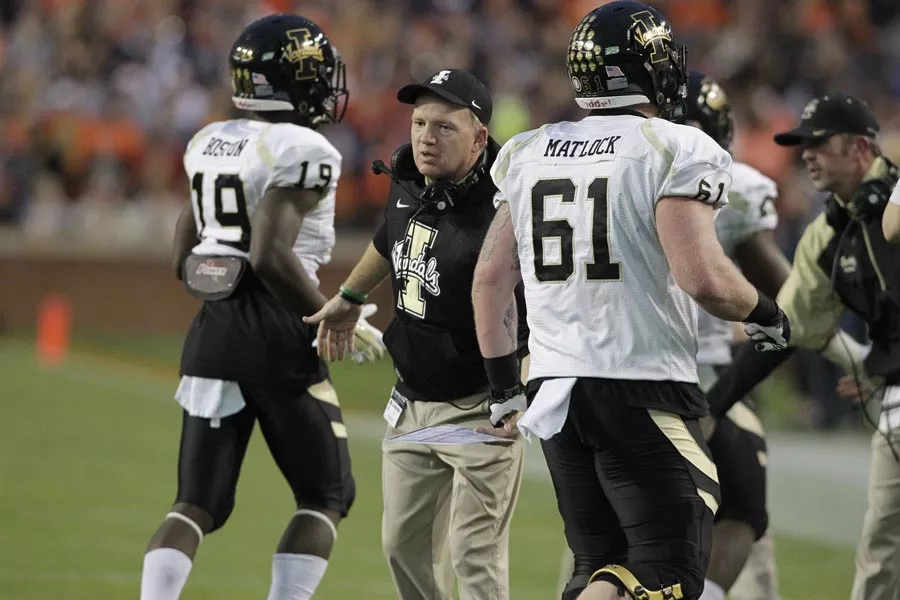 The Vandals' season began on the heels of the announcement last spring that Idaho would become the first FBS program to drop down to the FCS ranks after the 2017 season. Some fans welcomed the change, while others wrote angry letters to the university's president and athletic director. And to pour salt and lime into the wound, news came that the school was going to crack down on drinking at pregame tailgate parties.
It seemed that the Vandals couldn't catch a break. But, believe it or not, Idaho has made a bowl game, just the third in the program's 21-season experiment in big-time football. Paul Petrino's Vandals went 8-4 this year, notching more wins in one season than the program had in the four prior seasons combined. Petrino won the Sun Belt Conference Coach of the Year award for his revitalization effort. Even with the demotion looming, Idaho has reason to celebrate on Thursday afternoon in Boise, where they take on Colorado State in the Famous Idaho Potato Bowl.
Idaho began the season with a win over Montana State, soon to be a conference rival, but then suffered consecutive blowout losses at Washington and Washington State before settling into a groove and competing well in Sun Belt play. They ended up winning their last four games of the season.
The Vandals had something to prove, given that the conference had voted them out, and did so behind the arm of quarterback Matt Linehan, who had a bevy of targets to choose from, including Coeur d'Alene native Deon Watson and Trent Cowan, both seniors. Aaron Duckworth and Isaiah Saunders shared the ground attack, all part of what's become a potent Vandals offense.
Colorado State comes to Boise as 13-point favorites after finishing in fifth place in the Mountain West Conference's loaded Mountain Division. The 7-5 Rams finished their season with a surprising throttling of San Diego State, a nine-win team with one of college football's most prolific running backs. CSU has diversified its offense behind backup quarterback Nick Stevens, who emerged after a season-ending knee injury to Collin Hill. The Rams will run the ball with Dalyn Dawkins and Izzy Matthews, who combined for more than 1,500 yards on the ground this year.
Adding a wrinkle to the excitement around the game in Boise is a game-time temperature expected to hover around freezing. That could be interesting for the Vandals, who play their home games inside the Kibbie Dome. ♦
Famous Idaho Potato Bowl • Thu, Dec. 22, at 4 pm • Albertsons Stadium, Boise • Televised on ESPN