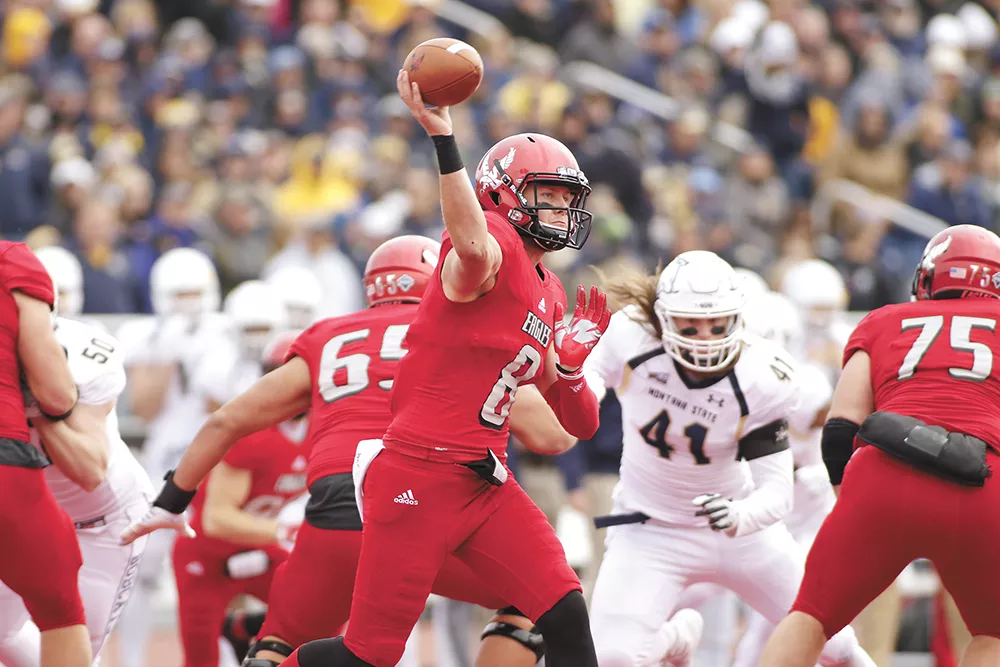 "There has to be a level of 'I don't like them very much' with a rivalry. In a weird way, games all count the same, some just mean more. I think rivalry games, they just mean more."
— Aaron Best, Eastern's football coach
The best rivalries have the ability to unite communities, transcend the passage of time, even attract people who otherwise never care about sports to watch the Big Game. Rivals are typically close geographically (but they don't have to be), hopefully competitive (again, not always), and usually combine a genuine mutual respect with a just-as-genuine mutual disdain, as Aaron Best so eloquently puts it.
As the 2018 football season prepares to launch, Best and his Eagles are trying to bounce back from a disappointing 2017 campaign in which EWU was left out of the Football Championship Subdivision playoffs in the coach's first year at the helm. How the team responds this season — EWU is predicted to win the conference by both the Big Sky media and coaches — is one of the main storylines soon to play out. Others include the return of Idaho to the Big Sky battlefield after leaving for (allegedly) greener pastures in 1995, and the comeback of one of the conference's most successful coaches, Montana's Bobby Hauck, after nearly a decade away.
BOUNCING BACK
As Best looks back at 2017, he says he was "kind of the proud papa" after seeing his Eagles team persevere after a rough start to the season to put themselves in a position to at least be considered for the playoffs. He attributes that to his team's blue-collar approach and "gritty" personality, and contends that by the end of 2017, despite missing out on the playoffs, "we had some of our swagger back."
That swagger mixed with the feeling of being unfairly skipped by the playoff selection committee fueled the players' off-season and spring workouts.
"We've had kind of a chip on our shoulder ... because we felt like we got snubbed," says EWU All-American quarterback Gage Gubrud. "That's been motivation ever since we found out we weren't in, and we've been getting after it ever since."
Best stresses that the past is the past, and 2018 is the chance to write a whole new story. There's plenty of reason to think the season will have a happy ending for the Eagles, given the talent on the team, and the earned experience of a coaching staff now in its second season together.
The arrival of Idaho back in the Big Sky for the first time in 23 years is something that will not only affect the balance of power in the conference, but give the Eagles another natural rival to go along with teams like Montana and Portland State.
"My father was a U of I alum, so he has Moscow ties," Best says, recalling that the Vandals left the Big Sky just as he arrived in Cheney as a teenager to play ball. "There are guys on our staff who are Vandals, and they've played in the Eastern/Idaho game, and they know it, they've lived it.
"It might take a few years, but it's exciting to know you're going to have another natural rival 79 miles away or whatever it is."
Mitch Fettig, Eagles defensive back, says it's hard to imagine not playing Montana, who the Eagles won't see due to a quirk in the Big Sky schedule. But he thinks Idaho will quickly become a team Eagles players focus on season to season.
"Right now, they're just going to be another team, until that [game] week comes," Fettig says. "But when that week does come, I think it's going to sink in that, 'OK, these guys are going to kind of be our new rivals.' I think the coaches are going to intensify just because they're our neighbors, too. They're right next door, so that's going to be exciting. I think once that first snap is played, we're going to be like, 'Yup, this is going to be a fun one.'"
VANDALIZING THE BIG SKY
If there's any disappointment among Idaho coaches and players about the Vandals leaving the "big-time" Football Bowl Subdivision to return to the Big Sky and the FCS, you don't hear it as they express excitement at the possibility of making the playoffs and playing teams that, historically, were huge rivals to the team from Moscow.
"My dad actually went here back in the '90s, like '90 to '93, and when I was growing up he'd tell me all about the rivalry they had with Idaho State, Eastern and Montana," says the Vandals' powerhouse senior running back Isaiah Saunders. "He really talked about Eastern more than the rest of them. He said at that game, they'd talk a lot of mess to him and keep going back and forth with him."
Saunders believes the best rivalries are the ones with a lot of history, or "that team that just keeps getting on your nerves." When Idaho played in the Sun Belt Conference, that team was New Mexico State. Now they're ready to make some new rivalries out of old foes. Kaden Elliss, a senior linebacker for Idaho, is anxious to reignite some of those old rivalries. For him, it's even a little personal.
"My fiancée's from Spokane, and all her family friends keep talking about, 'Eastern is going to kill you guys,'" Elliss says with a laugh. "That's what gets me excited, those type of games. And we just had an older gentleman telling us about the old rivalry between Montana and Idaho. ... We have a couple games we're really looking forward to, with hostile fans and packed houses. That's going to be exciting."
Paul Petrino, Idaho's head coach, says the two years between when the decision was made to return to the Big Sky and this season's kickoff gave all his players the chance to focus on the task at hand; namely, embracing the chance to compete for a national championship, something that would have never happened in the Sun Belt.
"What we can control is how hard we're going to work every day, what our attitude is every day, how we go about our business and how we try to be the best we can be," Petrino says. "Whatever league we're in, we're going to try and be the very best in that league. That's something our players have done a good job with, and I think that will carry over and help them in life."
A RENEWED ROAR
Besides the return of Idaho, there's another "new" old face returning to the Big Sky in 2018, and it's one that could make the rivalries a little more interesting.
Bobby Hauck spent seven seasons as Montana's head coach, from 2003 to 2009, and during that time the Griz won the conference title every season, reaching the FCS national championship three times. After stints at San Diego State and UNLV, Hauck's back at his alma mater to try to get the once-dominant Griz back on the level of EWU and, in his eyes, Idaho. Hauck picked the Vandals to win the conference this season.
"Adding Idaho's the big thing" for the Big Sky, Hauck says. "Paul's done a great job, and I think Idaho has a great football tradition. That's our second-oldest rival, we've played it like 80 times."
While Montana certainly has several rivals in the conference, Hauck says the Griz only have one true "rivalry," and that's with Montana State. "That one's been played 118 times, and for people in that state, the game is important to everybody," Hauck says. "There's very little fence-riding."
Both the Vandals' Petrino and EWU's Best acknowledged that the Montana game is historically a highlight of their teams' schedules. And while Idaho and Montana will renew their long-running gridiron showdown at the Kibbie Dome this season, the conference's unbalanced schedule means Eastern won't face Montana every year. It's a void on the schedule that EWU's Gubrud doesn't like.
"It sucks," Gubrud says. "I wish we could play them. It's always fun. But things change, and sometimes they change for the better. I'm sure Idaho is going to be a great team in the conference this year, and that's who we'll be playing every year from now on, and that could turn into a new rivalry pretty quick." ♦
---
IDAHO VANDALS
The big story: For coach Paul Petrino and the Vandals, 2018 marks a move into the Big Sky Conference after spending the last few years in the Sun Belt. They'll be enjoying much easier road trips and stressing out over whether Idaho alumni will accept the team's move from the Football Bowl Subdivision (the big guys) to the Football Championship Subdivision (formerly known as 1-AA). A bowl team two years ago, Idaho should be competitive on Day One in their new/old conference, and if things break right, they could find themselves in the FCS playoff hunt.
The big game: The Vandals' conference finale against Montana is not only a reminder of a once-great rivalry, but it could also be a showdown for a playoff spot.
The best road trip: While the environment at EWU should be electric, the season-closing game at Florida offers a chance to visit the legendary Swamp and go to Florida in the middle of November.
The tailgating cocktail: Grab a bottle of Grand Teton Potato Vodka, made with Idaho spuds, and add it to your favorite bloody mary mix. You'll be ready for kickoff in no time.
2018 VANDALS SCHEDULE
Sept. 1 at Fresno St.

Sept. 8 vs. Western New Mexico

Sept. 22 at UC-Davis

Sept. 29 vs. Portland St.

Oct. 6 at Idaho St.

Oct. 13 at Montana St.

Oct. 20 vs. Southern Utah

Oct. 27 at Eastern Washington

Nov. 3 vs. North Dakota

Nov. 10 vs. Montana

Nov. 17 at Florida

---
EWU EAGLES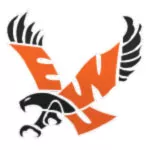 The big story: A year after finishing 7-4 and missing out on the FCS playoffs, the Eagles are playing with a little chip on their shoulder, and it's one the rest of the league has noticed. The Eagles were picked to win the Big Sky by both the conference coaches and media. In coach Aaron Best's second season, the team is loaded with experienced players, including All-American senior quarterback Gage Gubrud, and anything less than a trip to the playoffs will be a massive disappointment.
The big game: Weber State surprised everyone by sharing the Big Sky title in 2017 and finishing the season ranked No. 5 nationally. While most will point toward the renewed rivalry with Idaho, the game against the Wildcats is huge.
The best road trip: It's tough to beat the fall in Montana, and a trip to Bozeman at the end of September should feature a win against Montana State and some killer fall colors on the drive.
The tailgating cocktail: They play on the eyeball-searing bright red turf of the Inferno, right? Gotta be Fireball shots.
2018 EAGLES SCHEDULE
Sept. 1 vs. Central Washington

Sept. 8 at Northern Arizona

Sept. 15 at Washington St.

Sept. 22 vs. Cal Poly

Sept. 29 at Montana St.

Oct. 6 vs. Southern Utah

Oct. 13 at Weber St.

Oct. 27 vs. Idaho

Nov. 3 at Northern Colorado

Nov. 10 vs. UC-Davis

Nov. 16 at Portland St.

---
WASHINGTON STATE COUGARS
The big story: Wow, so many questions for the Cougs in 2018. Who will be the new team leader after the record-setting run by former quarterback Luke Falk? How will the team react to the tragic off-season suicide of Falk's heir apparent, Tyler Hilinski? Will coach Mike Leach ever manage to get his high-powered offense to function against Washington in an Apple Cup game? The media covering the Pac-12 doesn't think much of WSU's prospects this season, picking them to finish fifth in the North Division, but fans should expect another bowl game at the very least.
The big game: Honestly, it's the opener at Wyoming, a team the Cougs should throttle. The Cougs haven't been known for great starts in Leach's years, and this year they could really use one.
The best road trip: Sure, USC has the L.A. glamor, but it's hard to beat the beauty of Boulder, Colorado, and partying on Pearl Street.
The tailgating cocktail: Given Leach's love of Donald Trump, and Coug fans' love of the campus creamery, let's go with a White Russian. (DN)
2018 COUGARS SCHEDULE
Sept. 1 at Wyoming
Sept. 8 vs. San Jose St.
Sept. 15 vs. Eastern Washington
Sept. 21 at USC
Sept. 29 vs. Utah
Oct. 6 at Oregon St.
Oct. 20 vs. Oregon
Oct. 27 at Stanford
Nov. 3 vs. California
Nov. 10 at Colorado
Nov. 17 vs. Arizona
Nov. 23 vs. Washington
---
WHITWORTH PIRATES
The big story: Heading into 2018, the Pirates have two main challenges, one old and one new. The old one is Northwest Conference powerhouse Linfield, a team that's lost a grand total of one conference game in the last nine years, and hasn't had a losing record since 1955. The new one is replacing quarterback Ian Kolste, named the conference offensive player of the year after leading the Pirates to an 8-2 overall record. Coach Rod Sandberg will need some new blood to step up to compete with Linfield and a frisky George Fox squad that tied with Whitworth for second place in the NWC.
The big game: Whitworth opens the season with three home games, and the third could determine their fate for the entire season. Beat Linfield, and Whitworth could have a serious shot at winning the Northwest Conference.
The best road trip: Not a lot of great options, but Willamette in Salem, Oregon, at least offers a chance to drive the Columbia River Gorge for a bit.
The tailgating cocktail: The Pirates beg for a rum-based cocktail, but Whitworth is an alcohol-free campus, after all. Make it a Virgin Daiquiri. (DN)
2018 PIRATES SCHEDULE
Sept. 1 vs. La Verne

Sept. 15 vs. Chapman

Sept. 29 vs. Linfield

Oct. 6 at George Fox

Oct. 13 vs. Pacific Lutheran

Oct. 20 at Puget Sound

Oct. 27 vs. Pacific

Nov. 3 vs. Lewis & Clark

Nov. 10 at Willamette