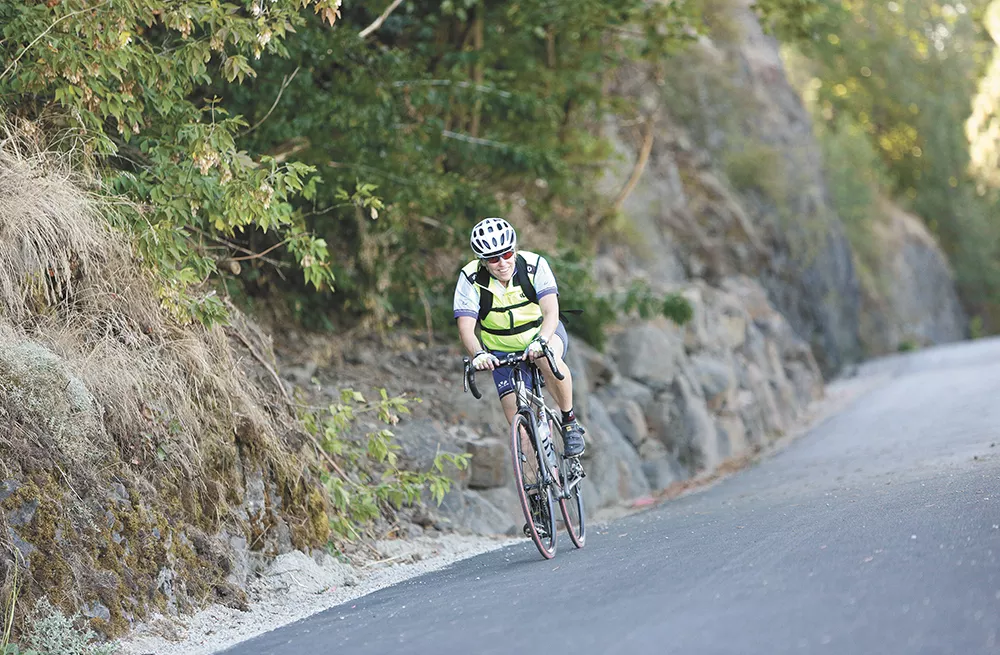 RIDE THE GR8 LAKES
In the more than 20 years coordinating the 8 Lakes Leg Aches Bike Ride, Christie McKee got used to doing it a certain way.
This year will be much different.
"We've had to make a lot of changes with the bike ride," McKee says.
In an effort to prevent the spread of COVID-19, the 8 Lakes Leg Aches Bike Ride will be a virtual event this year. That means no longer will you be able to ride together as a large group in one day. Instead, riders are encouraged to enjoy one of the 8 Lakes routes sometime between July 11 and July 18, then document and share it on social media using #8lakes.
The ride includes an option of a 30-mile route, a 45-mile route and a 75-mile route that takes you past Chapman Lake and toward Turnbull National Wildlife Refuge. Riders will still be able to stop at certain checkpoints for goodie bags.
Riders can register for $50, or if they want an 8 Lakes designer jersey, T-shirt and socks, it's $200. The proceeds go towards the programs of Lutheran Community Services Northwest, which provides support and resources to people affected by violent crimes and life-altering events. McKee, the development manager for Lutheran Community Services, says the agency relies on those funds for things like emergency services.
The ride was originally scheduled for June 20, but it was moved back to July to maintain safety. Even with the new format, however, she says canceling the ride altogether was never a good option.
"We had to do something," McKee says.
Register for the ride at lcsnw.org/8-lakes-bike-ride.
RIDE SPOKANE VALLEY
There's more than one way to benefit a good cause with your bike this summer. On Sunday, July 26, you will get another chance to do exactly that with the Spokane Valley Cycle Celebration, an event presented by Valleyfest with all proceeds benefiting the Valleyfest Children's Foundation. Cyclists can register for a 10-mile, 25-mile or 50-mile ride all starting at the North Centennial Trailhead. Adult registration is $29, and all riders get a box lunch from Brothers Pizza.
DODGIN' TURKEYS
You don't always need an event to have some fun with your bike. There's always the option of riding around residential streets of Spokane and dodging some turkeys. The turkeys don't give a damn about blocking cars in the middle of the road, and if you walk up to them, there's a possibility they will chase you. But on a bike? You're likely to ride past some street turkeys, in which case you won't really have to worry about running them over and you won't have to worry about a turkey attack.
BIKE THE SKI MOUNTAINS
The days of hurtling down a slippery mountain while standing on two waxed sticks are over. Now are the days for hurtling down a mountain on two wheels. That's right, it's mountain biking time, and the ski resorts in Idaho offer ample opportunity.
Of course, there's the classic Route of the Hiawatha, which is part of the Lookout Pass Ski and Recreation Area. The 15-mile route is for everyone, with its gentle downhill ride along the Idaho and Montana state line. It's the most popular ski area bike trail in the country with over 60,000 riders last summer. It's accessible through Sept. 20. And for you night owls, they're offering full-moon night rides July 5, Aug. 3 and Sept. 2. Call ahead at 208-744-1234 ext. 19 to reserve one.
If you want to stay for a while? Book a night at the Wallace Inn, which offers trail passes and shuttle passes for the Route of the Hiawatha.
Closer to Spokane and Coeur d'Alene is Silver Mountain Resort, home to Silver Mountain Bike Park and nearly 40 singletrack trails. There, serious mountain bikers can race in the Northwest Cup July 17-19. Meanwhile, Schweitzer Mountain Resort also has more than 40 miles of mountain bike trails just waiting to be used.
HOWL AT THE MOON
There's no better time than the summertime for a nighttime ride under the full moon. If you're interested, join the Coeur d'Alene Full Moon Ride. To join, you gather at a local business at 6 pm, where beverages will be provided, and then you ride from there starting at 8 pm. The ride covers about two to four miles over the course of an hour, and kids are welcome. Follow CDA Full Moon Ride on Facebook for details.
GET STOKED FOR SPOKEFEST
An event for bike enthusiasts and also everyone else, SpokeFest should come back for the 13th time this September, though it's going to look a little different. It, too, will be a virtual event, encouraging people to ride the course in the week up to its planned date of Sept. 13. It's the Inland Northwest's largest bicycling event, with more than 1,000 riders last year. Starting in Kendall Yards, SpokeFest has options for a 50-mile, a 9-mile or a 21-mile loop. They can be a challenge, but it should be manageable even for first-timers. SpokeFest is also a nonprofit, and has given grants to local organizations to promote bicycle safety and education.
GO 'ROUND THE BLOCK
Just because you can't gather in large crowds doesn't mean you can't build community. That's why Summer Parkways — known previously as Spokane's largest block party — will look a little different this year, but still encourage people to go out on their bike or other mode of transportation around the Manito-Comstock neighborhood. People can go out on the course any time between June 14-21 and take a picture of themselves anywhere on the course. Visit summerparkways.com. ♦