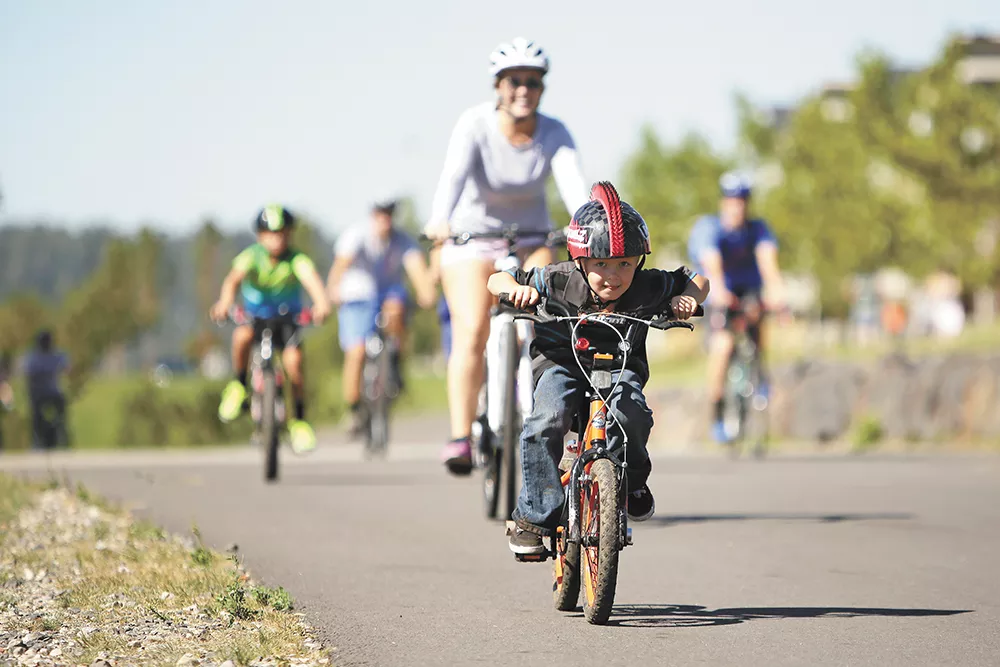 BIKE TO POST FALLS — DAD WILL PICK YOU UP
Let's be real. You're not in shape enough for the full round trip between Spokane and Post Falls. That's nearly 50 miles and, at those distances, the cards in your spokes would simply slow you down. Instead, do what I did last year, take the Centennial Trail from Spokane, as it winds along the gorgeous Spokane River. Bring some granola bars to survive the long journey. By the time you reach Post Falls' Falls Park, soaked in sweat, with limbs like overcooked spaghetti, you'll be far too exhausted to be too embarrassed to call your dad and ask him to drive all the way to Post Falls and pick you and your bicycle up. Thanks, Dad!
EMBARK ON A CENTURY
Now that you've successfully ridden to Post Falls, it's time for the next stage of long-distance bike riding: A 100-mile on-and-off-road adventure into the heart of darkness. The 2019 Midnight Century starts at 11:59 pm on Aug. 3 and continues through dawn. Tom McFadden still holds the record of 5:15 from 2012, but you're pretty sure that you'll be a strong enough cyclist to beat him by the time August rolls around. And don't bother calling Dad to help this time. It's after midnight. He's sleeping.
STREETRACE A LIME SCOOTER
The streets may be beset with these newfangled fancy Silicon Valley electronic scooters, but you prefer the old ways. Your bicycle doesn't need to be charged and doesn't charge you by the minute. So show the posers what real transportation looks like, and challenge them to a street race. Rocket down the mean streets of Spokane at a blistering 15 miles an hour. Remember, if you ain't out of control, you ain't in control.
SHAPE THE FUTURE
It's a frequent question of any concerned citizen: But what about the Children (of the Sun Trail)? Help out the Washington Department of Transportation figure out the design of the next sections of the north-south bike trail that will run in parallel to the long-in-the works North Spokane Corridor freeway. The "charrettes" — a fancy French word for "intense design session" — will be held from 10 am to 2:30 pm at the Southeast Day Care Center on June 22 and at Sheridan Elementary on July 13.
RIDE FAT TIRE BIKES
Normally, the rocks and old railroad ties of the Columbia Plateau Trail from Spokane to Pasco would make biking impossible. Not so if you have one of those bikes with comically wide tires — perfect for both winter riding and for uneven summer terrain. You might want to test it out a bit, though, before heading out on the full 150-mile route. Riding these bikes is a little like learning to snowshoe. You'll be surprised at the terrain you can cross, but that doesn't mean it's easy.
EXPLORE THE SKATE RIBBON
Sadly, your 3-year-old isn't quite ready yet for the Midnight Century ride. Kids these days are so wimpy. But you've purchased her a balance bike, the modern form of training wheels. While traditional bikes are banned on the skate ribbon in Riverfront Park, that prohibition doesn't apply to balance bikes — so it's a great place for future cyclists. And when she finally transitions to a real pedal bike, take her to the skate park at Dwight Merkel, where she can showcase her X-treme punk moves to the local skaters.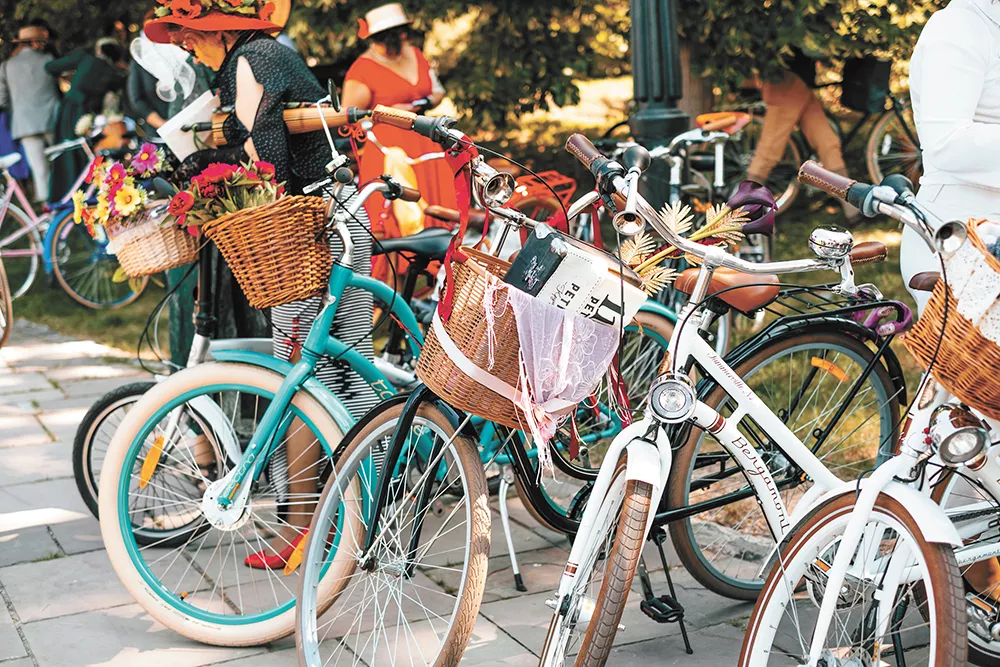 GO VINTAGE
So maybe you don't have a space-age carbon-fiber racing bicycle. Maybe you have your grandma's bike, the kind with tassels streaming down from the handlebars. But there's a place for you too. Just join the Drop-Outs Vintage & Cruiser Bicycle Club. On the first Sunday of every month, a group of cyclists with vintage and cruiser bikes rides off to either No-Li Brewhouse or Pizza Pipeline on Division. Technically, any bicycle is welcome — but the more classic the better. (Finally, a place to showcase your big-wheeled Velocipede.)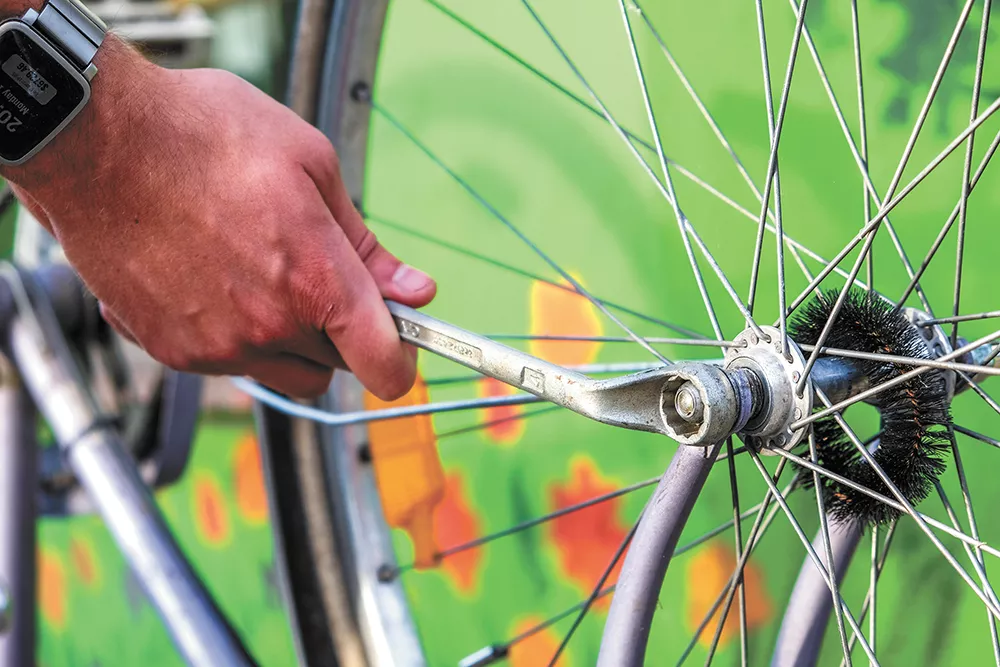 UNCHAIN YOUR MECHANIC SKILLS
Turns out your "Breaker of Chains" nickname is less about your record of liberating enslaved people and more about your terrible luck with bike parts. Fortunately, REI has classes to transform yourself into your own personal bicycle pit crew. Learn how to address the most common trailside issues at Bowl and Pitcher on June 18 at 5:30 pm. Swing by REI at 6 pm on July 2 to figure out how to patch a flat tire. Or wait until July 18 to visit REI at 6 pm to figure out how to repair chains and derailleurs.
RIDE BY FULL MOON
Slate Creek Brewing Co. in Coeur d'Alene puts on a series of evening rides, every single month, pegged to the light of the full moon. Join fellow drinkers at 6 pm at Slate Street on Monday, June 17; Tuesday, July 26; and Thursday, Aug. 15, as you hit up local establishments like Crown & Thistle and CDA Cider Co. But — and I can't stress this enough — no werewolves allowed. Not after what happened last time. ♦