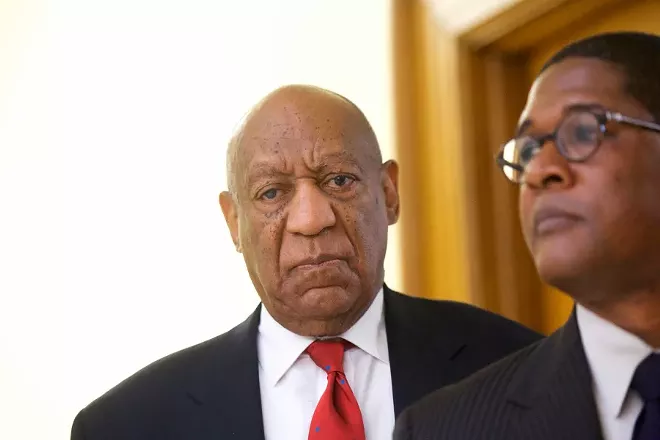 By GRAHAM BOWLEY and JON HURDLE
© 2018 New York Times News Service
NORRISTOWN, Pa. — A jury found Bill Cosby guilty Thursday of drugging and sexually assaulting a woman at his home near here 14 years ago, capping the downfall of one of the world's best-known entertainers, and offering a measure of satisfaction to the dozens of women who for years have accused him of similar assaults against them.

On the second day of its deliberations at the Montgomery County Courthouse in this town northwest of Philadelphia, the jury returned to convict Cosby of three counts of aggravated indecent assault against Andrea Constand, at the time a Temple University employee he had mentored.
The three counts — penetration with lack of consent, penetration while unconscious, and penetration after administering an intoxicant — are felonies, each punishable by up to 10 years in state prison, though the sentences could be served concurrently.
Montgomery County District Attorney Kevin R. Steele asked that Cosby's $1 million bail be revoked, suggesting he had been convicted of a serious crime, owned a plane and could flee, prompting an angry outburst from Cosby, who shouted, "He doesn't have a plane, you asshole."
"Enough of that," said Judge Steven T. O'Neill. He did not view Cosby as a flight risk, he said, adding that Cosby could be released on bail, but authorities would continue to hold his passport and he would have to remain in his nearby home. He did not set a sentencing date.
Cosby sat back in his chair after the verdict was announced and quietly stared down. But several women who have accused Cosby of abusing them, and attended the trial each day, briefly cheered.
When he was finished, Constand, who had been quiet throughout, stood up and was hugged by several people.
Cosby, 80, did not comment as he left the courthouse, but his lead lawyer, Thomas A. Mesereau Jr., said his client would appeal. "We are very disappointed by the verdict," he said.
It was the second time a jury had considered Cosby's fate. His first trial last summer ended with a deadlocked jury after six days of deliberations.