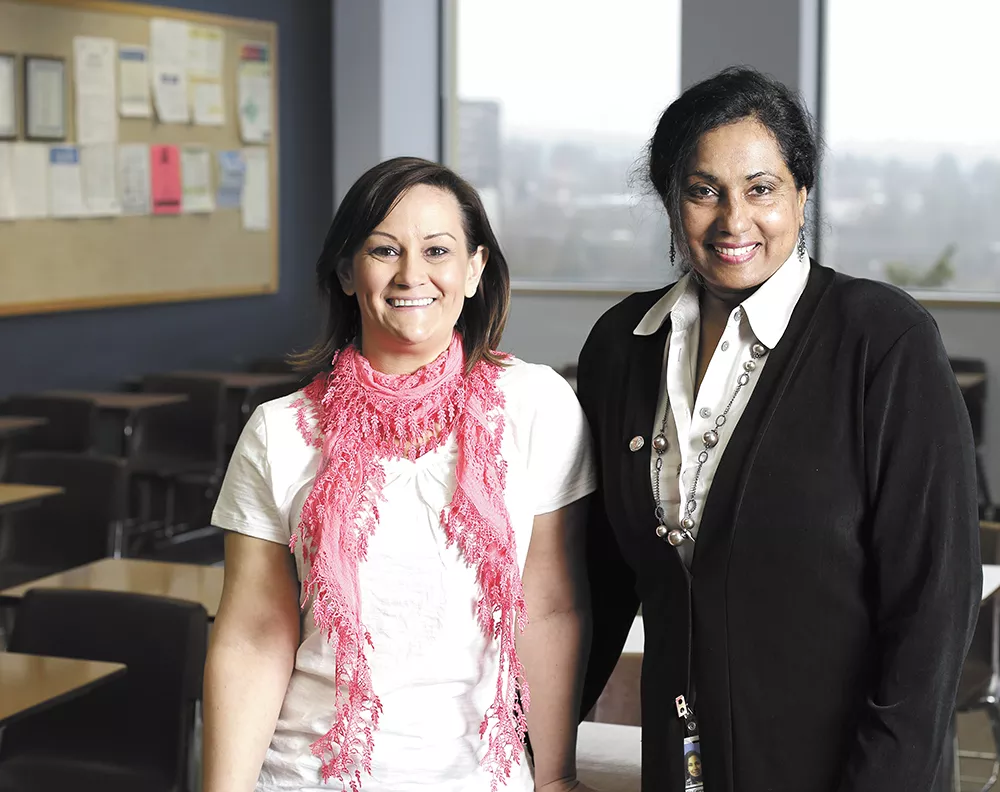 Those who missed Thursday's Gender and Race Pay Equity Task Force press conference or haven't read its 49-page report can find a chalk summary on the ground outside City Hall. In bright greens, pinks, oranges and blues, local artists have etched pie charts, diagrams and statistics from the report.
One headline stat from the report: Women working for the city government make only 85 cents for every dollar male employees earn.
That's not because sexist department heads are just deciding to pay less, the report found. It's more that women haven't applied, or been hired or promoted for the same high-paying positions in the city of Spokane as men.
In other words: want to solve the wage gap? Solve the hiring gap. A diagram, stenciled with miniature green male and pink female silhouettes on the concrete, lays out a brutal statistic: Women make up 48 percent of the workforce in Spokane, but only 24 percent of city employees.
It's left leaders examining whether the civil service system, put in place long ago to ensure fair hiring practices, has actually perpetuated the gender gap. After all, the demographics are markedly different for employees who have been appointed directly by Mayor David Condon, instead of through civil service.
Condon not only made his second-in-command a woman — City Administrator Theresa Sanders — but he's also hired and promoted more women than men. It's against this backdrop that the Condon administration is examining a potentially explosive possibility: wholesale reform of the civil service system.
"You know, civil service is a 130-year-old system," Sanders says. "And they would say they haven't achieved the goals we desire. Clearly we have some room for improvement. "
TWO PATHS TO A CITY JOB
For most entry-level jobs in the city of Spokane, getting hired hinges on filling out 100 bubbles on a Scantron sheet in a small classroom on the fourth floor in City Hall.
Score in the top 10 and your name gets added to the list forwarded on to a department's director — where she'll select the candidate she prefers. But bomb it and, no matter how impressive your résumé or recommendations, you're removed from consideration.
Other jobs may require applicants to write essays describing their qualifications, or answer questions orally. In each case, the goal is to strip the hiring process of any subjectivity.
"When we hire employees for the city of Spokane," Chief Examiner Gita George-Hatcher says, the mission of the civil service division is "that they be hired on the basis of merit principles."
Yet the statistics show that the meritocratic process results in more men being hired in the city.
By contrast, Condon's cabinet, and a number of management positions in the city, are exempt from constraints and rules of the civil service. The mayor can hire or fire whom he chooses, reaping the praise or the criticism.
In a 2014 Inlander interview, George-Hatcher argued that the civil service system was better at avoiding discrimination more than a system "where you're simply appointing people with no process or mechanism in place."
The statistics challenge that. Of the Condon-appointed employees currently with the city, 23 are women and only 16 are men. Sanders says she can't recall explicitly considering gender for an appointment, but thinks the mayor's more open hiring process has helped with diversity.
"I have to admit I'm not a fan for testing people for a job," says Sanders. "If you're going to create a merit-based system, there has to be more than one element of merit." In other words, a bad test-taker, with considerable experience, could still be a great employee.
Various studies have shown that despite earning higher grades in college, females score lower on SAT, ACT, GRE and other standardized tests than males. The gender gap is the most pronounced for multiple-choice tests — the format used for entry-level civil service tests.
George-Hatcher says she's open to continue examining whether the testing process itself could be a barrier for some qualified employees. The gender and racial equity report, for example, recommends anonymously surveying applicants after they take civil service tests about their thoughts regarding the exam. She wants to look for ways to improve it.
"We want to diversify the workforce considerably," George-Hatcher says. But even if the city wanted to make race and gender part of its hiring rubric, it can't: A 1998 Washington state voter initiative banned state and local governments from considering race or gender when hiring.
George-Hatcher notes that the blame for the disparity can't all be placed on civil service: She says that in one six-month period, the civil service department submitted female names 236 times for consideration — 18 percent of the total. But department heads chose to hire only 23 of them.
It's difficult to figure out how much of the civil service gender gap is a result of the types of jobs being offered: Many are labor-intensive — in departments like streets, engineering, sewer, wastewater, and solid waste — and traditionally male. While about 92 percent of clerical and secretarial jobs in the city are held by women, those jobs generally don't pay as well.
The types of city jobs can't explain everything, however. About 36 percent of employees working for the city of Seattle are female, compared with less than a quarter in Spokane.
"In the past, human resources would do an [Equal Employment Opportunity] report every year," George-Hatcher says. These reports would dive deep into the demographics for each position and develop plans for improving diversity. After 15 years without such a report, George-Hatcher wants to bring those back.
Mostly, she's focusing on broader recruitment to bring more women to the city. "This year, for the very first time, we are doing a city-sponsored job fair," she says. The fair, to be held on April 14 at the fire department training facility, will attempt to "demystify" the civil service process by giving attendees a chance to take a sample test.
"We're trying to cast a really wide net, and recruit people to all walks of life," George-Hatcher says.
CIVIL SERVICE REFORM
Beyond the recommendations of the Gender and Race Pay Equity Task Force, the Condon administration is looking at a much more radical solution: A full-scale, piece-by-piece interrogation of every step of the civil service process — from hiring to training to promoting.
"You have to pull the systems apart," Sanders says. "You have to look at every single kernel of this."
She suggests bringing back "technical panels" of experts to assess candidates in civil service jobs that require specialized knowledge. She says that department heads should get to look at all the civil service applicants, not just the handful of top-scoring candidates.
"If you had 57 people test, I want to see 'em all," she says. "I want to look for more factors than just how well they did on a test."
Sanders knows this is tricky political ground. Nearly every major controversy that has dogged Condon the past four years — from the hiring of the son of the public facilities director to the ousting of the city's planning director and police chief — has focused on hiring and firing practices. City Councilmember Karen Stratton, a former civil service employee herself, has been highly critical of Condon's chipping away at civil service by adding exempt positions.
Sanders says the key to navigating all the politics is for the administration, unions and civil service system to come together to create goals up front to improve civil service.
"If the goal is to get a level of diversity that reflects the community, then I think you have to be thinking, through every step: What are the barriers?" Sanders says. ♦