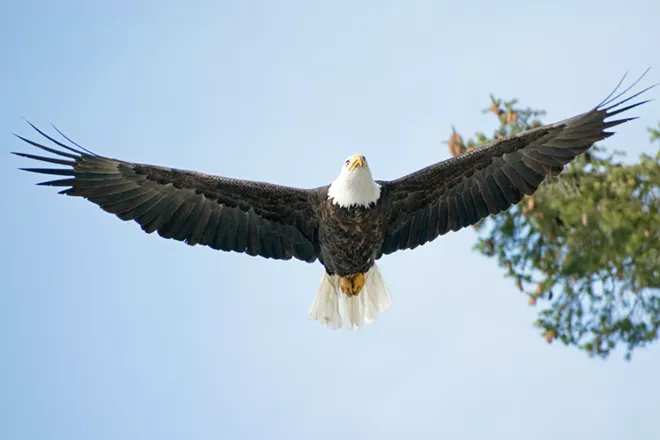 When I was a kid, my family would spend just about every weekend at Buttonhook Bay on Lake Pend Oreille. It was special because it's where I saw my first bald eagle, swooping down 10 feet away from the dock and catching a fish.
Ever since, I became obsessed with birds of prey. I'd constantly look up into the sky looking for them. From the dock, I would call out to the osprey, mimicking their signature "EEH-EEH-EEH" sound. Sometimes, I'm certain they'd call back to me, and I'd ignore the sound of a mildly annoyed lady at the boat next to us asking, "What the heck is that kid doing now?"
But here's the thing: While I admired these birds, I was also terrified of them. One time, we heard an eagle calling across the bay, and I went with my dad out on a skiff, rowing up as close to the eagle as we could. And I could not handle it at all. It was too close. And I knew, deep down, that these birds were better than me. They could fly! What could I do? If they wanted, they could swoop down, dig their talons into my shoulder and throw me off a cliff. All I could do is scream at them like an idiot. I demanded that my dad row the other way. I totally ruined it.
Anyway, as a well-adjusted adult, I now know better than to be terrified of a bird. But my obsession with them lives on. That's why my summer bucket list is to simply do anything at all that will put me in the presence of a giant bird of prey. Whenever it happens, it's a good day. When an eagle flew over my head at the rehearsal for my wedding, it felt significant, like the eagle gods were blessing our union. It's like a sign: No matter how bad things get, there are still majestic birds flying above it all.
So that's it. That's by bucket list. Finding birds. And this time, I won't lose my shit.