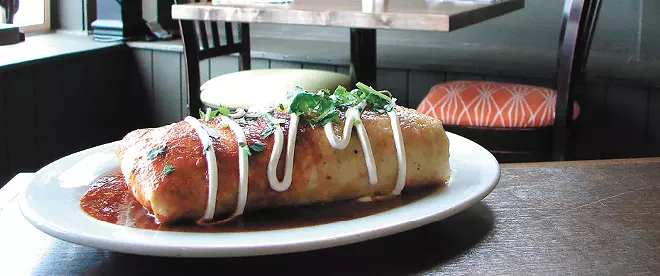 Picture two adversaries in the typical Western, with one drawling on about how "this town ain't big enough for the both of us." At a population of around 7,000, Rathdrum certainly isn't big — Main Street is only a few blocks long — but there's definitely room for two Mexican restaurants, especially if one is kickin' up classics with dishes like the smoked brisket burrito ($9.95) and pork belly tacos ($10.95).
"The menu's not huge, but it's the way we want to do things," says Dave Walsh, who opened Nadine's Mexican Kitchen recently with wife Sue. Although they love traditional Mexican food, he says, their approach emphasizes pub-like comfort foods.
The chicken-fried steak, for example, is a Southwestern twist on the traditional dish, with housemade green chile gravy, roasted poblano pepper and mashed potatoes, and grilled corn ($12.95). Their variation on Canadian poutine — cheese-smothered fries — uses green chile gravy, crema and Cotija cheese ($6.75).
Nadine's recipes were several decades in the making, uniting the couple's varied restaurant background. Dave Walsh spent 11 years as a Qdoba restaurant manager and had some startup experience with a Reno, Nevada-based rotisserie beef and chicken business by the time he met Sue, who worked 14 years at the Oval Office restaurant in Post Falls.
Together, they make nearly everything from scratch, including corn chowder ($4.95) and chicken tortilla soup with creamy avocado ($5.95). He makes the salsa verde (green sauce) — tomatillos, roasted tomatoes, onions and peppers — while she makes the smoky red sauce for enchiladas. They make their own salsa, including mango and roasted habanero salsa by request, as well as marinades for meat such as citrus-marinated pork served pastor (thinly sliced) alongside grilled pineapple and rice ($9.95).
Nadine's isn't the first Mexican restaurant to occupy this location, which was formerly the "salsa factory" for Taco Chic Salsa (now in Post Falls). The Walshes' remodel included adding a bar — beer, wine or sangria only — and expanding seating.
Business, said Dave Walsh, has been brisk in the four weeks they've been open: "The people of Rathdrum have been really good to us so far." ♦
Nadine's Mexican Kitchen • 8106 W. Main St., Rathdrum, Idaho • Open Tue-Sun, 11 am-9 pm • facebook.com/nadinesmexicankitchen • 208-687-6441