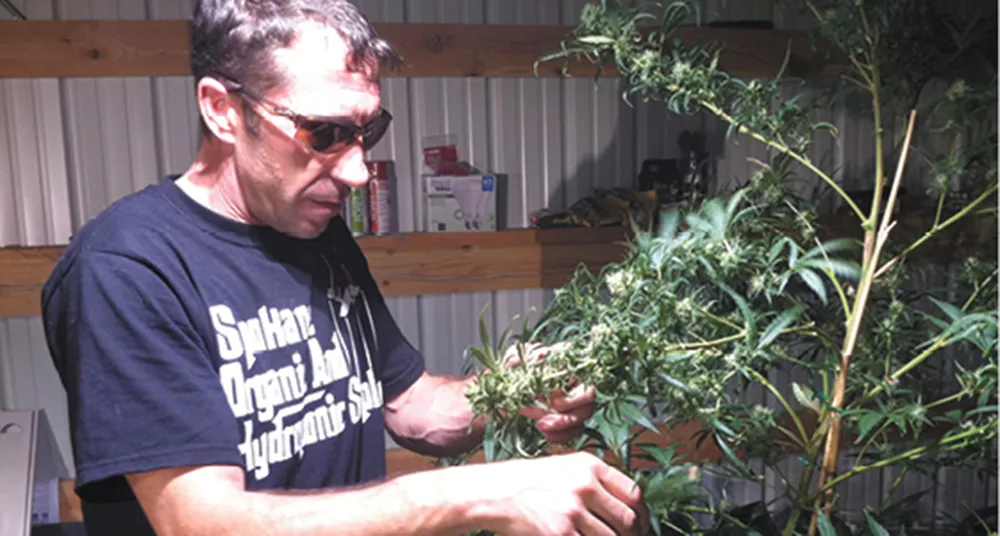 Frank Schade guesses he gets about 10 calls a day from people itching to get their hands on his weed. It's good stuff, after all — organically grown with high THC levels. Some of his plants are 8 feet tall and weigh 3 pounds, with dense and fuzzy buds, ready to be trimmed, cured, tested and packaged for sale. And boy, are sales going to be good.
Schade is the "Green Surfer" — an homage to his favorite comic book character, the Silver Surfer. At his 1,400-square-foot, climate-controlled warehouse en route to Mount Spokane, he blasts Deftones on his stereo and keeps his gate locked. In his tool belt, Schade carries a pH meter, a pair of scissors, three different screwdrivers and a loaded pistol. His facility is outfitted with 32 security cameras — more than double the state liquor board requirement. He's got a hot commodity to protect: a dozen strains of some 130 marijuana plants blooming beneath high-powered lamps.
Schade, who received his grower's license in April, started growing pot 15 years ago after Washington legalized medical marijuana. His mother has cervical dystonia, a rare and painful neurological disorder that makes the muscles in her neck contract and her head shake.
"Other than her botox injections in her neck to kill the nerves," he says, "marijuana is the only thing that helps."
Schade's also a businessman. He owns a recruiting company, where business falls and rises with the state of the economy. So he did the math: If he grew 10 to 20 pounds of product a month, he could easily clear a quarter of million dollars in his first year, selling at $3 a gram.
But the market's better than he originally expected. As Washington pot retailers brace for statewide marijuana shortages, Schade suspects he's going to cash in big.
"I'm here for the gold rush," he says. "If I don't make a million dollars my first year, I have screwed up." ♦