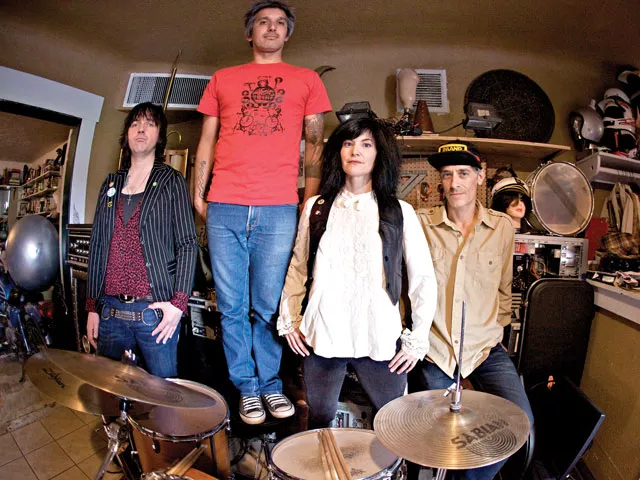 Theirs is a world where fighter jets fill ash-gray skies. Where songs are fight songs from the trenches. In Ze Krau, punk is a raspy soundtrack to a world teetering on the brink of annihilation.
But it's also a world where the apocalypse is imminent, so it might as well be lighthearted. Hence the singer's occasional Soviet-era ushanka or the guitarist's occasional baby blue pilot uniform.
"Look at how old we are — we're all products of the Reagan-era," Heather Swanstrom, the singer for the band, says. "Everybody has their musical taste formed when they are younger. [That imagery] serves as sort of a short hand, really. It helps cut out a little bit of explaining for us."
As the band (all long-time veterans of the Spokane music scene) slowly figured out the Ze Krau sound, the doom-and-gloom political spectrum of their younger years came into play. And they ran with it. Today in their practice space, they all shrug at any further logic behind their image and sound.
"It sort of fell into place," says James Hunt, who plays guitar in the band. "Our songs don't fit into any type of mold that people expect them to fall into."
The band's collective resumé is a little ridiculous: the Makers, Yokohama Hooks, the Flies, TFL, Seawolf, Vampire Lezbos, Six State Bender, Velvet Pelvis, Nodo Chingo.
But they hardly sound like any of those other bands. In Ze Krau, Timothy Absalonson's bass lines are thick and murmuring. Swanstrom's growls into the mic are gritty and sandpapered, a bayonet in the battalion. Ze Krau is a time bomb, a band thick with experience and innovation. With the passage of time, its members have only gotten better at what they do.
"It's a little more free-form than most punk bands," Absalonson says.
"We're all trying to do things we're not comfortable with. That's one thing that we wanted to do: play music we weren't comfortable with and play music that our audience wouldn't be comfortable with," Hunt says. "In a way, we really wanted to try to alienate our audience."
And sometimes that even means making their audience physically uncomfortable. The band opts for shows in basements, tiny art spaces and movie theaters. Last weekend, they played the Season Ticket, and at the end of September, they're scheduled to play a motorcycle rally in Anacortes, Wash. Being in this band means continually pushing each other to try something new, something that hasn't been done in their dozens of past groups — even if that means being Spokane's apocalyptic punk albatross.
Ze Krau with Buttlice and Water Ostriches at the Garland Theater on Friday, Sept. 11, at 10 pm. Tickets: $3.50.