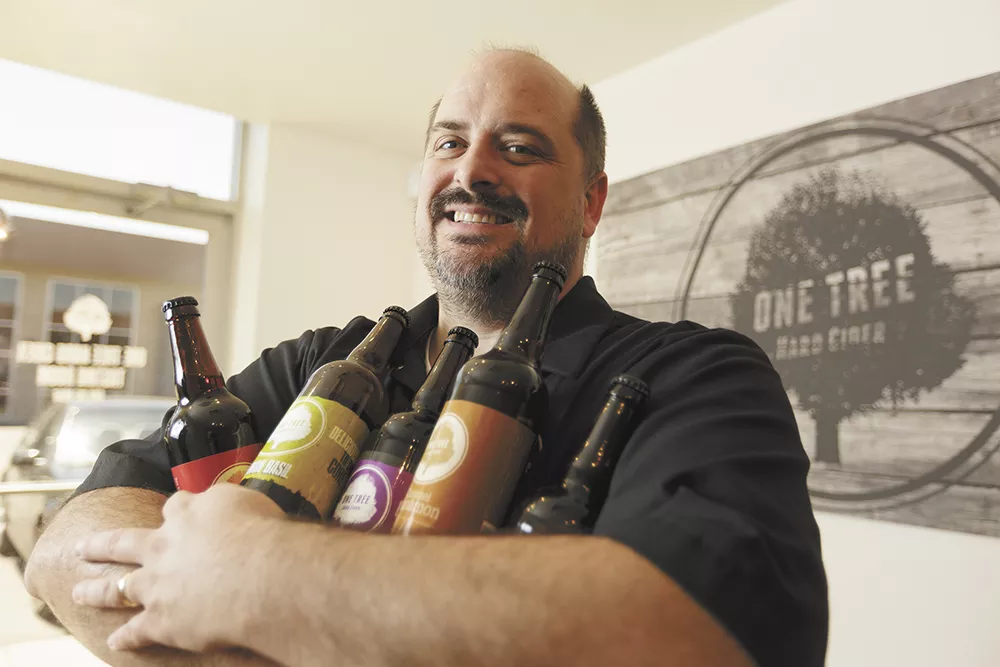 Head to One Tree Hard Cider's tasting room in Spokane Valley, and you may initially think you've gone off course. But tucked away in a nondescript commercial center is a gem of a cider house with a fresh, relaxed vibe and a steady stream of loyal customers.
Co-owners Grant Barnes and Neal Hennessy's grand reopening of their upgraded tasting room on June 3 drew a standing-room-only crowd, despite the fact that they've more than doubled their seating capacity. They expanded into what was previously used only as a production area, adding more seating, including an open-air bar.
"Before, you could have a little sample and then take your growler home," Hennessy says. "But now you can stay, have a flight, try our stuff, try other people's stuff. You can still take a growler home, but you can also hang out."
They're offering flights, pints, growlers and bottles, including a selection of other local ciders on tap, and eventually they plan to have a few local beers. To sweeten the deal, neighboring Brain Freeze Creamery's food truck sets up shop with ice cream and hot dogs once or twice a week.
Known for their ciders with unusual and bold flavors, Barnes and Hennessy use a proprietary blend of Washington apples. Then they add their signature flavors, like basil, ginger or cranberries, which are sourced locally whenever possible.
"We want to be interesting — that's always been our thing," Hennessy says. "It's easy to do apple. Let's take a basic apple and turn it on its head if we can."
Their most popular flavors are a refreshing lemon basil during warmer months, and a sweet and spicy caramel cinnamon in the winter. They've also introduced a weekly Summer Series, which has seen blood orange and mango habanero flavors so far.
Hennessy says that in terms of distribution, One Tree is the Spokane area's biggest cidery. Their products can be found in bars and stores throughout Washington, North Idaho, western Montana, and along the I-5 corridor. Boise and Vancouver are next on the distribution list.
The improved tasting room isn't the only expansion they have in the works — Barnes and Hennessy plan to open a tasting room in Kendall Yards, as tenants of a new building that is being planned to fill the space between Nectar Wine and Beer and Spa Paradiso. They're hoping for a grand opening in early summer 2017. ♦
One Tree Hard Cider Tasting Room • 9514 E. Montgomery Ave. #25, Spokane Valley • Thu-Fri, 3-7 pm; Sat, noon-7 pm • 315-9856 • onetreehardcider.com